For The Birds is the title of Neighbor Lady's second and most recent album, which arrived July 1 via New Orleans-based record label Park The Van.
From the moment a needle hits the record's Coke-bottle green (or gleaming red) vinyl grooves, a droning and spacious atmosphere opens up, setting the tone for the album with "Sister," a dreamtime lament over a friend who is seemingly too far away.
Singer and lyric writer Emily Braden's opulent voice swells, delivering heart-bursting sweetness and melancholy, as drifting melodies draw out pastoral moments of grace, all before drifting back down to Earth.
"Sister" ushers in this new, 10-song collection of slow and sparkling numbers that reach far beyond the musical parameters that were set by Neighbor Lady's 2018 debut album, Maybe Later, all the while never veering too far from the group's original course.
Drummer Andrew McFarland sheds some light on the album's transitive qualities when he offers, "One of the guiding principles for this whole record was that we wanted to take these songs that are, in essence, so simple, and present them in a way that shows that this is a band playing these songs in a room. But we also want to create these ethereal moments in the music where it feels like the floor just drops out from under your feet, and all of a sudden you're floating in space. Then the room comes back together."
This multidimensional musical cycle revels in the complexities of how people process past relationships, and how those relationships are remembered in songs with titles such as "Feel It All the Time," "Takin' U 4 A Ride," "Haunting" and more.
"At some point, I overheard someone at my place of work describing a woman that they were no longer in a relationship with, and they said, 'Naw, man. She's for the birds!'" Braden says with an uneasy laugh. "It struck me as a really crazy way to describe such an intimate relationship that you had with another person. I am fascinated by the idea that it was just a throwaway thing; something that other people cherish so much."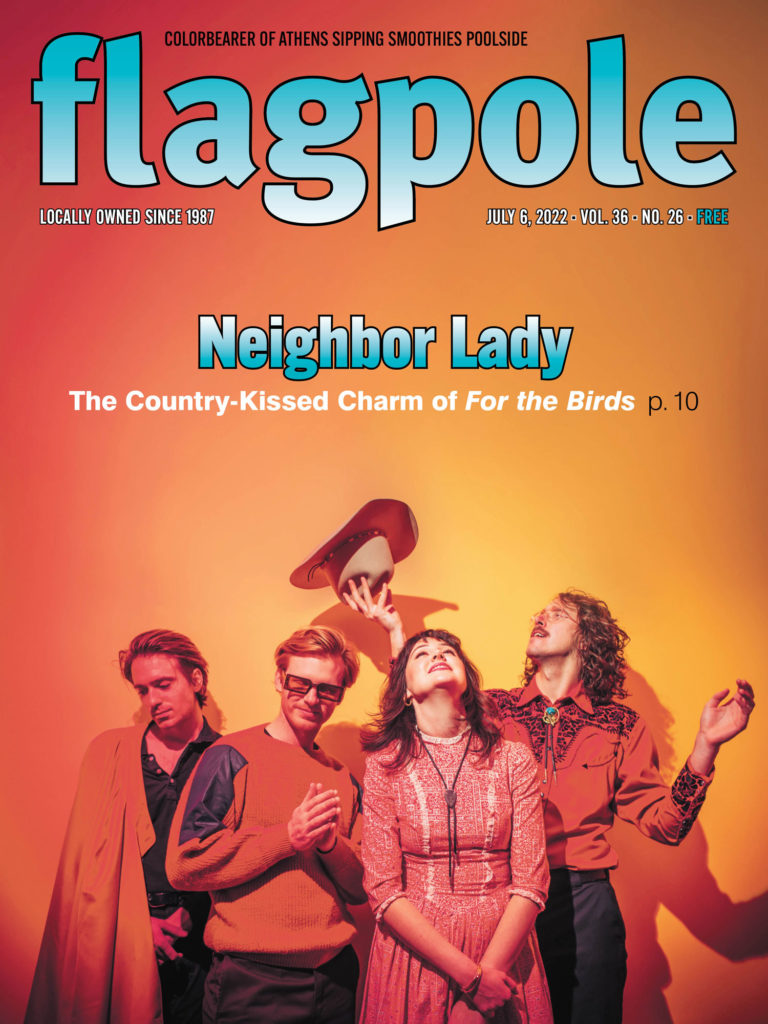 That phrasing of words, "for the birds," contains a nexus point in the sensual regions of indie pop, country music and psychedelic textures —swathed in reverb— where the album's central theme takes shape, albeit somewhat abstract.
For The Birds is a sophisticated next step for Neighbor Lady. One of the most compelling factors in the album's creation lies in just how long the group had to flesh out each song.
Within the first few months of 2020, Braden and McFarland, along with guitar and keyboard player Jack Blauvelt and bass player Payton Collier, wrapped up recording the album's basic tracks with Jason Kingsland at Diamond Street Studios, located behind Elmyr, the burrito bar in Atlanta's Little 5 Points neighborhood.
"I knew we were onto something when we were hanging out at the bar one day and one of the guys working in the kitchen came out to ask if we were the band that was recording next door," McFarland says. "I wasn't sure how to answer, but when I said yes, he stopped and told us how much he loved it!"
Around that time, the group also made the trek to play the Savannah Stopover Music Festival in March of 2020. Unbeknownst to anyone at the time, the COVID-19 pandemic was just about to reach a fever pitch, bringing the world to a grinding halt for much of the next two years—it was not ideal timing for releasing a new record.
The group sat on the basic, unmixed tracks for months, which afforded them time to approach each number with fresh ears, and to rework them all while moving at their own pace.
Most of the vocals were finished months later. And while the drawn-out process diminished a sense of spontaneous fluidity with the album, it did allow the group to capture a fully-formed body of songs that reached their full potential while reflecting just how nebulous the times were.
For Braden, the harmonies that guide the song "Haunting" illustrate just how intense the songwriting and arranging process became as the album moved along. "I had a really fun time writing the harmonies for that song, and it's a song that I had written so long ago that it just didn't really have much meaning to me anymore," she says. "But the way that we had reworked it in the studio, it took on a whole different life. We didn't realize we were playing different chords than how I had originally written it until we were trying to record the harmonies. I was struggling—I couldn't do this one harmony because of the way that we reworked the chords."
More advanced song structures and melodies are on display in songs such as "Takin' U 4 A Ride" and the album's title track, while other numbers such as "Penny Pick It Up" and "Feel It All the Time" settle into a perfectly-forged pop ambience achieved via simplification—less is more, and nothing here gets in the way of the songs.
McFarland adds that it was a fun process, and a fun experiment. "If one were to listen to what we came out of Diamond Street Studios with, it would be wildly different from what the record sounds like now," he says.
With For The Birds, Neighbor Lady taps into a natural sense of quietude, mixing trance-like beauty with the deepest layers of guitar sounds that mirror Braden's voice. It's at once soothing, exciting and mysterious.
WHO: Neighbor Lady, lighthearted, Cowboy Curtys
WHEN: Thursday, July 14, 7:30 p.m. (doors)
WHERE: Georgia Theatre Rooftop
HOW MUCH: $15
Like what you just read? Support Flagpole by making a donation today. Every dollar you give helps fund our ongoing mission to provide Athens with quality, independent journalism.