Amid the sweltering riffs and sludgy rip currents on Guillotine A.D.'s new album Born to Fall, listeners can decipher growls that warn of the hellfire that follows addiction, lust, guilt, hubris and war. Partly inspired by John Milton's 17th-century epic poem Paradise Lost, the album reinterprets and builds upon the ancient story of the Fall of Man—this time through the lens of a blackened and doom-laced strain of death metal.
Raised on a diet of metal and '70s hard rock, brothers Lance Miller (guitar) and Adam Miller (vocals, bass) began learning instruments at an early age and first launched their band, then named Guillotine, in 2003. After a long hiatus, the brothers reformed the band in 2015 and relocated to Athens, where they met drummer Evan Posey.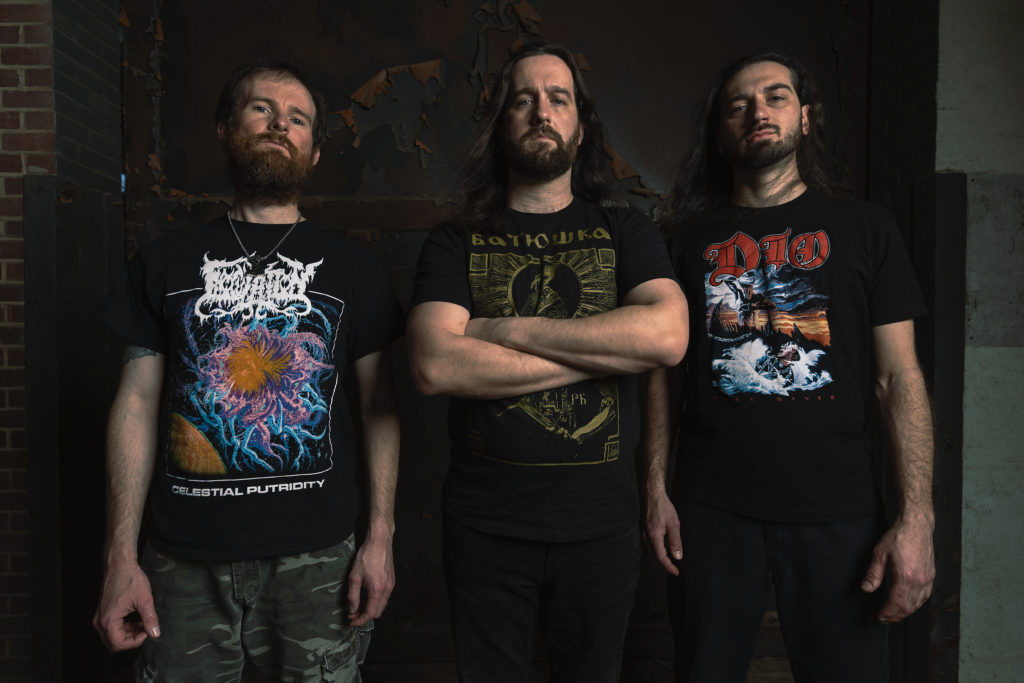 "We have played together for so long that we have chemistry and cohesion that would take years for strangers to achieve when starting a new band," says Lance on the advantages of playing together as brothers. "Also, we have a brother ESP thing where we complete each other's thoughts and ideas. If one of us gets stuck on an idea while writing a riff, the other will inject an idea that makes it sound great and complete. That makes it sound like Guillotine A.D."
Melding influences of old-school Florida death metal, Scandinavian black metal and New Orleans sludge, Guillotine A.D.'s sound is decidedly Southern death metal.
"We realized that our Southern roots were showing a lot more than we originally intended, but we were just making the music that came naturally to us," says Adam. "We're not playing the blues, but you can hear a Southern drawl in our riffs. Lance and I grew up in rural south Georgia. Evan was born and raised here in Athens. We decided to own who we are and where we come from, and I think that honesty is part of what makes this batch of songs so special."
Unlike the band's 2017 self-titled album that was written together in the same room, these songs were written remotely while the members lived farther apart. This long-distance approach of exchanging riffs and arranging songs allowed some space to hear and envision everything from the outside, resulting in a more deliberate and intricate sound that's all killer and no filler. Guest appearances include vocalist Zachery Hembree (Hembree and the Satan Sisters) on "War First" and guitar wizard Corey Flowers (Beast Mode) on "I Want to Believe."
After a string of various life events and pandemic hurdles, the band finally headed to LedBelly Sound Studios with engineer Matthew Washburn (Mastodon, Withered, Black Pyramid, Atheist) in February 2021. Before settling in to record the album in its entirety last fall, the band's first visit to the studio was to make a three-song demo that could be shopped around to labels. The band landed an offer from M-Theory Audio, an indie metal label based in Las Vegas and founded by Marco Barbieri, former president of Century Media Records. 
Born to Fall's album cover was painted by Eliran Kantor, a Berlin-based artist who has found his niche creating Goya-esque art for dozens of metal bands across the world such as Testament, Venom Prison, Soulfly, Loudblast and Helloween. Influenced by classical art aesthetics, his narrative and timeless images are imbued with elements of horror and fantasy.
"When Bloodbath released the album cover for The Arrow of Satan Is Drawn, it had a profound visceral effect on me," says Adam. "Great art should make you feel something like that. I started looking into Eliran's work and realized how many great album covers of his I loved without knowing he had been the artist responsible, and I found that there were already some connections between us."
Knowing that they wanted something handmade rather than computer-generated to match the natural grittiness of their music, the bandmates reached out to Kantor to request a commission. Interested in their music and ideas, the artist created an original work that visually interprets and responds to the band's unique sound. 
"The Born To Fall album art is entirely his concept," says Adam. "It is completely different from our original idea, but we think he perfectly encapsulated lyrical themes from several songs into one compelling image. It can mean so many different things to different people."
The night before the album's official June 24 release date, Akademia Brewing Company hosted a listening party at which it debuted the new Born to Fall Cold IPA. In addition to partnering with nonprofits such as the Athens Humane Society and Extra Special People, the locally owned brewery has spotlighted local bands such as Beast Mode and el chupaSKAbra through themed beers in the past. The collaboration came about after Lance met head brewer Morgan Wireman—both were coincidentally wearing merch from Denver's heavy metal-inspired TRVE Brewing Co.—and the two quickly bonded over music.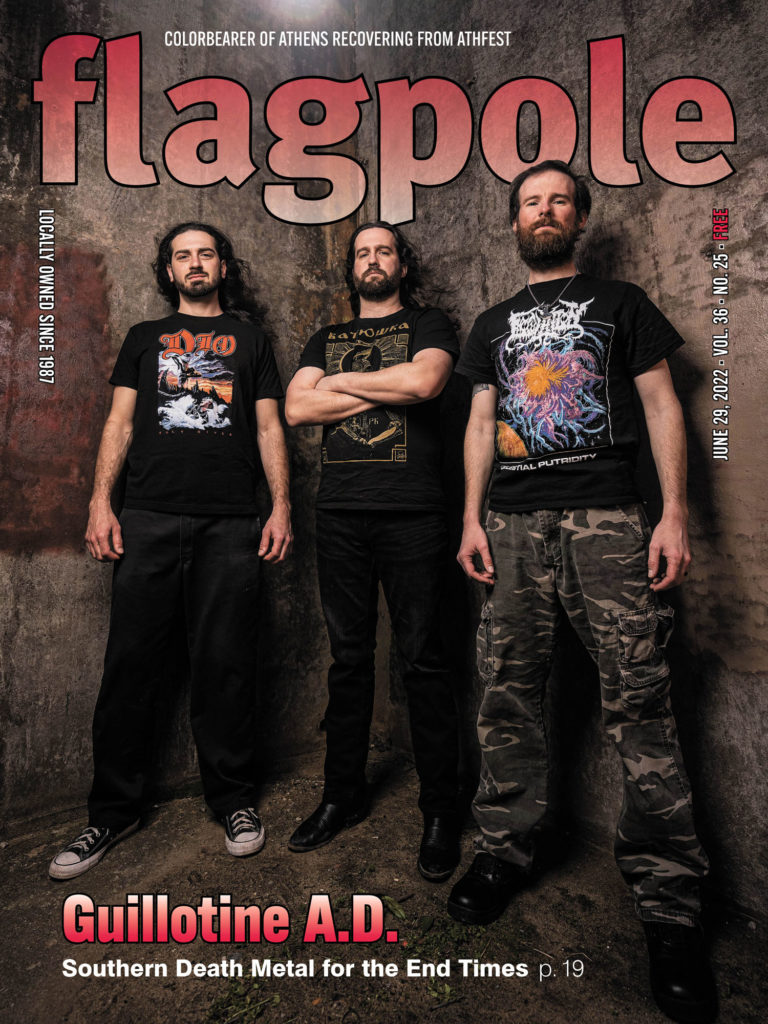 "Athens is a funny place," says Posey. "There are metalheads here, but they only come out of the woodwork every so often. I'd say the number of quality bands has gotten stronger, but it's still far from a heavy metal mecca… Shadebeast has been a huge asset to the local metal community by putting on shows at least once a month in town. Metal is always going to be here, with varying magnitude. Hopefully over the next few years it will keep growing and eventually flourish."
Guillotine A.D. will perform Born to Fall in its entirety at Flicker Theatre and Bar on Friday, July 1. Presented by Shadebeast, the show's lineup also includes Beast Mode and Florida thrash act Corrupted Saint. From there, Guillotine A.D. will spend the summer playing a string of shows across the Southeast—including a night opening for New Orleans sludge metal band Crowbar at the 40 Watt Club on Aug. 23—while working on the next album.
WHO: Shadebeast Presents: Guillotine A.D., Beast Mode, Corrupted Saint
WHEN: Friday, July 1, 9 p.m. (doors)
WHERE: Flicker Theatre & Bar 
HOW MUCH: $10
Like what you just read? Support Flagpole by making a donation today. Every dollar you give helps fund our ongoing mission to provide Athens with quality, independent journalism.