In the midst of UGA football games raging on and COVID vaccination incentives rolling out last fall, the Athens community was dealt a disappointing blow with the cancellation of the AthFest Music & Arts Festival as COVID cases ticked upward. At last, AthFest makes its official return this weekend June 24–26.
The free, all-ages outdoor portion of AthFest will look and feel much like the traditional fest, with a Wicked Weed Stage, Hull Street Stage, Kidsfest Stage, artist market, vendors and food. The most notable change this year is the absence of AthFest wristbands and a true club crawl. Instead, ticketed late-night shows will happen Friday and Saturday at the Georgia Theatre and 40 Watt Club. For the full schedule of performances across all official AthFest stages, visit athfest.com.
Already being outdoors makes the base template for AthFest a more COVID-friendly event, explains AthFest Educates executive director Jill Helme. The availability of vaccines for adults and children paired with COVID data not spiking in the same way makes the extra precautions prepared in the fall, like the complete absence of indoor events, no longer applicable this summer. However, downsizing the club crawl to two venues with ticketed shows was a financial decision driven by COVID.
"It was one of those things that, if COVID causes us to have to cancel our indoor shows, we needed to limit that financial risk. So that would just put us at having to cancel two venues as opposed to 14 venues and a hundred bands," says Helme. "And there's no reason to think that the full club crawl won't be back for the 2023 festival."
New to the festival this year is the first inaugural Gospel Brunch to be held at Hendershot's on Sunday, June 26 from 11:30 a.m.–2:30 p.m. The event is free, and food will be available for purchase from Puma Yu's pop up. Another new feature is the silent disco at the Hull Street Stage on Friday and Saturday nights from 9–11 p.m.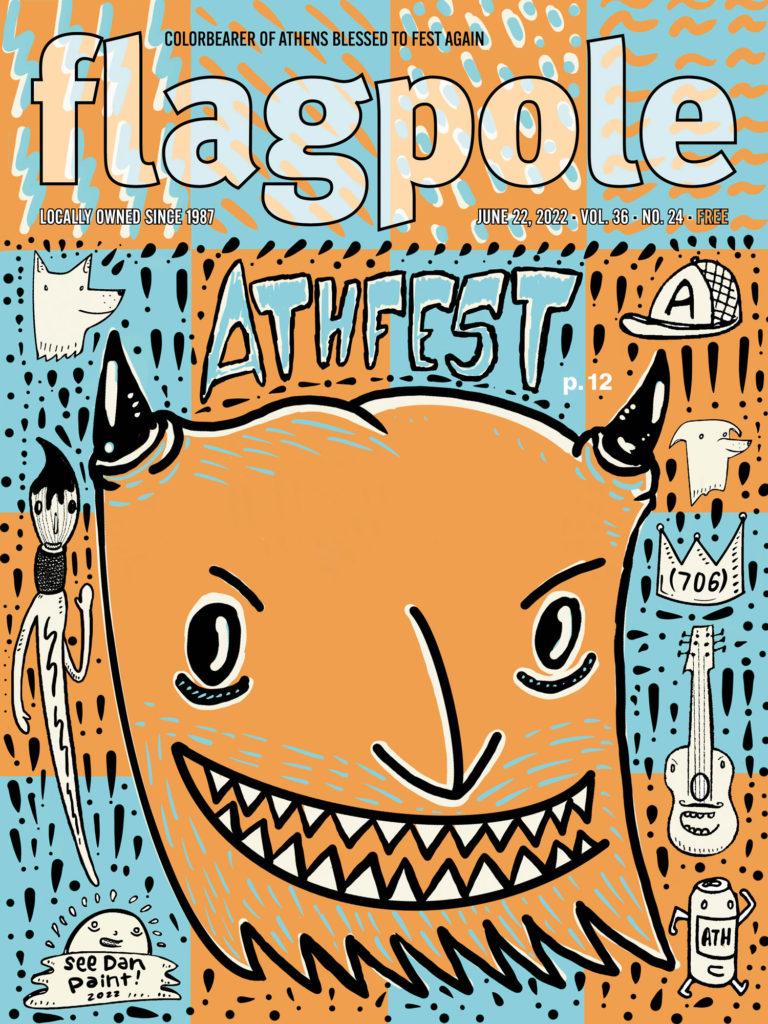 While AthFest is always known to be hot, the recent heat wave is a good reminder to be prepared for the elements. Helme recommends bringing a water bottle and even an umbrella, not in case of rain but as protection against the sun. It is also not advisable to bring dogs or other pets because of the lack of shade and dangerous pavement temperatures.
Among this year's AthFest announcements was the news that Helme is stepping down as executive director of AthFest Educates, because her husband has accepted a new professional position out of state. Helme says that she would remain in the position if this situation did not arise, but there are a lot of accomplishments and milestones over her past eight years as executive director to celebrate. AthFest Educates surpassed the $500,000 mark in grant giving, expanded its grant from grades K–8 to K–12, and raised grant application limits from $1,000 to $5,000. In addition to expanding the organization's support within schools, Helme reflects on the community's better understanding of the relationship between AthFest Educates, AthFest and AthHalf.
"It felt like people knew about pieces of what we did, but didn't understand the big picture. And I think we've come a long way in people understanding AthFest Educates is that parent organization and that AthFest and AthHalf are the events that make it possible for the organization to do the grant-making work."
Over the past eight years, the festival has also become more inclusive and representative of the Athens music and arts community as a whole. Helme reflects that when she started as executive director, AthFest was considered an indie rock event. In order to reflect the hard work of all the talented musicians in Athens, Helme says it was time for indie rock to "give the mic over to other genres," and now that expansion can be seen with the inclusion of hip hop, Latin music, EDM and more. Because AthFest is a free festival, the lineups aren't chained to targeting a specific audience like festivals driven by ticket sales.
"AthFest is a celebration of Athens music and Athens art, and we mean all Athens music and all Athens art," says Helme. "The whole goal was to be able to give these bands an opportunity to connect to potential new audiences and for [the] Athens community to be able to hear and see the wide array of artists that exist in our community."
Rare Performances
DUDDY KEN: The legendary Athens music trailblazer has helped define Southern hip hop in his native city. Half of the hip-hop group Lo Down & Duddy, his legacy is marked in the Athens Music Walk of Fame with a plaque representing the duo. Duddy Ken will perform at the Hull Street Stage on June 26 at 3:30 p.m.
MASERATI: Coming off the heels of a European tour, catch this band for fast and sleek rock reminiscent of its sports car namesake. Absent lyrics, the songs will hit you with a wall of catchy guitar hooks and abstract synth-pop. Maserati will perform at the 40 Watt Club on June 25 at 12 a.m.
THE WOGGLES: These seasoned garage rockers have played over 30 years together, currently with friends filling in on guitar after the death of their lead guitar player Flesh Hammer (Jeff Walls). The band is known for exploring the explosive side of rock and roll. The Woggles will perform at the 40 Watt Club on June 25 at 10 p.m.
Like what you just read? Support Flagpole by making a donation today. Every dollar you give helps fund our ongoing mission to provide Athens with quality, independent journalism.