ON THE WALL: A longtime fixture of the Athens music scene, Jeff Rapier has performed with a handful of bands over the years, including Donkey Punch, American Cheeseburger and The Dumps. Appearing on the cover of this week's Flagpole holding his portraits of musicians JD Pinkus and Matt Freeman, Rapier has also spent the past few years expanding his creative expression into visual art-making. Currently on view at Flicker Theatre and Bar, his first-ever exhibition pays tribute to both the musical legends who influenced him as well as the dear friends who keep him going. 
Turned on to music as a kid, Rapier discovered punk and alt-rock during his teenage years and moved to Athens at the age of 18, where he quickly fell in with kindred spirits. While always fascinated with art, it wasn't until 2018 that Rapier began creating paintings of his own. After he was sidelined with a knee injury, his girlfriend at the time gave him a set of watercolors, pencils and paper. With not much else to do at the time but draw, he quickly fine-tuned his unique approach of quick, loose brushstrokes.
Heavily inspired by rock poster art, other influences include MAD magazine, VHS cover art, EC comics, Raymond Pettibon, rock and roll photography and outsider art. Working primarily with ink and pencil, Rapier references photographs to help get his portraits just right. Some reveal his personal tastes in music, like David Bowie, Lemmy Kilmister (Motörhead), Mark Lanegan (Screaming Trees) and New Bomb Turks. Many are inspired by friends and fellow local musicians, such as Jason "Mohawk" Richardson (Savagist), Johnny Ray (Ratio Podcast), Jack Slayton, Chris McNeal (Maserati), Nick Bielli and Kevin Sweeney (Hayride), Christian DeRoeck (Little Gold) and Jim Wilson (Los Cantares).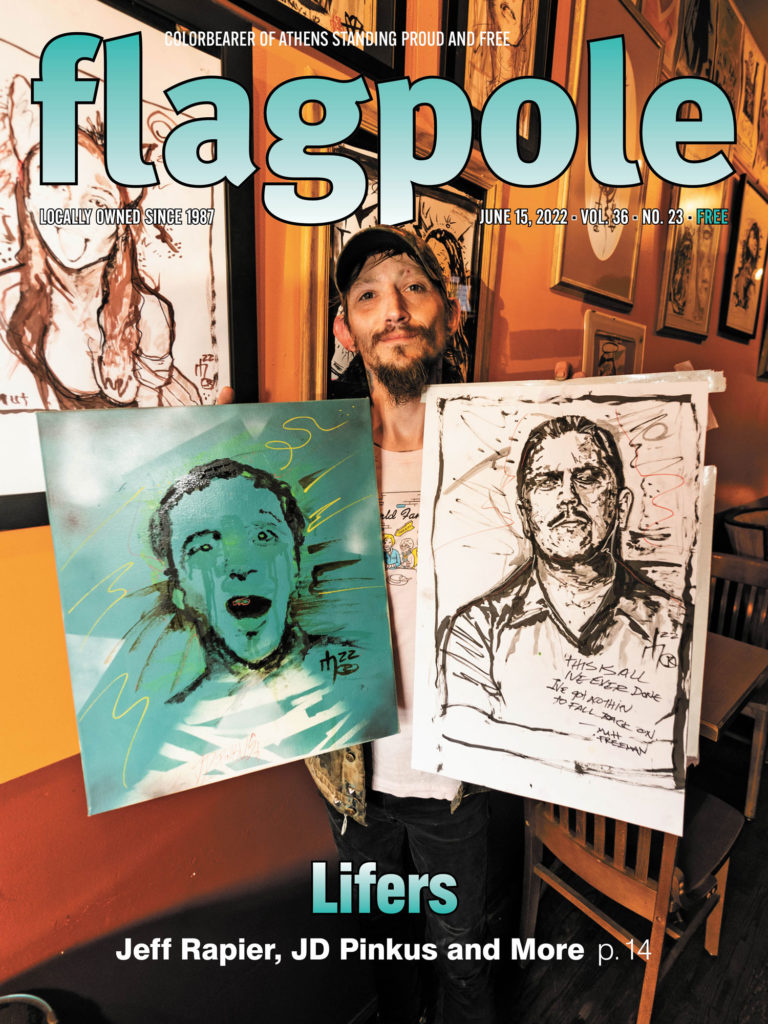 "If I got someone on my mind and I'm in that focused mood, or if I'm obsessed with a song or artist, boom," says Rapier. "No method to the madness. It's like a song stuck in your head, and you have to listen to it to purge it."
Though managing symptoms of bipolar disorder, ADHD, depression and insomnia, Rapier has found making visual art to be a positive outlet for exploring ideas and processing experiences.
"I get hyper focused when I'm on the upside, and have to fill the hours, funnel the energy into something positive so I don't spiral down," says Rapier. "It's a ball of energy that I would rather focus on the positive."
Rapier's artworks are joined on Flicker's iconic orange wall by those of Gary Autry, a friend he first met in 1998 while working together during third shift at The Grill. When Autry relocated back to the South after a number of years spent in California, the two made a pact to do something awesome together, and here they are.
Autry's distinct style vibrates with hallucinogenic energy. Rather than following the traditional approach of filling spaces in with solid colors, dizzying lines zig-zag and swirl their way across the images to add pattern and detail. These stripes of color guide the eye around geometric forms and are capable of drawing the viewer deep into a meditative headspace. Unusually, Autry often illustrates his works using Posca pens on top of black backgrounds, creating visual depth. Rapier and Autry's artwork will remain on view through the end of June.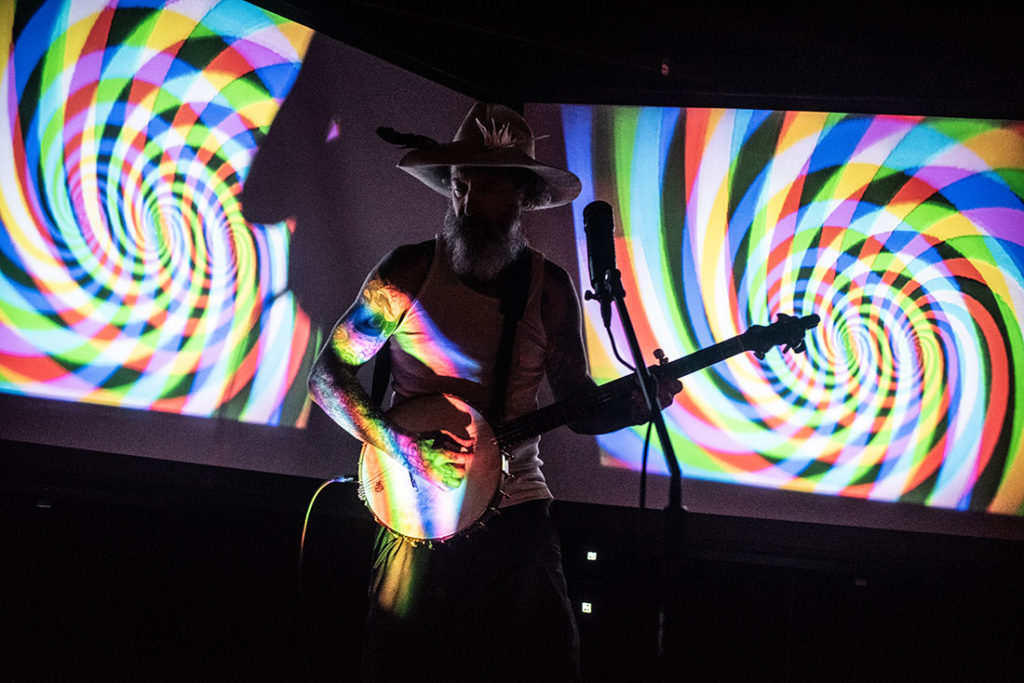 ON THE STAGE: Best known for his work with psych-punk legends Butthole Surfers, bassist Jeff "JD" Pinkus will perform on banjo in conjunction with an art reception for Rapier and Autry at Flicker on Friday, June 17 at 7 p.m. The show can be considered something of a homecoming for Pinkus, who briefly found himself immersed in the '80s Athens music scene as a teenager before getting recruited by the Butthole Surfers and eventually following the band back to its home base in Texas. Active in Butthole Surfers from 1985–1994, Pinkus went on to play with Daddy Longhead, Areola 51, Honky and Pure Luck as well as west coast sludge metal wizards Melvins. 
As the story goes, after 35 years in Austin, TX, Pinkus packed up his wife, dogs, banjo and a bag of mushrooms, then headed to the Appalachian mountains of Western North Carolina roughly two years ago. He's currently touring behind his second solo "spacegrass" banjo album, Fungus Shui, which was released last August via Shimmy-Disc, a label run by fellow Butthole Surfers alumnus Mark Kramer. Written, recorded and mixed by himself at Plastic Cannon Studio in Asheville, NC, the album is equal parts bluegrass and psychedelic folk, using his pedalboard to twist and warp the perception of time and sound. His trippy freak-banjo style combines elements of nostalgic Americana with gritty punk rock rawness.
The lineup for this evening also includes Vansplainer, a trio composed of members from The Dictatortots who play a heavy, pummeling concoction of sludge metal and stoner rock. Rounding out the night is Electric Dreamz Karaoke. 
WHO: JD Pinkus, Vansplainer, Electric Dreamz
WHEN: Friday, June 17, 7 p.m. (doors)
WHERE: Flicker Theatre & Bar 
HOW MUCH: $10 (adv.), $15
Like what you just read? Support Flagpole by making a donation today. Every dollar you give helps fund our ongoing mission to provide Athens with quality, independent journalism.