Food has always been thought of as a bonding agent, bringing cultures and communities together through a universal medium. Rashe Malcolm built a life from this concept, not only as the owner of Rashe's Cuisine, but also as the founder of nonprofits The Culinary Kitchen of Athens and Farm to Neighborhood.
Rashe's Cuisine officially started in 1993, when Malcolm was a high-school senior, and although she says she had no business acumen at that point, no one can take the fact that she had a business away from her. After moving around the U.S. and then to Spain with a military mother, Malcolm attached herself to cooking as an activity to get out of the house, and she learned from the culturally diverse adults around her. Babysitting led to even more cooking, and all of these influences and motivations formed the community-based meaning of cooking in her life. Malcolm emphatically claims to be from the "figure it out" generation, and her ambition reflects this.
"That's how Rashe's Cuisine kind of developed," says Malcolm, who would cater parties and meals around the neighborhood. "They'd say, 'Well, you know, let me know what the food cost is,' and that's how I would get paid until I learned better. But when you're young and you don't know, and I was making pretty good for myself, so I thought I was doing something right. In some ways, I almost still do that now. I'm dealing with a lot of small organizations that don't really have a large budget, so it's like, let's see what you're working with. People think I do that to discount myself, but it's like, actually, I do that because I get it. I understand."
From the inception of Rashe's Cuisine until 2014, the business continued to operate as a catering business with community service always at the forefront. After a health-related incident, Malcolm took the plunge and spent her life savings to open the first Rashe's Cuisine brick-and-mortar restaurant on Tallassee Road. After flooding damaged the property, the restaurant relocated to Vine Street in 2019 with encouragement from Isaiah Ellison, owner of properties at Triangle Plaza. The move paved the way for a larger opportunity to come. When the pandemic hit, Malcolm's business was already "COVID ready" and continued on as usual with the support of the community. Ellison decided to retire and approached Malcolm with a deal to sell his share of Triangle Plaza. Now, as owner of this culturally and historically rich area, Malcolm's vision for the future is to elevate the neighborhood's economic power.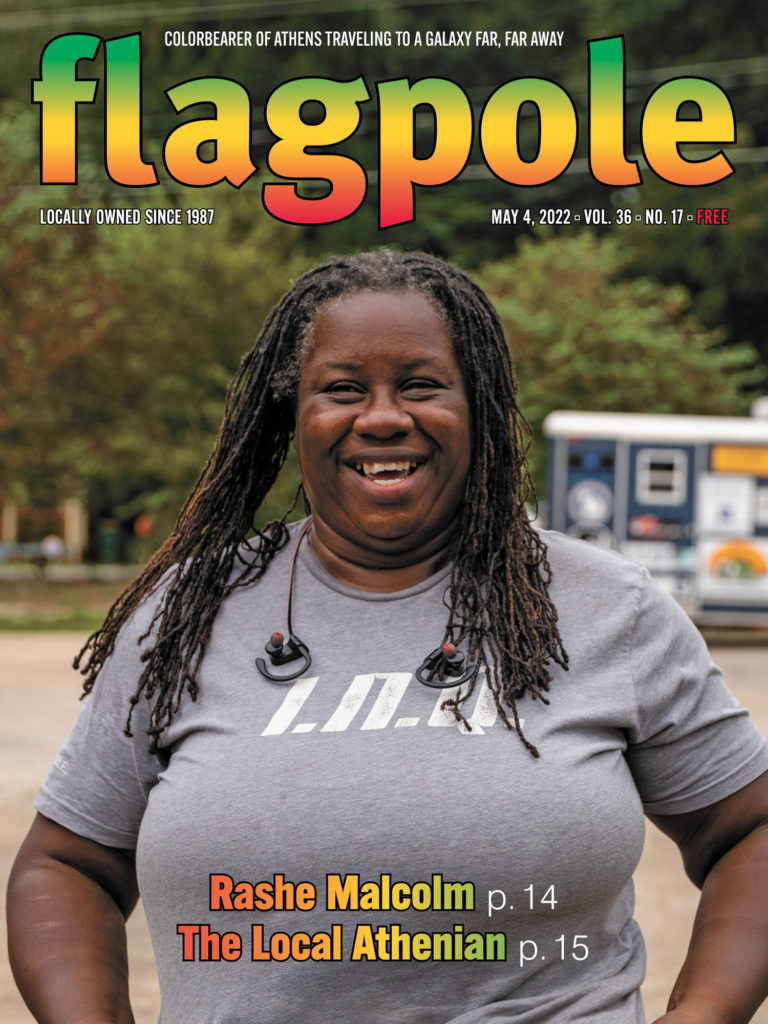 "I want to see more opportunities for others who have a vision to have business, to be able to have a space to run their business, for those who want to come out of their homes," says Malcolm. "I want to be able to be that person that goes, 'Hey, what you got going over there? Well, look, I got this place over here, you know, and let's work together and see what we can do to help you get to that next level you want to achieve.'"
Triangle Plaza is often treated like its own island, explains Malcolm, so one goal for the space is to provide the resources needed for the area to be self-sufficient. Likewise, the area is a food desert. Malcolm's plans include opening a grocery store with healthy food options and inviting other restaurants. Malcolm's nonprofit The Culinary Kitchen of Athens has been supporting the local food industry for several years without a brick-and-mortar location of its own, and although she's been eyeing another area for its location, it very well might find a home in this newly acquired space.
Reluctant to spearhead The Culinary Kitchen at the beginning, the idea came from the local farmers market vendors' need for more attention and more opportunities during the traditional markets' closed seasons. Farmers who were still producing during the winter were very limited in how they could continue to sell or use their goods, says Malcolm, especially since the majority did not have restaurants to fall back on like she did. The Athens Farmers Market and the West Broad Farmers Market helped to provide resources to get The Culinary Kitchen's first winter markets running, but the general attitude in Malcolm's opinion was that it could never work. The winter markets have far exceeded those expectations—they are flourishing, and many vendors have moved on to even greater opportunities.
"Our ultimate goal is not to be a market. We were using markets as a tool of exposure and to help raise money. But once we get our permanent space to do what we need to do, it's going to look totally different," says Malcolm.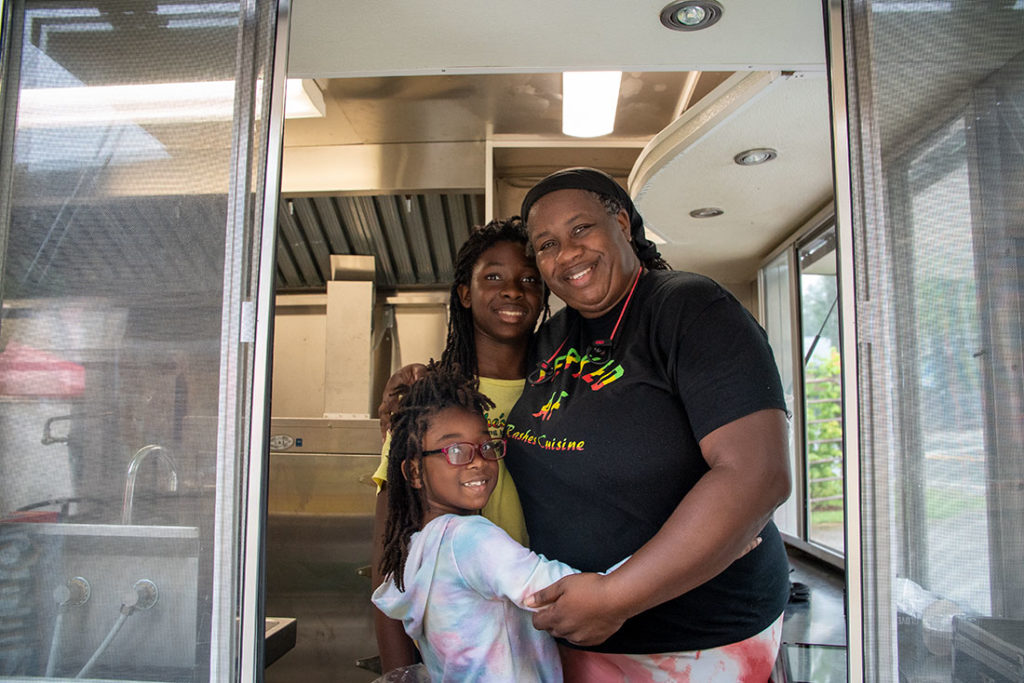 Farm to Neighborhood is another nonprofit that connects to Malcolm's core values. The organization works toward providing access to nutritious foods, creating healthy eating habits, teaching culinary skills and informing the youth about opportunities in the food industry. The HEALTHYouth Program introduces young children and teenagers to all the options available when working in the food industry and how to make the system work in their favor. Currently, Farm to Neighborhood is fundraising to buy a dually truck needed to pull what is essentially a grocery store on wheels being built by Tahron "Maxim" Watkins.
Malcolm also won an Arts in Community Award to highlight the businesses at Triangle Plaza by demonstrating who the owners are as people and how they provide various services with the Classic City Art Crawl events. The first two events took place in March and April, and the last event will be at 585 Vine St. on May 28 from 1–5 p.m. Despite the area's sometimes bad reputation, Malcolm says it's a group of young entrepreneurs who just want to bring positivity and services to their community while feeding their families.
The Culinary Kitchen and Farm to Neighborhood have markets, showcases and programs to explore year-round, and the Rashe's Cuisine website provides a locator to catch the food truck around town in addition to the restaurant. Malcolm's community and nonprofit work is largely supported by the restaurant, plus the "figure it out" attitude that has driven her journey.
"There were some doors of opportunity that were presented to me, but it was because I built my own table," says Malcolm.
Like what you just read? Support Flagpole by making a donation today. Every dollar you give helps fund our ongoing mission to provide Athens with quality, independent journalism.