Amid the delicate and pastel dreamscape that takes shape within Night Palace's video for the song "Titania," one could be forgiven for not catching the deluge of rich symbolism unfolding between every note and every scene—at least upon first taking it all in.
Of course, the song's title evokes the fairy queen who appears in William Shakespeare's Athenian comedy A Midsummer Night's Dream. So naturally, one should expect the moon, flowers and every other piece of imagery that appears throughout the 11-song album to come bearing more than meets the eye.
In conversation, Night Palace's principal songwriter and vocalist, Avery Draut, explains that, beyond the Shakespearen reference, "Titania" is a portrait of her grandmother, Sarah Herbert, who passed away just a few years ago.
"I wrote the song while my grandmother was slowing down, and my two aunts had come to take full-time care of her in a house near Jackson, MS," Draut says. "Visiting there was like walking into this magical, beautiful world where there was time and space for people to care for each other. The slowness and the deliberate pace of my aunts' and my dad's care for my grandmother was super special. The lyrics capture a sort of crossover between a fantasy world and the actual setting."
With each new detail that Draut brings up in lyrics such as, "Titania, reclining on a throne of irises / Swan perm loosened into waves of champagne," layers of visual cues spring to life.
"The irises that I mention are a painting that my aunt Kaki made, which was hanging in the house, and my grandmother always had her hair permed; it was very Swan-like," Draut says.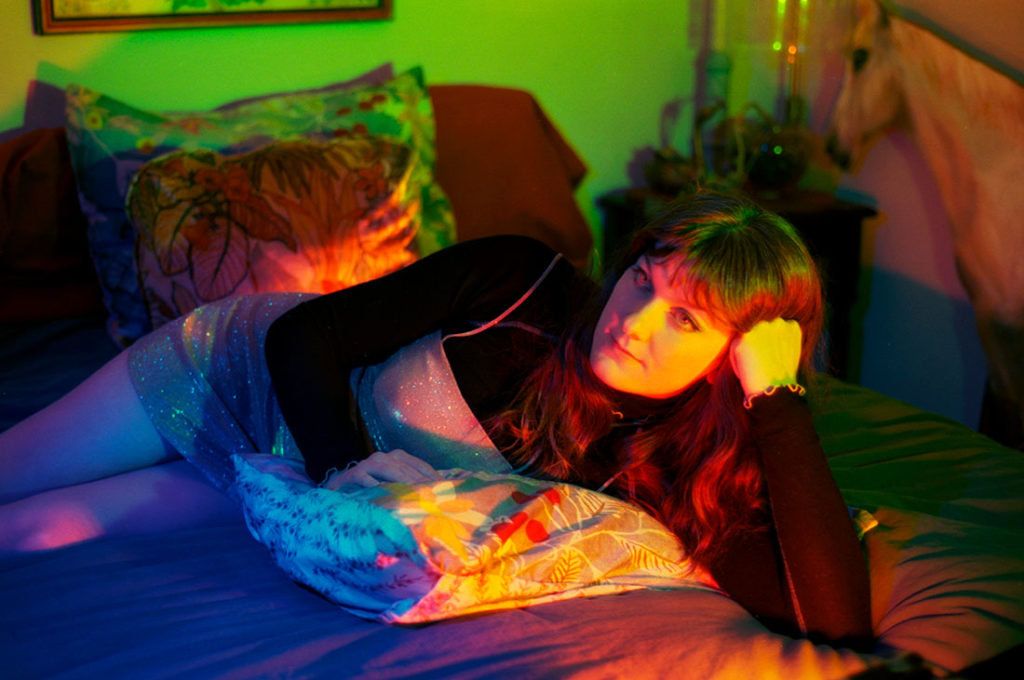 The Snellville native earned a degree in classical voice from the University of Georgia's Hugh Hodgson School of Music, studying mostly opera and art songs.
Channeling an intense level of awareness into precious and small details with Night Palace's sound and vision is a trait that Draut's grandmother instilled in her. It's also an instinct that matches her classical training, and a guiding pulse that propels Night Palace's debut album, Diving Rings, into a fresh and compelling blend of shadowy and elegant indie pop ambience. With co-producer Drew Vandenberg and engineers Andy Lemaster and Jesse Mangum behind the board, the album was released Apr. 1 via Park the Van.
"Performing both in the worlds of classical music and indie rock gives you a bit of whiplash," Draut says. "In my experience, the two realms inspire and strengthen each other artistically, but stylistically I want such different things from each of them. Also my connection to the content of most opera is strained. So much of the classic repertoire is deeply problematic and that's a disheartening realization about music that could have such a powerful and meaningful effect."
Since 2016, she has spent her time traveling between her home in Athens and New York City, where she works on the production team for the Metropolitan Opera's Live In HD series.
Draut has also spent time on the road singing backup in former Archers of Loaf and Crooked Fingers songwriter Eric Bachmann's band. Her voice can be heard on Bachmann's 2018 album, No Recovery.
Other early singles from Diving Rings, such as "Enjoy the Moon!," "Stranger Powers" and "Nightshade" weave a subtle and spacious tapestry that upholds her singularly melodic songwriting that's carved from big, unencumbered textures, showcasing Draut's mastery of the beauty of sound itself.
The latter single mentioned above, "Nightshade," refers again to her grandmother, implying that there is an underlying concept at work tying the album together. But through lyrics such as, "Daylight and nightshade with your dark glasses on, ears full of ocean and its shimmering song," any concept at work relies more on underscoring a greater sense of mystery in life than it does on providing any answers.
"The song is about my grandmother as well, and her teaching me to love both the beautiful and the scary parts of the ocean," Draut admits. "Even though a jellyfish might sting you, it's totally worth it; the ocean is teeming with life."
At the heart of it all, Draut delivers a vocal performance that draws expressiveness from deep within. On the record, she sings and plays clarinet and keyboards alongside guitar and synth player Dillon McCabe; bass, lap steel, and guitar player Zack Milster; and drummer William Kissane.
For the upcoming round of live shows, including the album release party at Buvez with Mia Joy from Chicago on Apr. 24, Draut, Milster and Kissane will be joined by keyboard player Jojo Glidewell (of Montreal) and guitarist Jack Blauvelt (Neighbor Lady, CDSM).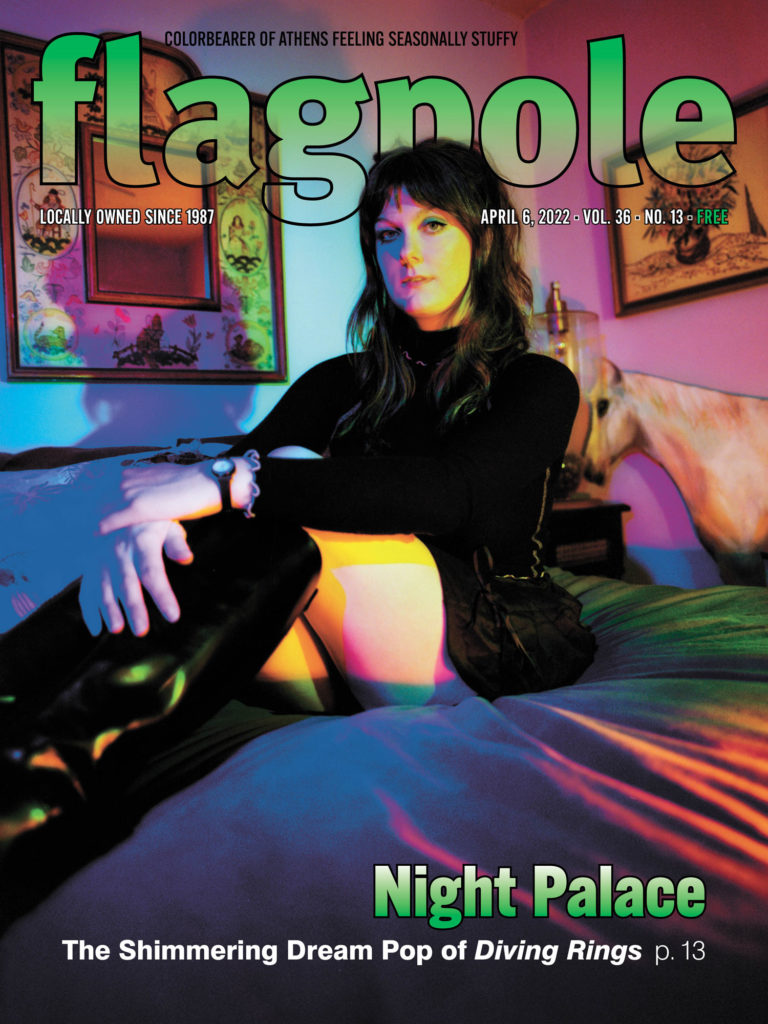 A full chamber ensemble of players armed with reed instruments, vibes, strings and more also appear throughout the album, adding lush, sweet orchestration. The true pleasure in the music emanates from the musicians' interacting with each other, under the full-bodied quietude of Draut's voice.
"Stranger Powers" ups the energy with a number that relives the feelings of elation and empowerment that she felt while riding a skateboard down a hill and being held by a friend.
Along the way, Diving Rings takes shape as everything a debut album should be—a collection of shimmering and alluring songs and atmosphere created by a burgeoning songwriter who remains deeply committed to her work.
"My grandmother passed away before the pandemic, and she actually got to hear 'Titania' before she passed away," Draut says. "The video was made a couple of years after making the song. It was a big emotional day—it was my birthday—and my friends came together kind of last minute to be in the video with me."
Every song throughout the album is laced with a deep communion with the mysteries of the world, oceanic themes and what she calls the "exhilarating magic" of discovering the wisdom and inspiration left to us by those who came before us.
Like what you just read? Support Flagpole by making a donation today. Every dollar you give helps fund our ongoing mission to provide Athens with quality, independent journalism.