Growing up ingrained in the fabric of Athens hip-hop culture, quiet kid Jeffery Blakely crashed onto the music scene in 2017 as boisterous rapper Kxng Blanco. The last five years have brought a steady evolution of his public image and sound as he's matured as a person and artist⁠—from "King of the Youth" to LvrBoy icon and on to the next wave of music.
It all started with then 16-year-old Blakely beginning to make music and releasing songs every two weeks on Soundcloud. He had some stage experience doing school talent shows, but Blakely's first hip-hop show and appearance as Kxng Blanco was February 2017 at The World Famous for ATHfactor-Liberty Entertainment's First Tuesday showcase. Performing beside Athens hip-hop legend Dictator, that's all it took for the town to start buzzing with, "Who is that high school kid?"
Now at 22 years old, Blakely released his sixth album on all platforms, DaBigWaveMan, Wednesday, Mar. 9. Going back to his roots of high-energy rap and booming bass, this album marks a stark contrast from his 2021 release LvrBoy 2. This is a fresh Kxng Blanco and an old Kxng Blanco rolled into one. Wave imagery has remained a constant in Blakely's artistry, originating in middle school with the artist's clique of friends and supporters, Wavy Mob. Rather than shedding that branding, it stands as an important and humble reminder.
"It's about keeping in touch with my childhood, keeping in touch with that 12–13-year-old quiet kid. It shows me where I came from," says Blakely. "Waves don't start out big; they just start out water, and people don't pay attention to that. People don't pay attention to water until it's dangerous."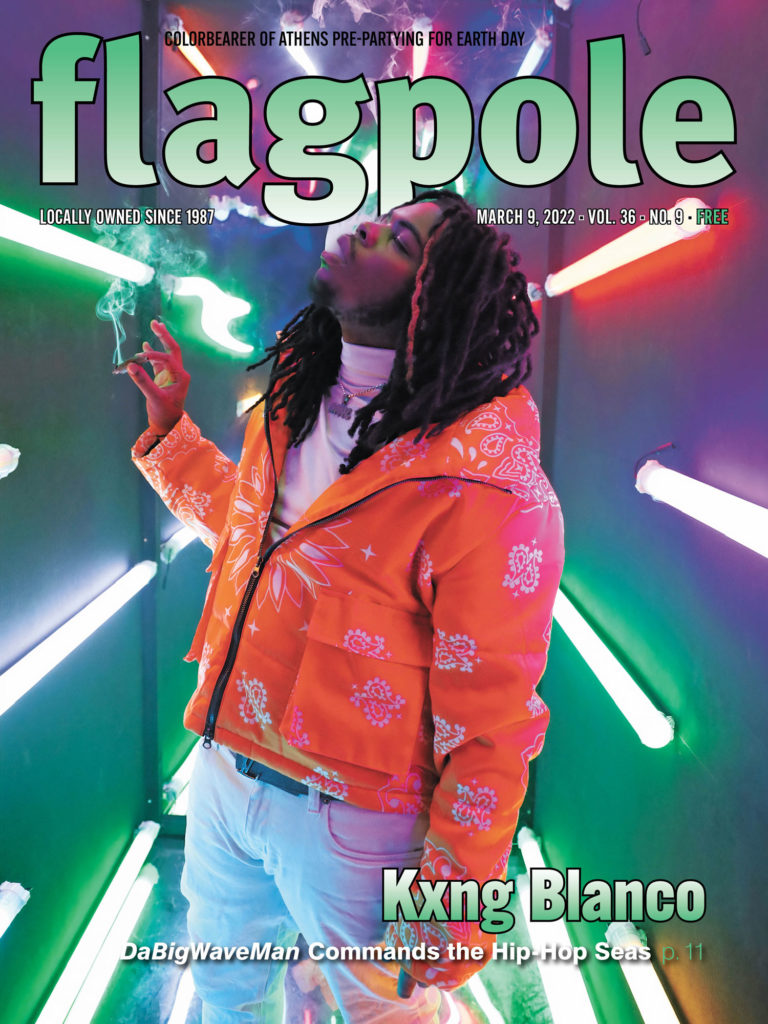 After graduating high school, Blakely attended the University of North Georgia for three semesters before changing gears, quitting school and recording and engineering full time at GA Pro Studios off Highway 29. In fact, he recorded and engineered DaBigWaveMan entirely by himself, and he's been doing so since his second album, Skee Yee!. Blakely explains that he'd rather take on everything himself to execute his vision exactly how he sees it, which led to him often running back and forth between the board and booth while recording.
DaBigWaveMan ended up as a 15-track collection of songs created between 2019 and now carefully curated as a "proving point" of what the artist is capable of and how far he's come. "Go Up" is Blakely's personal favorite track because it delivers the message he intended for the entire project: He knows he's young, but he knows he's deserving of respect for the quality of music he's producing on his own. One thing is certain, Blakely pushes his abilities and boundaries to continually elevate his music. The hyperpop track "Big Weight" comes as the biggest surprise and fresh take on the album.
"I was in the studio with [DeWayne Goodson], and I was making a whole other song for the album. And he told me, 'If you're going to do this whole project by yourself, it's got to sound like Kxng Blanco featuring Kxng Blanco,' like two different people. And I know my voice if you hear it a bunch of times, it gets boring," says Blakely. "It's always those hyperpop beats where folks get away with the weirdest shit, but it sounds hard."
While setting out to prove himself with this album, it in turn largely became a learning experience in taking charge and leading a team—in spite of Blakely's preference to often go it alone. Blakely's father, also Jeffery Blakely, has always ordered the tracks on all of the projects, but this time, longtime friend and founding member of Wavy Mob, Deunta O., who goes by DJ Chimney, joined in the process with his input. This was the first time Blakely brought in a friend as an active part of the creation process rather than a supportive bystander, and Deunta played a part in the beat selection for this project.
The track "Jetpack" may already be familiar to some who have heard the Hugh Hodgson School of Music's Athens Hip Hop Harmonic collaboration between Blakely and composition faculty member Peter Van Zandt Lane. When first coming together for the Athens Hip Hop Harmonic project, Blakely explains that he adapted his songwriting to the initial classical piece Lane brought to him, but then he tasked Lane with adapting the classical composition to hip hop for the second piece. This exercise in crossing worlds and meshing genres required a new approach.
"Trying to make a beat from scratch without knowing how to make a hip-hop beat was kind of frustrating. We couldn't get no traction. So I gave him access to all my unreleased music, and he said, 'I love the style of 'Jetpack,' let me see what I can do to it,'" says Blakely.
This experience built confidence in developing his vision in a team-setting and taking charge of creative situations. He again had to tap into these skills when commissioning the cover art for DaBigWaveMan, created by digital-based artist Tofuneers. Blakely directed the vision of his cover art based on the Greek mythology of Poseidon, whom he researched deeper after getting a taste of the lore in college. The concept of Poseidon ruling his world out of sight under water until someone stirred up his anger, in conjunction with the water symbology deeply connected to the artist, really portrayed the message of the album. It's time to unleash what Blakely views as the full potential of his music—at least up to this point.
"Like fuck fame, I just want the respect that comes with it. It woke up the beast in me that now I'm going to have to shake up the world," says Blakely.
Like what you just read? Support Flagpole by making a donation today. Every dollar you give helps fund our ongoing mission to provide Athens with quality, independent journalism.