While reflecting on her musical origins, Sienna Chandler doesn't miss a beat when she casually slips into the conversation that her band, Monsoon, "was born of a lie."
As the story goes, she was a senior in high school, hanging out during all-ages shows at The 40 Watt Club. One night late in 2012, promoter Jake Franzen was putting together a tribute night dedicated to fallen indie rock songwriter Elliott Smith and looking for local bands to perform.
"He knew me as just some punk kid that went to a lot of shows, and he said to me, 'Hey, I've seen you around. Are you in a band?'" Chandler recalls. "To my credit, I had done some Camp Amped, so I knew a little bit to get by. I thought, this is my big chance! I'm gonna book a show for a band that I don't have! I said, 'Oh yeah, I'm in a band.'"
Quickly, Chandler had to learn to do more than just get by playing guitar. She also learned that she had a serious issue with stage fright. And even though she'd never even considered singing before, she had to power through all of these hurdles if she was to be taken seriously as a musician. "Then I had to learn to write songs," she adds. "Before that, I had really only played riffs."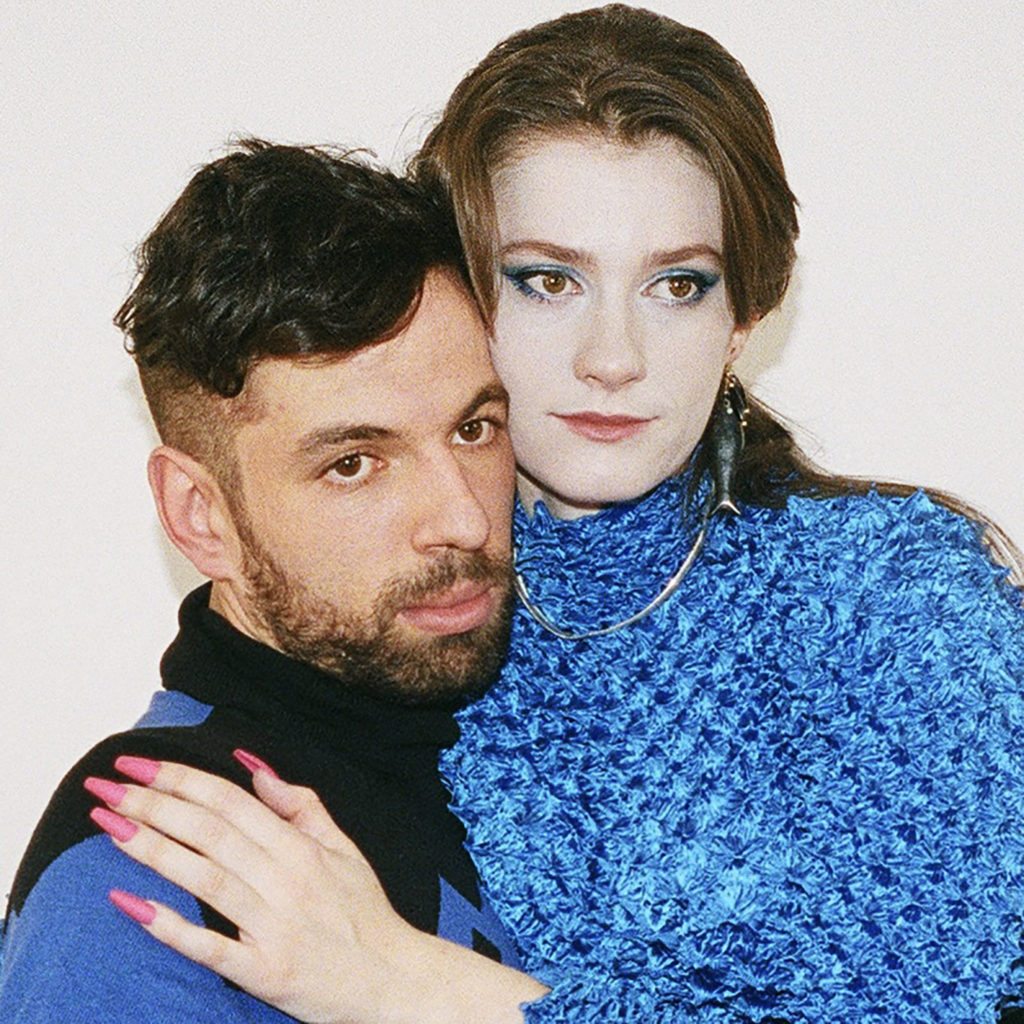 All of these stories about her disordered beginnings as a musician are completely at odds with the bold and sophisticated energy heard throughout Monsoon's sophomore album, Ghost Party.
But then again, seven years went by between releasing Monsoon's debut album, Ride A'Rolla, and this latest offering. Ghost Party is beaming with an ecstatic energy that drives layers of anthemic harmonies in songs such as "Third Voice," "Dark Colossus" and "Pig Pen" through a raging party of the mind's eye.
It is precisely the word "ecstatic" that brings life to Ghost Party. As an adjective, it describes a feeling of overwhelming happiness. As a noun, it captures an experience of mystic self-transcendence. It also underscores the group's own bio, which describes Monsoon as "a three-piece indie rock band from Athens, Georgia who weave together unorthodox styles to create music that dips between the conscious and subconscious."
A lot has happened to the group over the last seven years—both real and imagined—and it's all channeled into Ghost Party's 11 songs. After releasing Ride A'Rolla in 2015, the album's title track appeared in a regional Toyota commercial that ran after the Super Bowl halftime show in 2016. It generated a disarmingly high amount of interest in the young band, but soon after, Chandler and her primary bandmate, drummer Joey Kegel, fell out of touch and didn't speak with each other or cross paths for a couple of years.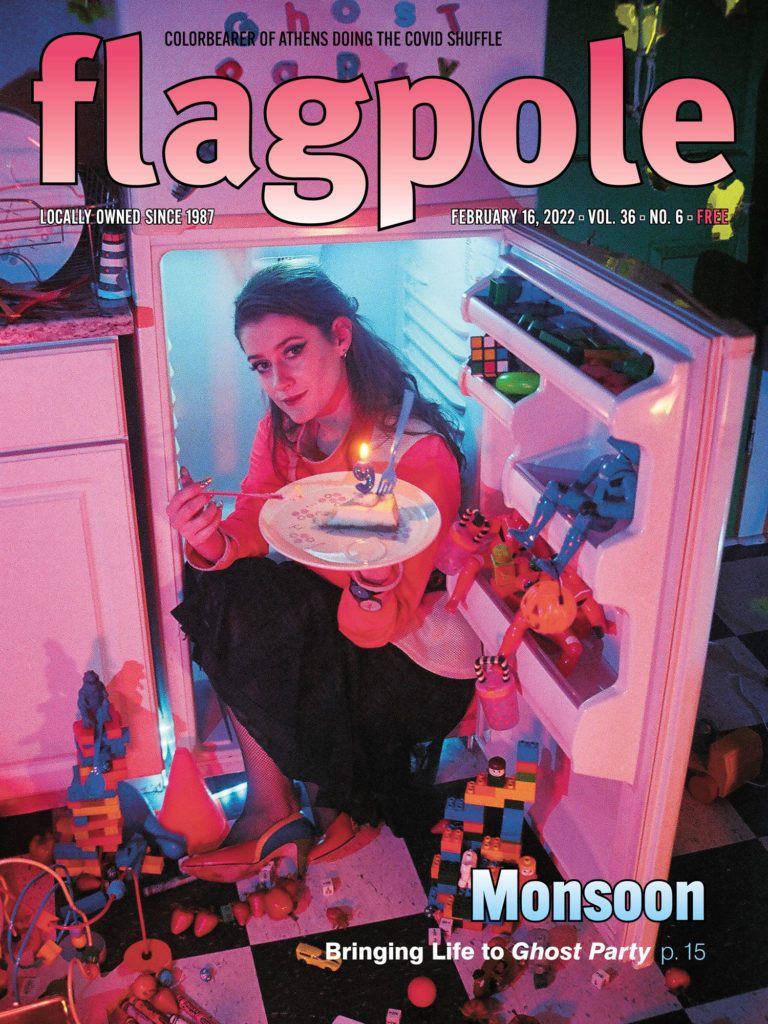 During that time, Chandler spent a few months studying at The Recording Workshop in Chillicothe, OH, where she received a certificate in recording engineering. She also appeared in videos for Modest Mouse's "Lampshades On Fire," as well as fellow Athens indie rockers of Montreal's "Bassem Sabry" and Wieuca's "Get Off My Cloud." Chandler also appeared as an extra on the set of "The Walking Dead," and she played the part of Quinn in director Evan McNary's indie film Ragged Heart.
As Kegel says, "We kind of split up and just did life for a second. Real life, if you will. Relationships, girlfriend/boyfriend and all that lame stuff, some jobs, none of which is nearly as cool as what we're doing now."
After dealing with a bout of writer's block, Chandler became fixated on the idea of being in the band again. "I'd done all of this life-ing, but in my subconscious, I knew that I was happiest playing music with Joey," Chandler says. "I realized that I needed to get back to that. So I tried to write this record as a means to get back on track. I thought, 'I'll just pretend that I'm in the band again, that way I'll be able to write some songs.'"
She immersed herself in a fantasy world, imagining that she and Kegel were playing music together, which opened up her creative processes.
For her, the word "ghost" brought the experience to a fine point. "At the time, I lived in an orchard, which was kind of like a fairytale existence, and I was living inside all of these memories—100 percent inside my own head—where I was happy," she says. "I felt like I was having a party all the time when I was just there by myself."
The songs on Ghost Party started materializing after Chandler reached out to Kegel in 2017. He was ready for Monsoon to get back together again, and the two reconnected. Songs started taking shape, and bass player Roan O'Reilly was worked into the lineup. Then the COVID-19 pandemic hit. Of course, spending more than a year in isolation only gave them more time to flesh out the new songs.
If there is one song that captures the true mood and the mania of the whole Monsoon experience, and just how much has changed since the beginning, it's "Third Voice." In less than three minutes, it traverses an impressive range of pop compositional elements, sophisticated structural changes, and a confidence that's light years beyond where Chandler started—centered around the unbreakable bonds formed by a lifetime in music.
"Honestly, when I listen to Ride A'Rolla now it sounds roughly like the same voice, but we're completely different people now," she says. "I was a high school kid when I was singing Ride A'Rolla. We've gone through things, and that all plays a role in how you approach writing."
WHO: Monsoon, Psychic Dungeon, Fishbug
WHERE: 40 Watt Club
WHEN: Saturday, Feb. 19, 8 p.m.
HOW MUCH: $10–$12
Like what you just read? Support Flagpole by making a donation today. Every dollar you give helps fund our ongoing mission to provide Athens with quality, independent journalism.