Many gallery spaces tend to pause their programming over the holiday season, but the Lyndon House Arts Center has six new exhibitions perfect for an outing with family or a leisurely respite away from dreary winter skies. The largest of these exhibitions is "Figure Ground," a group exhibition featuring seven artists whose works play with the relationships between positive space and negative space (or figure and ground). Like art school lessons that challenge the notion that the figure or object must be of the most significance, these works invite viewers to consider the spaces in between and the composition as a whole.
Glossy with drips of color, Sunkoo Yuh's ceramic sculptures present 360-degree narratives in which humans, tigers, fish, birds and other characters are given equal weight. Influenced by classical painting, Terry Rowlett's portraits depict hikers smoking cigarettes to address the delicate balance between contemporary culture and the environment. Phil Jasen's mixed media images reference Greek culture to subvert ideal figures, while his pair of cut paper puppets draw the eye to the absence of material where details lay.
Impacted by the medical condition of her son, Kate Windley's screen printed patterns incorporate images such as wheelchairs and hospital identification bracelets that suggest a figure, even if no one is present. Kevin Cole's difficult pair of large-scale works similarly remove the figure; silhouettes cut out from the canvas were inspired by a story the artist heard as a teenager about black men dressed to vote who were hung by their neckties from a tree.
William Downs' chaotic black-and-white illustrations depict multi-faced characters—perhaps indicating movement or multiple expressions—interacting with solid black silhouettes in settings of dreamlike confusion. Using abstract components, Susan Nees creates portraits of women that emphasize line and form.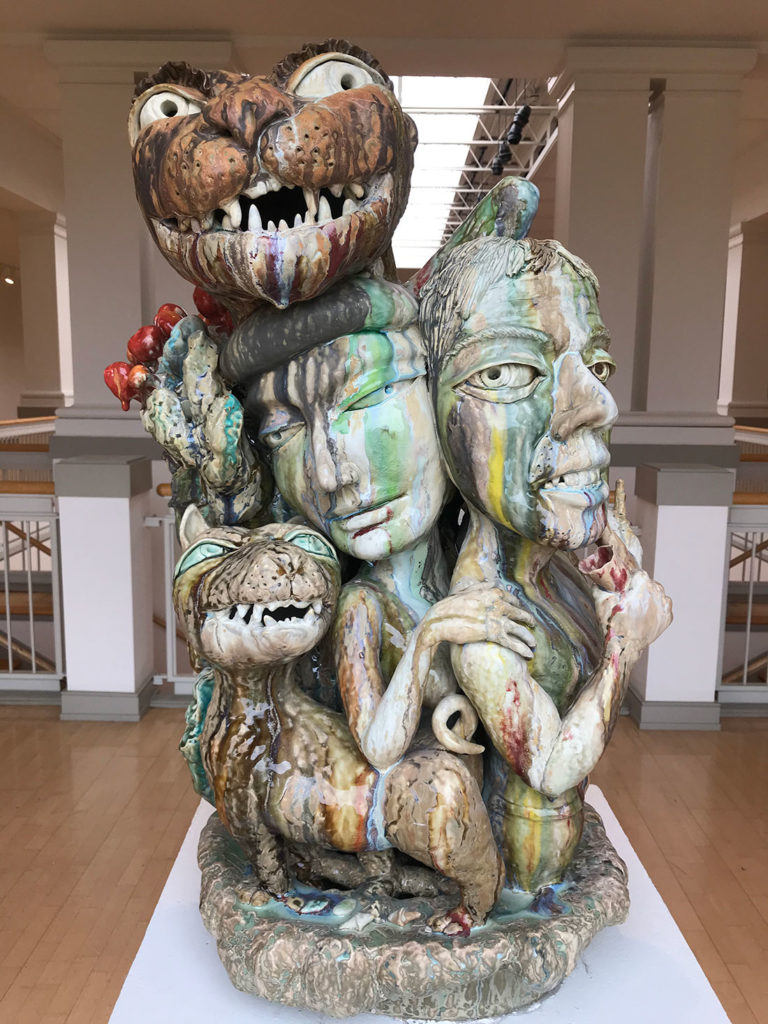 Looking inward, "Curation of Self Image" explores how social media users portray themselves to others, and how these meticulously manicured representations compare to real life outside of the virtual platforms. Anjali Howlett series of eight portraits, "Instagram," attempts to validate the images by enlarging and framing them on a gallery wall, or suggests that her account itself serves as a mini gallery space. Parawita Stamm's video documents the artist as she uses an app to edit her facial features, revealing how flattering published images can be misleading. Alan Barrett's painting of a group of friends, bored and distracted with phones and laptops in their hands, speaks to how technology and social media impact relationships. Curated by Kendall Rogers, a recent BFA graduate from UGA who is currently pursuing her MFA at the New York Academy of Art, the exhibition also includes works by Emmie Harvard, Lauren Schuste and Monsie Troncosco.
Similarly investigating issues pertaining to social media, "follow like friend" contemplates surveillance and the balance between connection and disconnection. Kimberly Riner's wall installation, "#selfieculture," presents rows of ceramic smartphones with mirror decals to reflect the viewer's face. Glorifying the object yet recognizing its potential to increase anxiety and narcissism, she's influenced by vanitas, a genre of still-life painting that evokes the transience of earthly life and material pleasures. Examining the effects of prolonged quarantine, Stephanie Sutton's video performance "You Could Be the One for Me" is influenced by Zoom calls and TikTok dances—methods of staying in touch with others that often leave users more visually focused on themselves. Alyssa Davis' prints similarly reflect on the push and pull between connection and disconnection. Though her creatures' bodies appear bound to each other with umbilical cord-like appendages, the atmosphere is one of longing and isolation.
Opening this past Thursday, "Dignos y Sin Barreras" ("Dignified and Without Barriers") is guest curated by Maria Elias, a senior attending UGA's Lamar Dodd School of Art whose works are joined on the gallery walls by those of Alondra Arévalo, Blanca Becerra and Jorge Rocha. "Dignos y Sin Barreras" demonstrates that "Mexican art" extends far beyond traditional craft or reductive stereotypes. As a first-generation Mexican American, Elias' personal history of experiencing and witnessing racial and social injustices informs her artistic expression; however, it decidedly does not limit it. Instead, the show's artists collectively pursue a variety of ideas ranging from identity, mental heath, sexual assault and body image through digital art, ceramics, paintings and assemblage.
"Dignos y Sin Barreras" is a continuation of the Guest BIPOC Curator program, a new series funded by the Lyndon House Arts Center that launched this past summer with "#NotAStereotype," a group exhibition curated by La Ruchala Murphy that featured works by over two dozen Black artists from across the South. Virtual artists talks will be held in English on Jan. 20 at 6 p.m. and in Spanish on Feb. 17 at 6 p.m.
On view in the main entrance's lobby case, "Chants/Chance: Tincture, Totem & Charms" showcases the whimsical kinetic assemblages of George Davidson, a local self-taught jazz saxophonist, blues musicologist, artist and writer. Embracing the serendipity of chance within his creative process, he tinkers around with old-fashioned toys and found objects until a narrative begins taking shape.
Across the lobby, the Collections from our Community series presents photographer Bill Raines' collection of pond boats. Discovered in junk shops along his routes while traveling throughout Georgia, a few of these antique boats are a century old. Raines will offer an in-person discussion on Jan. 13 at 6 p.m.
Gallery exhibitions are currently on view through Jan. 15, with the exception of "Dingos y Sin Barreras," which extends until Mar. 12. The LHAC will be closed for the holidays Dec. 23–25, Dec. 31 and Jan. 1. Otherwise, the center's hours are Tuesdays and Thursdays from 10 a.m.–8 p.m. (closing at 5 p.m. on Dec. 30) and Wednesdays, Fridays and Saturdays from 10 a.m.–5 p.m.
Like what you just read? Support Flagpole by making a donation today. Every dollar you give helps fund our ongoing mission to provide Athens with quality, independent journalism.