A holiday tradition all on its own, hundreds of local and regional artists and makers come together every December to showcase and sell their most recent handcrafted creations, demonstrating the strong entrepreneurial spirit and diverse talents within the community. Whether it's a multi-vendor fair or a more intimate open house at a private studio, these events provide opportunities to connect directly with the talented makers who help provide the backbone of Athens' arts community.
The pandemic severely impacted the livelihoods of many artists, particularly those who depend on in-person markets and the holiday rush to float them through the following months of production. Last year, roughly half of the annual markets we look forward to every year moved to virtual formats or chose to take the season off altogether. Gratefully, nearly all have returned this month, with a few new ones to boot. With 40 different events scheduled over the next three weeks, opportunities abound for directly supporting local artists and finding one-of-a-kind gifts for a loved one or yourself.
In the spirit of tradition, let Flagpole make shopping locally a little simpler this year with our annual Holiday Market Roundup, a list of artist markets, studio open houses and craft sales happening in Athens and nearby.
IN ATHENS
The UGA Ceramic Student Organization's annual Winter Pottery Sale will occur in the Lamar Dodd School of Art's first-floor lobby Nov. 30–Dec. 1 from 9 a.m.–5 p.m. Created by students and faculty, the works range from decorative pieces and hand-built sculptures to functional pottery like mugs, plates, vases, lidded boxes and bowls. Proceeds support educational field trips to ceramic conferences and also bring in visiting artists to campus. Parking is available in the Performing Arts Center deck. Visit art.uga.edu.
The Woodhill Art Exhibition offers paintings by Dortha Jacobson and Leigh Ellis, natural sculptures by Barbara Odil, textiles by Greg Krakow and Wini McQueen, and candles and soaps by Ansley Williams. Kicking off last weekend, the sale continues Dec. 1 from 12–6 p.m. and Dec. 4–5 from 10 a.m.–5 p.m. Marty Winkler will perform Dec. 4. Woodhill is located at 4745 Bob Godfrey Road. Call 706-621-0799.
Part of a web-based collective with galleries in Charleston, Atlanta, Nashville and Washington, the Atlanta Artists Collective is a group of artists "with the mission to curate high quality, affordable, original art while giving back to the community." Bringing a piece of the big city to town, the AAC will host a holiday show, "Brushstrokes," to benefit Love.Craft Athens. In addition to Athens-inspired works by Winston Wiant, who recently relocated here from Atlanta, the lineup includes Atlanta-based artists Michele James, Britt McGraw, Carrie Penley, Christie Gregory, David Colgan, Tyler Colgan, Dawn Trimble, Debby Alphin, Eleanor Post, Katherine McClure, Lea Ann Slotkin, Linda James, Lisa Gleim, Susan Westmoreland and Anne Strickland. The event takes place on Dec. 2 from 6–8:30 p.m. and Dec. 3 from 9 a.m.–12 p.m. at 336 Hill St. Check out atlanta.artistscollective.org to see new works.
Operating primarily as a wholesale business, Mbare, Ltd. will open its warehouse to the public for the annual Africa in Athens Warehouse Sale Dec. 3 from 4–8 p.m. and Dec. 4 from 10 a.m.–3 p.m. The fair-trade company works directly with artisans and craftspeople in Zimbabwe, Senegal, Swaziland, South Africa, Tanzania, Mali and Ghana to collect wall decor, textiles, baskets, glassware, stone sculptures, wood carvings, tin art, masks and more. Mbare is located at 118 Commerce Blvd., behind the Athens Habitat ReStore West, and more details can be found at mbare.com.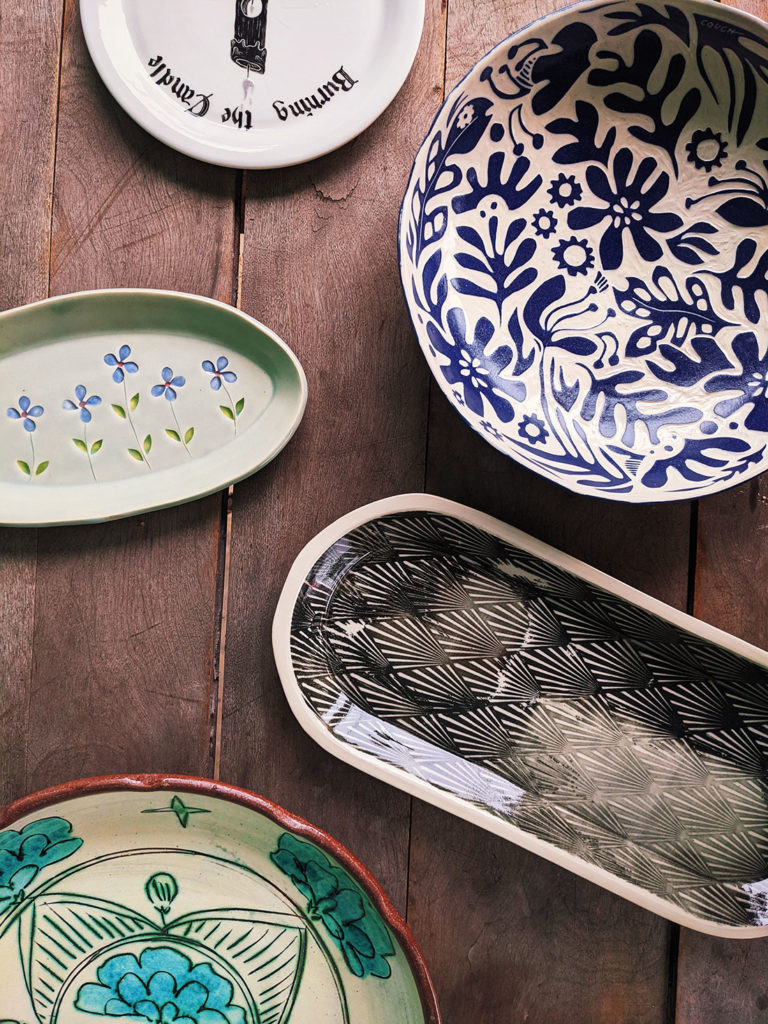 Maria Dondero's 13th annual Marmalade Pottery Holiday Sale will be held concurrently with Southern Star Studio, located at 180 Cleveland Ave., Dec. 4–5 from 9 a.m.–4 p.m. The ceramic artist will share a new collection of mugs, planters, platters, pots and more, all decorated in her one-of-a-kind illustrations of flowers, animals and faces. Enjoy live music by Hawk Proof Rooster on Saturday morning, and coffee and sweet treats both days. Visit mariadondero.com for examples of work.
Southern Star Studio, located at 180 Cleveland Ave., will present its sixth annual holiday sale of members and friends Dec. 4–5 from 9 a.m.–4 p.m. Offering an array of pots, ornaments and other gifts, participating potters include Maria Dondero, Sophie Goode, Kerry Sternberg, Courtney Howard, Kate Couch, Esther Mech, Brandon Bishop and Mac Burns. The studio's gallery will also be open Thursdays–Saturdays from 10 a.m.–4 p.m. through December. Check out southernstudioathens.com to learn more about the collective work space and gallery.
New this year, the Dirty Ladies Kiln Opening and Pottery Sale will offer brand new pots straight from the kiln. Local potters include Tina Lawrence, Mary Mayes, Kathleen Miller, Caroline Montague, Linda Rovolis, and Rob and Jessica Sutherland. The sale runs Dec. 4 from 10 a.m.–5 p.m., and the kiln will be opened at 11 a.m. Visit Caroline Montague Pottery at 180 Clarkewoods Road, and email art.montague@gmail.com with any questions.
Heirloom Café and Fresh Market, at 815 N. Chase St., will host an opportunity for seasonal shopping at the Heirloom Holiday Market Dec. 4–5 from 10 a.m.–2 p.m. Each day features a different lineup of vendors offering handmade wares like jewelry, gourmet foods, woodwork, ceramics, bath and body products, textiles and more. Keep an eye out for jewelry by Rebecca Holt, illustrations by Lois Songster and embroidery by Rachel Winters on Saturday, plus graphic novels by Joey Weiser, polymer miniatures by Rachel Blair and paintings by Zock Art Originals on Sunday. Salvage Sparrow will offer tintype portraits both days. Visit heirloomathens.com.
Set aside time to look around at several new exhibitions currently on view at the Lyndon House Arts Center, located at 211 Hoyt St., while visiting the Holiday Artist Market. This year's lineup includes Bee Natural, Amanda Burk, Denise Burns, Creations by Rise, Will Eskridge, Jadin Fielteau, H Camren Gober, Leslie Grove, Hannah Jones, Will Langford, Leslie Litt, Sara Parker, Suzanne Reeves, Ciel Rodriguez, Lily Smith, William Stephanos, Margo Rosenbaum, Jim Talley, TinkerWagon and others. The market will be open Dec. 4, 11 and 18 from 10 a.m.–5 p.m. as well as during Third Thursday on Dec. 16 from 6–8 p.m. Earlier that day from 5–7 p.m., Abigail West will lead a free pop-up Athens Lantern Project workshop for making lanterns from reclaimed materials, supported by an Arts in Community Resilience Award from the Athens Cultural Affairs Commission. Saturday markets will additionally coincide with a series of Holiday Makers Workshops, held 11 a.m.–2 p.m., with coffee, treats and activities such as jewelry, printmaking and ceramics. For more details, visit accgov.com/lyndonhouse.
For specialty items straight from the garden, visit the UGArden Herbs Holiday Market on Dec. 4 from 10 a.m.–2 p.m. Using organic practices, UGArden offers a selection of medicinal teas, seasoning blends, salve and other earthy products. UGArden is located at 2500 S. Milledge Ave. Check facebook.com/ugardeners for more information.
Fiber artist Mary Rugg will host a porch sale at her home studio located at 263 Milledge Circle on Dec. 4–5 from 11 a.m.–5 p.m. or by appointment. Using centuries-old traditions to inspire modern designs, Rugg weaves a variety of scarves, shawls, cowls and wraps in a blend of colors and fibers. She will also sell items outside of Athens Running Company, located at 1210 S. Milledge Ave., every Monday from 11 a.m.–6 p.m. until Christmas. Contact 706-202-7636 or maryerugg@gmail.com to arrange an appointment, and visit maryruggweaver.com for examples of work.
Introducing visitors to artists and makers from across the state, each of Steel+Plank's Sidewalk Saturdays will have a different focus from "Sustainable Holidays" to "Cozy Gift Guide for the Stylish Gourmand." The sidewalk sales will be held on Dec. 4, 11 and 18 from 11 a.m.–4 p.m. Steel+Plank's own shop will show off its line of minimalist, handcrafted furniture and home goods. Visit steelandplank.com to see what's in store.
The West Broad Farmers Market at 300 Rocksprings St. will offer two Holiday Markets on Dec. 4 and Dec. 11, 11 a.m–2 p.m. In addition to the market's fresh produce, seasonal baked goods and other fare from local artisans, the lineup will include a handful of crafters. Visit facebook.com/WestBroadMarketGarden.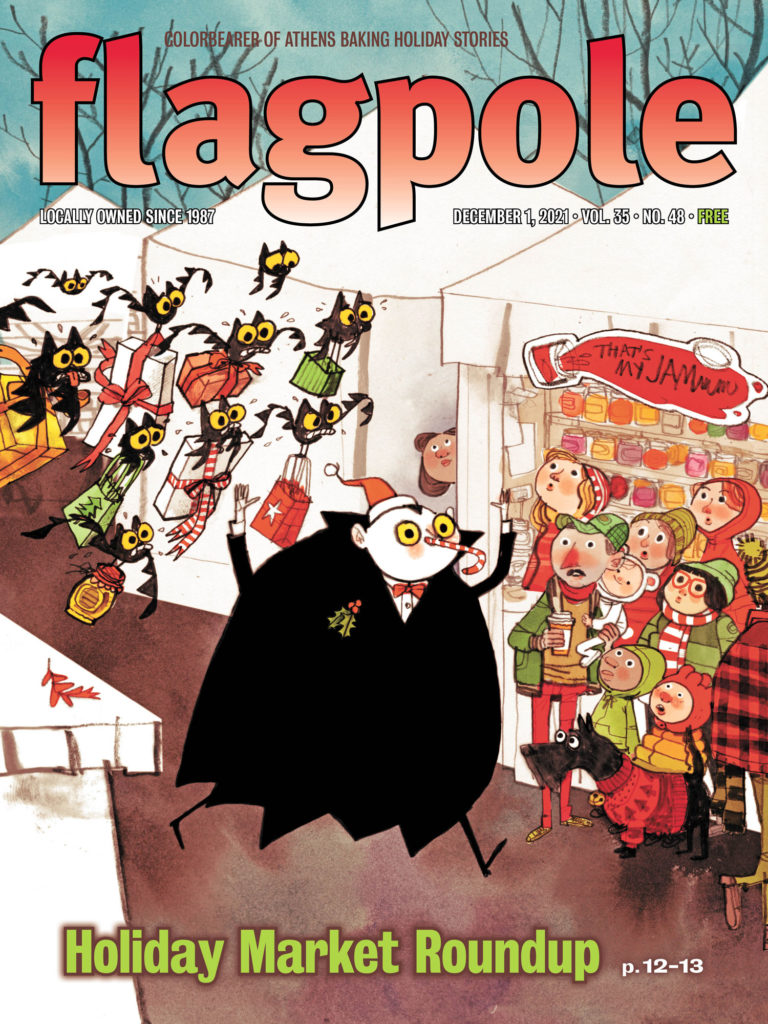 The Flicker Holiday Craft Market at Flicker Theatre and Bar will host a mix of artwork, clothing and plants, plus metaphysical crafts, services and products. Check out illustrations by Christy Wooke, harnesses by Night Owl Assembly, ropes by Ropes & Knot, paintings and terrariums by Studio PenPen (Noah McCarthy and Lea Purvis), and shamanic sprays and lotions by Wheels of Light. Flicker co-owner Kim Naugle Long will also offer tarot and oracle readings. The market will be held Dec. 4–5 from 12–4 p.m. at 263 W. Washington St. Visit flickertheatreandbar.com.
In addition to the Beechwood Shopping Center's restaurants and retail shops, the second annual outdoor Beechwood Holiday Market will set up several pop-up storefronts and vendor booths. Activities include hay rides, ornament making and Santa's post office. Located at 196 Alps Rd., the market is currently running through Dec. 12 on Saturdays from 2–8 p.m. and Sundays from 2–6 p.m. A Christmas tree farm will also run Fridays from 6–9 p.m., Saturdays from 11 a.m.–8 p.m. and Sundays from 11 a.m.–6 p.m. Visit beechwoodathens.com.
Treehouse Kid and Craft presents its annual Hollyday Handmade Artist Market across the street at Starlite Showroom, at 750 W. Broad St., Dec. 5 from 10 a.m.–4 p.m. The market will feature items made by both adults and children. Find details at treehousekidandcraft.com.
The Boulevard neighborhood café Buvez will host a Holiday Pop Up showcasing ceramics, prints, clothing, jewelry and more from a variety of local artists and collectors. Slated for Dec. 5 from 11 a.m.–3 p.m., the outdoor event will happen at 585 Barber St., Suite A. See facebook.com/buvezathens.
Supported by an Arts in Community Resilience Award from the Athens Cultural Affairs Commission, Hendershot's Coffee will host a Holiday Market with art vendors, food trucks and live entertainment. In addition to an open mic freestyle and performance by the Good Grief Trio, the event will feature a live art installation by Broderick Flanigan and a community art project. The market takes place at the Jittery Joe's Roaster, located at 425 Barber St., on Dec. 5 from 1–6 p.m. Go to hendershotsathens.com.
An outdoor patio under twinkling lights makes for a festive setting at the juried Athens Holiday Market at Big City Bread Cafe Dec. 9–10 from 5–9 p.m. Peruse the works of 35 local and regional artists while a live band performs around the bonfire. Artists like Susan Staley, Kerry Sternberg, Lou Kregel, Frank Saggus, Jim Norton, Jimmy Straehla, Jamie Calkin and Greg Krakow will sell everything from painting, pottery and jewelry to leather goods, floral design and homemade jams. Big City Bread is located at 393 N. Finley St. and can be reached at 706-353-0029.
Though Good Dirt Clay Studio is not hosting its traditional studio sale this year, owners Rob and Jessica Sutherland will showcase their work in the gallery for private shopping appointments through the holiday season. The couple will additionally run an online sale at oxoxpottery.com on Dec. 10. In addition to pottery, Good Dirt is selling Espress Yourself coffee, with all profits helping to provide scholarships for underfunded school groups and community members to participate in the studio's programs. If you miss Good Dirt in December, make sure to check back in next month for a special donation sale through which the profits of pay-what-you-wish pieces will be donated to local organizations in need. Good Dirt is located at 485 Macon Highway. Call 706-355-3161 or email info.gooddirt@gmail.com to schedule an appointment.
Southern Brewing Co.'s artist market will take place during the Ho Down X, a concert featuring Susto, The Pink Stones, Daniel Donato, Convict Julie and WesdaRuler. As a creative fundraiser for Love.Craft Athens, the benefit concert will support the nonprofit in its mission of promoting inclusivity of adults with disabilities. Several of Love.Craft's pottery crew members will sell their own pieces. Located at 231 Collins Industrial Blvd., the event happens Dec. 10 from 5–10 p.m. Visit sobrewco.com.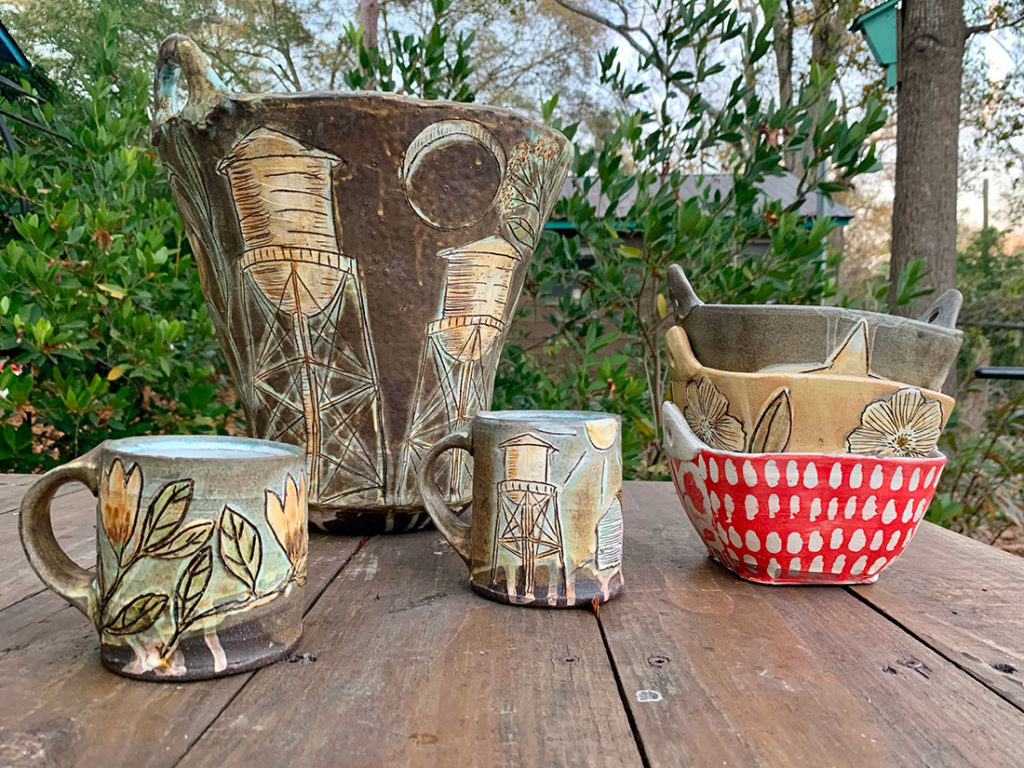 The Normaltown Pottery Holiday Sale, slated for Dec. 10 from 4–8 p.m. and Dec. 11 from 9 a.m.–4 p.m., will feature handmade, functional pottery by Nancy Green, Shawn Ireland and studio owner Juana Gnecco, plus soaps by Farmington Herbals. Normaltown Pottery is located at 465 Belvoir Heights. For more information, call 762-728-0575.
Local painter Jim StipeMaas will open the doors of his studio, located at 100 Three Oaks Drive, for a special sale held Dec. 11 from 9 a.m.–3 p.m. Spanning many years, works will range from drawings and paintings to oil pastels and watercolors. Focusing on nature, weather, seasons and light, many of his landscapes were painted nearby. Visit jimstipemaas.com for examples of work.
Cruise through residential streets for a handful of pop-up shops at the first annual Forest Heights Neighborhood Vendor and Artist Market on Dec. 11 from 10 a.m.–4 p.m. Highlights include sewn items by Thready Handmade (Kendra Kline), mushroom grow kits and tinctures by Treeunion Forest Gardens, houseplants from Sarah Runels, woodworking by The Martin Collective, vintage clothing from Florbe Orb, jewelry by Demi Thomloudis and pottery by CvW Ceramics (Caryn van Wagtendonk). Find the event on Facebook for a full list of vendors, shopping map and details on a "Really, Really Free Gift Exchange."
With over 110 vendors spread across the field, Indie South's 15th annual Holiday Hooray is one of the largest markets of its type in the region and covers virtually everything handmade, from original art in every medium, bath and beauty products, vintage and sustainable fashion to artisanal food and home goods. Keep an eye out for Appaloosa Designs, Chris Hubbard, Hannah Betzel, Color of Heat, Sisters of the Moon, Appalachian Sacred Smoke, O Timeless Threads, Geek In Stitches, Cherokee Moon Mixology, Very Good Puzzle, Hamilton Glassworks, Bear Hug Honey Company, Bohemian Spirit Glass, RockBelly, Lovely Bones, Sewcraftic, Raccoon Moon Woodworking, Oscar Bites Dog Treats, Franny's Farmacy and Piedmont Provisions. If you've only got time for one market this season, let this be the one. Food vendors include Hendershot's Coffee, Freeze Cream and tacos by Homero Elizalde. The two-day open-air market takes place Dec. 11 from 10 a.m.–6 p.m. and Dec. 12 from 11 a.m.–5 p.m. in the athletic field at Bishop Park. For more details, visit theindiesouth.com.
Michele Dross Ceramics will host an outdoor Holiday Sale at her cozy backyard studio in Normaltown. Dross' distinctive handmade porcelain pottery is characterized by mystical narrative drawings full of celestial women, plants, rainbows, snakes, goats and roosters. Floral works intricately illustrated in cobalt blue will also be available. The event takes place Dec. 11 at 10 a.m.–2 p.m. at 515 King Ave. Keep up with the artist at micheledross.com.
The third annual Holi-LADDER-day Market at tiny ATH gallery will make the best use of its small square footage by displaying creations vertically on ladders. Located at 174 Cleveland Ave., the outdoor market will be held Dec. 11–12 from 10 a.m.–4 p.m. Each day features a different lineup, with participating artists including Lisa Freeman, Marisa Mustard, Alexis Spina, Beau Xavier, Cricket Bancroft, Keith P. Rein and many more. Visit tinyathgallery.com.
Grab a coffee and shop for local art, jewelry, vintage clothing and vinyl at the Warped Vinyl Vintage Popup Market at the Jittery Joe's Roaster on Dec. 11 from 11 a.m.–5 p.m. Contact kylie.andherson@gmail.com.
Artists will come together during the ninth annual Holiday Artist Market to benefit the local nonprofit Campus Cats/Cat Zip Alliance Dec. 11 from 5–9 p.m. at Little Kings Shuffle Club, at 223 W. Hancock Ave. The nonprofit works to promote humane community cat management through a trap, neuter, return approach. To learn more, visit catzip.org.
Showing off its newly expanded gallery space, Love.Craft Athens will host its monthly Sunday Showroom on Dec. 12 from 10 a.m.–2 p.m. Dedicated to promoting the inclusivity of adults with disabilities, Love.Craft Athens uses pottery and music as tools for developing job skills and personal growth. The Sunday Showroom brings together artists of all abilities, with both Love.Craft crew members and community artists present. Love.Craft is located in the Chase Park Warehouses at 160 Tracy St. To learn more about the nonprofit's mission, visit lovecraftathens.com.
Enjoy a beer while perusing Creature Comforts' Get Artistic Holiday Market, featuring 20 or so vendors, on Dec. 15 from 5–9 p.m. A list of confirmed artists and artisans will be updated at getcurious.com/events/get-artistic-holiday market.
Hosted by Indie South, the Abnormal Bazaar offers a last-minute opportunity to pick up everything from vintage and collectibles to vinyl and crafts. Held the third Saturday of every month, the outdoor pop-up flea market is scheduled for Dec. 18 from 11 a.m.–3 p.m. at 470 Hawthorne Ave. Pastries from Suncat Sweets and hot cups of joe from Hendershot's Coffee will be available. Be sure to venture inside Indie South's brick and mortar as well for a tastefully curated selection of handcrafted items, crystals, rare house plants, tarot decks and adornments for the body and home. Visit indiesouthfair.com for details.
In celebration of the changing season, Rabbit Hole Studios will host a Winter Solstice Festival on Dec. 21 from noon until midnight. In addition to an artist market, the free event features performances by White Rabbit Collective, MYNAWA, Fake Zappa and others, as well as a bouncy house for kiddos. Rabbit Hole Studios is located at 1001 Winterville Road. Stay tuned to rabbitholestudios.org.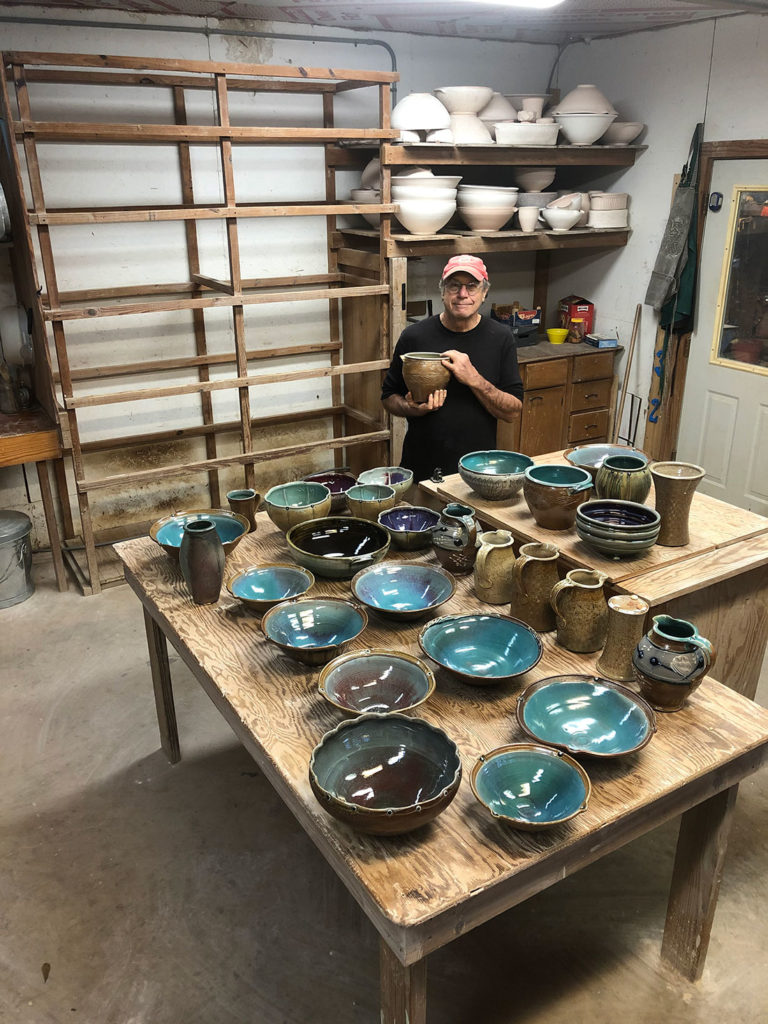 OUTSIDE ATHENS
The Oconee Cultural Arts Foundation's 27th annual juried Holiday Market presents the works of dozens of regional artists and crafters, including paintings, pottery, stained and fused glass, jewelry, photography, woodwork, sculpture, fiber art and more. The market is open Dec. 3 from 5–8 p.m., Dec. 4 from 10 a.m.–5 p.m. and Dec. 5 from 10 a.m.–4 p.m. Admission for all three days is $5 for adults and free for children under 16. OCAF's Artists Shoppe, which features handmade items created by the gallery's members, opens in conjunction with the Holiday Market and will remain open from 10 a.m.–4 p.m. Tuesdays through Saturdays Dec. 3–22. OCAF is located at 34 School St. in Watkinsville. For more details, visit ocaf.com.
Venture over to Farmington Pottery's December Open House Pottery Sale Dec. 4–5 from 9 a.m.–5 p.m. to view the latest creations of Geoff and Lisa Pickett. A wide variety of Geoff's wood- and gas-fired dinnerware, kitchen and tableware, and various pots for the home and garden will be spaciously displayed outdoors. Lisa, meanwhile, will offer a variety of botanical soaps, lotions, shampoo bars, tea blends, serums and salves made from fresh herbs grown in the garden. Farmington Pottery is located at 1171 Freeman Creek Road in Farmington. For more information, visit pickettpottery.com and farmingtonherbals.com.
Farmview Market, at 2610 Eatonton Hwy. in Madison, will host a Holiday Market Dec. 4 from 9 a.m.–1 p.m. In addition to locally sourced veggies, meat, soaps, baked goods and preserves, you'll find a few vendors offering handcrafted items like cutting boards, knitted accessories and jewelry. The family-friendly event also includes Christmas carols and an appearance by Santa Claus. Check out farmviewmarket.com for what's in store.
For richly glazed pieces of pottery that draw inspiration from nature, check out the works of David Morgan, a regional potter who specializes in durable, utilitarian works in an earthy palette of blue, cranberry, brown and green. First experimenting with clay in 1981, Morgan celebrated a huge milestone with his 40th anniversary as a potter this year. This year's annual sale has been canceled due to illness. Follow David Morgan Pottery on Facebook for other ways to support the artist. Get well soon, David!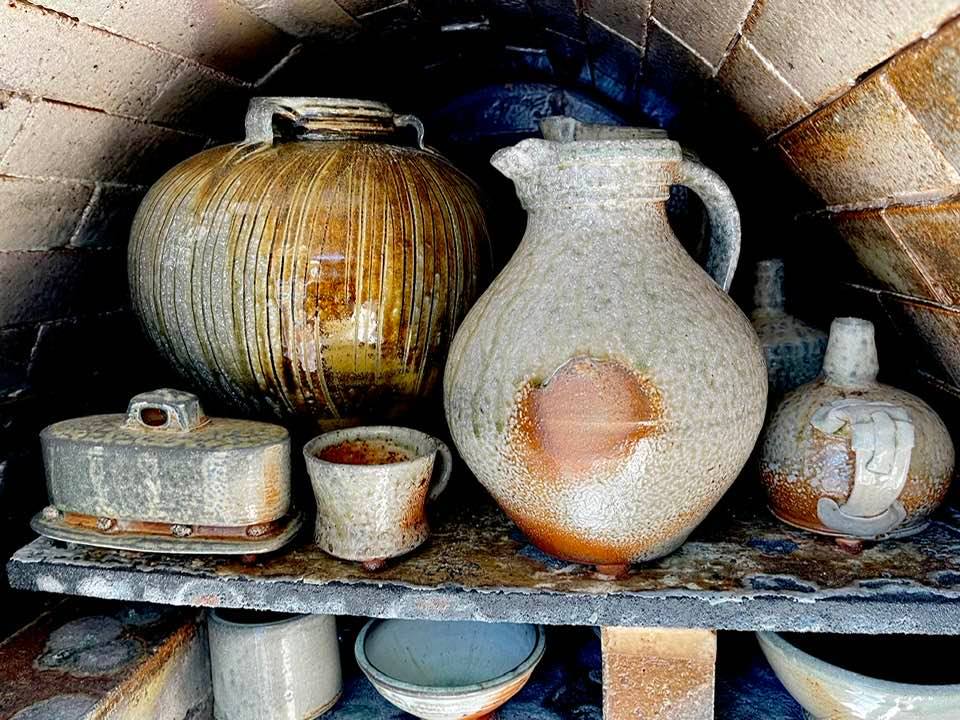 This year's lineup at the Nancy Green Holiday Group Open Studio Sale promises a diverse array of traditional and contemporary ceramic pieces, with participating potters including Kyle Carpenter, Juana Gnecco, Nancy Green and Minsoo Yuh. Located at 1500 Tappan Spur Road in Watkinsville, the studio's annual event is Dec. 4–5 from 9 a.m.–4 p.m. For more details, call 706-410-5200.
A new collection of work by Lori Breedlove will be available at the Rose Creek Pottery Holiday Sale Dec. 4–5 from 9 a.m.–5 p.m. An assortment of gas- and wood-fired functional ware like pots, cups, vases, bowls and other vessels will be spaced outside in front of the studio, as well as within the studio, which is open to the fresh air. Rose Creek Pottery is located on a grass-fed cattle farm at 1051 Rose Creek Drive in Watkinsville. Visit rosecreekpottery.com.
Visit the annual J.B. (Jeff Bishoff) Pottery Sale for new works. Occurring Dec. 4–5 from 10 a.m.–5 pm., the sale is located at 1790 Salem Road in Farmington. Call 678-863-1847.
The family-run Bendzunas Glass Studio and Gallery, at 89 W. South Ave. in Comer, will be open and offering glassblowing demonstrations every Saturday from 12–5 p.m. through the holiday season. Operating primarily as a wholesale business that distributes to galleries countrywide, a public gallery displays some of the family's best functional and decorative glass works, including cups, paperweights, bowls, ornaments, bird feeders and vases. The studio is also open by appointment by calling 706-783-5869. For more information, check out bendzunasglass.net.

The Women's Fine Art Guild will host its second annual Holiday Fine Art Sale on Dec. 11 from 12–5 p.m. at The Gillen House, located at 435 S. Main St. in Maxeys. The outdoor event will showcase participating guild artists including Beatrice Brown, Mary Ann Cox, Nan Demsky, Monica Jones, Cinzia Sanchez and Jean Westmacott as well as invited guest artists. For more information, call 404-275-5151.
Like what you just read? Support Flagpole by making a donation today. Every dollar you give helps fund our ongoing mission to provide Athens with quality, independent journalism.