With a mission to empower adults with developmental disabilities, Love.Craft Athens uses visual art and music as tools for educating the local community, promoting customized employment at businesses and further facilitating a future of inclusivity.
Since its inception three years ago, the nonprofit organization has grown from serving four to 30 participants who are encouraged to express themselves and learn job skills along the way, primarily by making and selling pottery. Love.Craft Athens was co-founded by Susan Fontaine and Ariel Levy, who previously worked together as special education teachers in an LID (low incidence disabilities) classroom at Clarke Middle School. Through her experience teaching, Fontaine came to realize how limited and inaccessible resources and opportunities were for students once they left the public school system. After completing her masters degree at UGA, where she specialized in transitioning adults with disabilities into the job force, she was inspired to launch Love.Craft Athens.
"I noticed in my class a lot of our students enjoyed Play-Doh, and it wasn't long before oven-baked clay made its way," says Fontaine. "I just loved how accessible it is—cookie cutters for shapes, various ways to paint—so even my students with physical deficits could access and participate in making things. We discussed a few other potential business models, but pottery with such low overhead to create something so cool and useful just made the most sense to me."
Love.Craft is currently located at the Chase Park Warehouses in a spacious, sunny space formerly occupied by the Athens Institute for Contemporary Art. Its first pottery studio, however, was a small room serendipitously located down the hall from the recording studio Gift Horse, which quickly caught the attention of curious crew members. Recognizing the potential for self-expression through music and dance, Love.Craft began facilitating explorative jam sessions with the assistance of volunteer Aslyn Nash and Gift Horse co-owner Alec Stanley. Since then, the offerings have expanded to include a full-fledged Love.Craft Band, music therapy groups and instrument instruction led by Steven Ledbetter, also of Gift Horse. Like pottery, these musical activities help empower participants by improving focus, confidence, self-determination and communication—skills that can all be advantageous in career settings.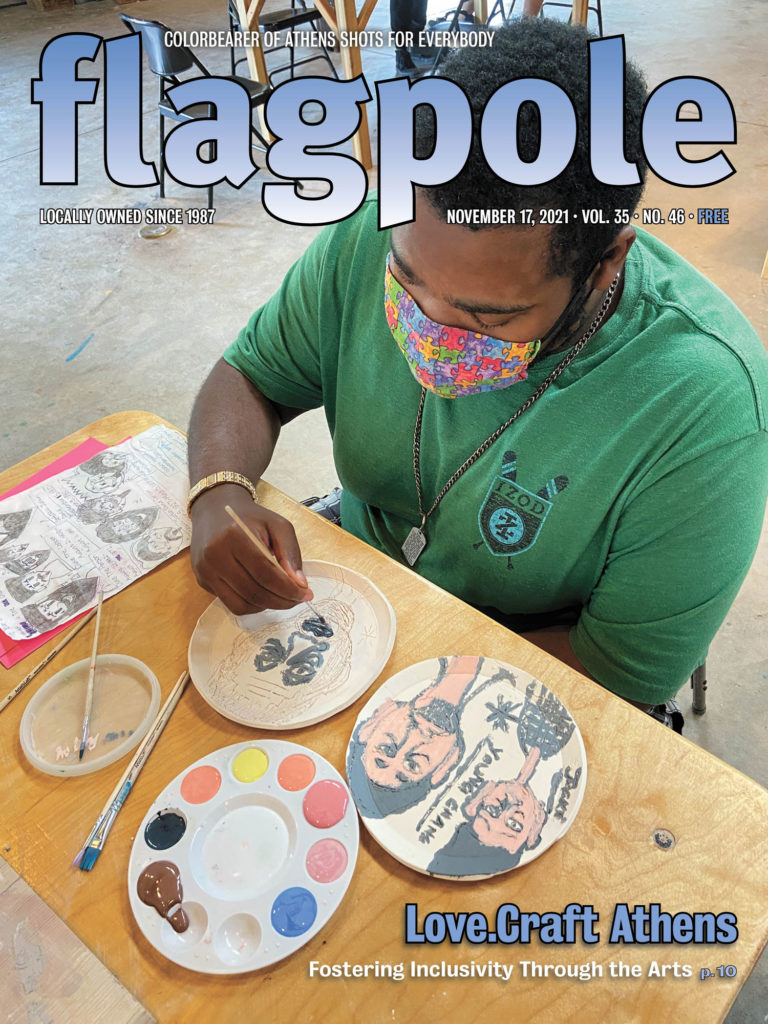 One of Love.Craft's most important roles in the community is to educate businesses on customized vocation and how to better support adults with disabilities. While in the pottery studio, staff are able to assess each individual's unique strengths, preferences and interests to make recommendations of specific modifications and accommodations for future employment opportunities.
"Our goal is to create purposeful activities for our crew in the community so they feel needed and accomplished," says Fontaine. "That can look a lot of different ways. Some want to be front of house talking to people, some want to be back in the back doing repetitive tasks, but we've definitely seen the most success when they work in a group."
So far, Love.Craft has partnered with Chispa House, STATE, Levy Restaurants, Phil Hughes Honda and Bitty & Beau's to establish purposeful opportunities, and additionally began providing transportation to increase accessibility. While the pandemic has presented barriers to locating job placements, the nonprofit has been hard at work continuing community education by participating in markets and hosting other events. 
"We really just want to be a resource to provide an assessment of these individuals and be able to tell a business, 'Hey, this person needs a list written out every day' or 'This person needs a timer or else they won't keep track of time.' Just the little self-management things we all do that we take for granted that we know how to determine."
Currently, the nonprofit financially sustains itself from pottery sales, events and donations, and there is no tuition required for program participants. Goals for this upcoming year include the implementation of a finance education program and the digitization of artwork that could compensate the crew.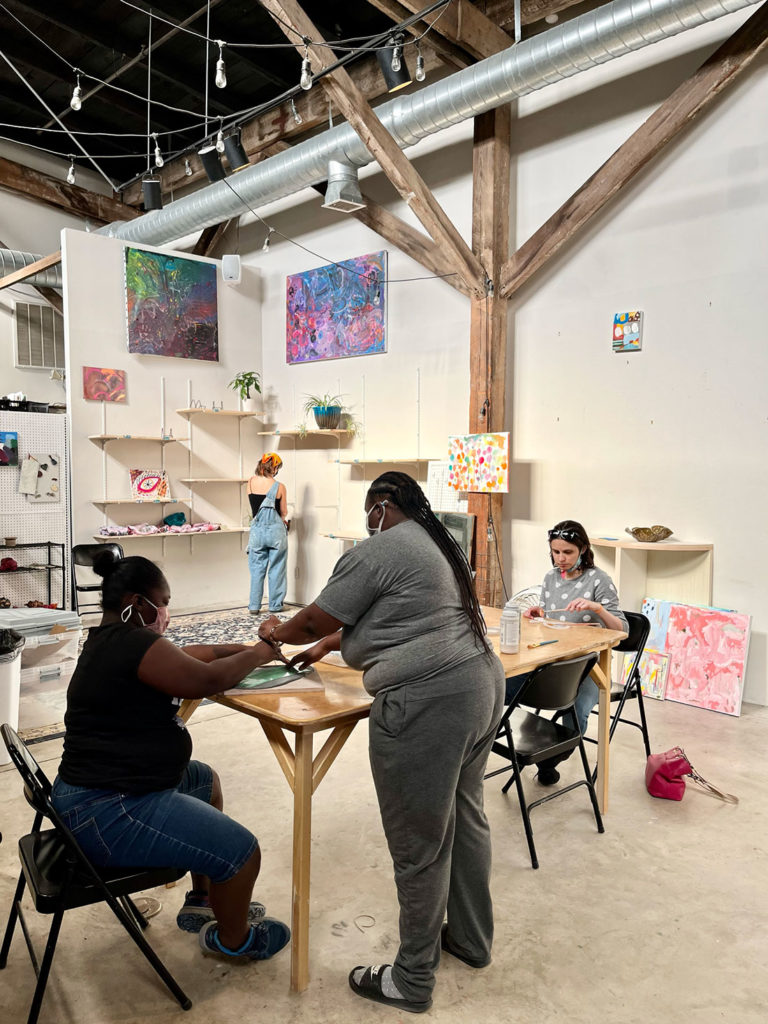 Last year, Love.Craft Athens received one of 50 Arts in Community Resilience Awards, which were distributed by the Athens Cultural Affairs Commission and Athens-Clarke County Unified Government in an effort to support creative projects by local independent artists and organizations during the COVID-19 pandemic. This $2,000 award was recently used to launch and staff a new public storefront, open to the public during once-a-month Sunday Showroom events, that displays crew members' creations. Additionally, a new dedicated gallery space invites community artists—such as Hannah Betzel, Maria Dondero, Jamie Calkin and Rosecreek Pottery—to display their wares. Hosting different artists each month heightens public awareness of the program, keeps crew members feeling inspired through seeing new work and helps build a bridge between the crew and larger creative community.
Community engagement is central to Love.Craft's strategy for promoting inclusivity, and there are several opportunities to support the organization on the horizon. Held every third Thursday, a Community Craft night will include ornament making and snacks from local restaurants on Nov. 18 from 6–9 p.m. For Giving Tuesday on Nov. 30, Love.Craft will release its Imagine Project, a video of music program participants performing John Lennon's "Imagine" that will be accompanied by a pottery collection inspired by the song. The nonprofit will be the beneficiary of the Atlanta Artist Collective Show held at 336 Hill St. on Dec. 2 from 6–8:30 p.m., as well as the Ho Down X—featuring live music by Susto, The Pink Stones, Daniel Donato, Convict Julie and WesdaRuler—at Southern Brewing Co. on Dec. 10 at 5 p.m. The season closes out with holiday shopping during a Sunday Showroom held on Dec. 12 from 10 a.m.–2 p.m.
"My initial aspiration was to just create a business for adults with disabilities that I could then show the local community how successful they can be and try to find them jobs. Hence the pottery business," says Fontaine. "However, it has sort of evolved on its own, so now we're exploring art and music to connect with the Athens community. The self-expression and self-direction the program lends itself to is almost the most inspiring aspect to me. I just want to carve out more places for these people in our community."
Like what you just read? Support Flagpole by making a donation today. Every dollar you give helps fund our ongoing mission to provide Athens with quality, independent journalism.