At the peak of their popularity in the 1970s, "midnight movies" referred to low-budget, avant-garde or otherwise non-mainstream films relegated to the witching-hour margins of theater and television schedules. Despite their lack of commercial success, these B movies often became endeared cult classics among countercultural communities who found value in all of their scrappy, campy, offbeat glory.
Today, this spirit of a mostly bygone era is carried forward by Athens' one-and-only underground filmmaking collective, Gonzoriffic. Comprised of actors, musicians and visual artists, the collective will celebrate 20 years of producing experimental videos with a feminist twist during a pair of late-night screenings this weekend.
"My role in Gonzoriffic is to provide an umbrella of support and safety for my friends to make movies together," says founder Andrew Shearer. "Whoever has an idea, we put our heads together as a group to figure out how to make it. Since I came into filmmaking from a DIY punk background, I pretty much run things like a band, but you don't have to play an instrument to be in it. Gonzoriffic is kind of like if Bette Midler fronted Minor Threat."
A few years into making short films, Gonzoriffic's feminist ideology came into clearer focus. Recognizing the widespread gender inequality that permeates the film industry, the collective's mission became dedicated to promoting progressive and empowering roles for women. Storylines center female characters, rape jokes and fatphobic speech are not tolerated, and Shearer prefers that no women are killed on screen. Though elements of violence, horror, sexuality and nudity might make their way into a film, these films are simply not intended for the male gaze.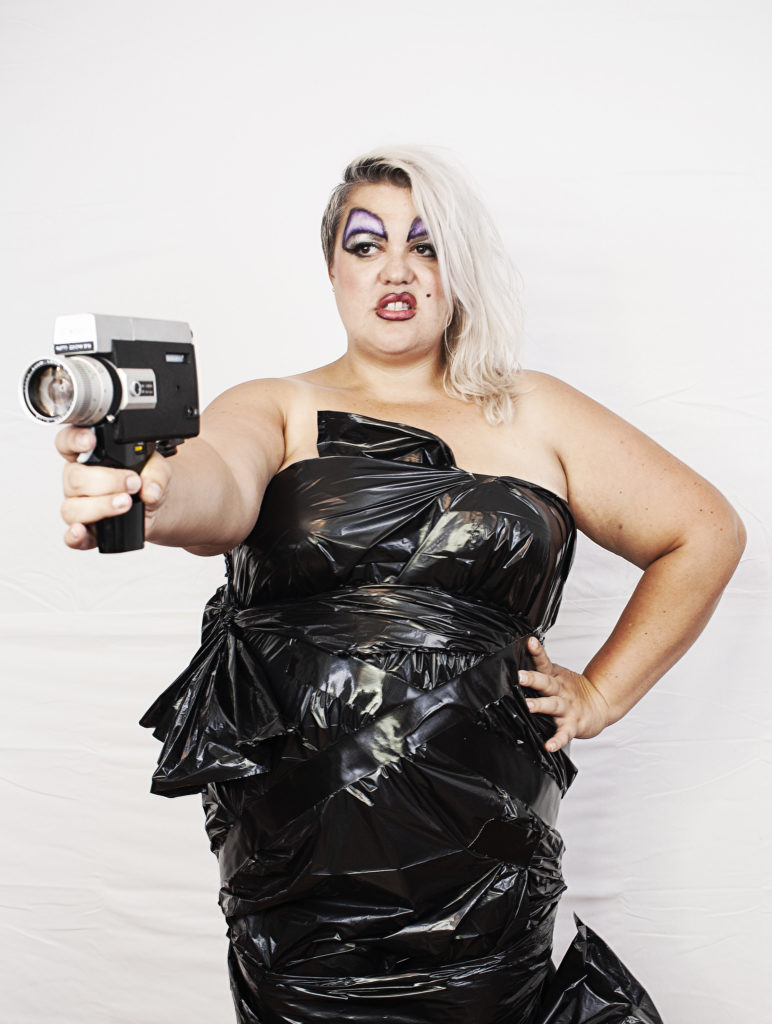 "I think we are living in the absolute best period of history for film, and women's contributions to the genre are moving it forward in ways that are just as visible as they are celebrated," says Shearer. "It's no longer about showing that women can do it just as well as men can—directors like Doris Wishman, Jackie Kong and Amy Holden Jones did that decades ago. It's about Nia DaCosta's Candyman being made for a major studio and being released worldwide. It's about Julia Ducournau's Titane winning the Palme d'or at Cannes. They do it better, and the receipts are there."
Following Gonzoriffic's public debut with a premiere of PsychoVixens at the 40 Watt Club during the AthFest Music & Arts Festival in 2004, Ciné began hosting yearly showcases of the collective's latest creations in 2008. This tradition continues with a 20th anniversary event on Friday, Nov. 12 and Saturday, Nov. 13. After kicking off with a retrospective slideshow of behind-the-scenes photographs, movie stills and posters at 10 p.m., the party will move into the screening room for a 90-minute program at 11:15 p.m. An encore screening will be live streamed on YouTube on Nov. 14.
Teasing the creative freedom that comes with the territory of DIY filmmaking, Gonzoriffic film synopses alone provide unusual fodder for the imagination. Shearer contributed three films to the lineup as a director: The Boogey Woman, in which a "mysterious lady lowers her mask in public and puts her boogers on random surfaces"; Haunted Hotcakes, in which "a bubbly YouTuber successfully communicates with the spirit of a dead Hollywood sex symbol"; and Three Hole Punch (co-directed by Dee Flowered), in which "mercenary strippers fight back when a villain tries to take their luxurious tent."
Appearing on the cover of Flagpole this week, actress and burlesque dancer Coquette de Jour will also share a set of three shorts she directed. In addition to The Incredibly True Adventure of Two Werewolves in Love and Dead Stuff, Gonzoriffic will include a tribute presentation of her 2015 film Bleeding Candy—in which "a family bitten by a piñata at the Pendergrass Flea Market causes havoc at a birthday party"—to honor actress Stephanie Jordan, also known as Leche Gaga of the Classic City Rollergirls, who died in August after a long battle with breast cancer. 
Jennie Cain, director of The Marshmallows, first became involved in Gonzoriffic in 2007 after meeting Shearer at a Jucifer concert. Flash forward to this past year, and Cain received an Arts in Community Resilience Award of $2,000 from the Athens Cultural Affairs Commission to support the making of her short film, which had been written and gently placed on the back burner back in 2015.
"People involved in the films do what they want to do, and don't do what they don't want to do," says Cain. "I've always felt safe to express myself. One time for my birthday Andrew and I went out to shoot some pictures of me covered in mud because I have never done that before and I just wanted to, and we shot a short film in one hour. It was such a lovely way to spend my birthday! And now I'm an Athens cryptid."
Starring Tia Jackson, Nikki Garza and Coquette de Jour as a fictional femme band, The Marshmallows is a tragedy and psychological horror warning what can happen to a friendship when stardom, patriarchy, the male gaze and jealousy come into play.
Working during the pandemic presented several challenges, such as re-writing certain scenes to follow social distancing, but props offered a creative solution for storytelling. As a stylist and vintage clothing connoisseur, Cain naturally incorporated fashion, and there are even two original songs co-created with Brigette Adair Heron of Tunabunny.
"Gonzoriffic couldn't have made it 20 years in any town other than Athens," says Shearer. "I doubt we would've made it five, honestly. Not only is there room for art like this here, but there's also a huge amount of support and enthusiasm for it. But most important of all is the fact that Athens is full of stars. Some have been in movies, most have not, but everyone is a celebrity to me. You fit because you don't fit, and you're important in this community because you embrace that. I plan to continue doing my part to keep Athens weird for as long as I have breath in my body and a decent feather boa within arm's reach."
Like what you just read? Support Flagpole by making a donation today. Every dollar you give helps fund our ongoing mission to provide Athens with quality, independent journalism.