Living in new cities. Hitting stages on the regular. Cranking out mixed media visuals. Mourning the loss of a beloved kidnapped flute (check out Instagram for snippets of that saga). Wieuca has had an eventful year leading up to the recent release of its third album Burning Platform.
The process of releasing this album took three years, with most of the recording taking place at Chase Park Transduction and including notable features from Sienna Chandler of Monsoon and Memphis rapper La Chat. Although the members moved away some years ago, Will Ingram, Robert Smith, Jack O'Reilly and Jack Webster all hold Athens dear as a city where they grew as people and musicians—somewhere they still call home. "At least half of the album was written in Athens, and almost all of it was recorded there, so it definitely has a particular quality stamped on it that seems inextricable from Athens. Leisure, hanging on the weird-smelling front porch of a falling-apart 1920s home, walking along the train tracks, biking around drunk late at night, hanging out at a random apartment complex pool, going to the gas station, the smell of vomit mixed with bleach, sleeping until 4 p.m. Things like that," says Smith.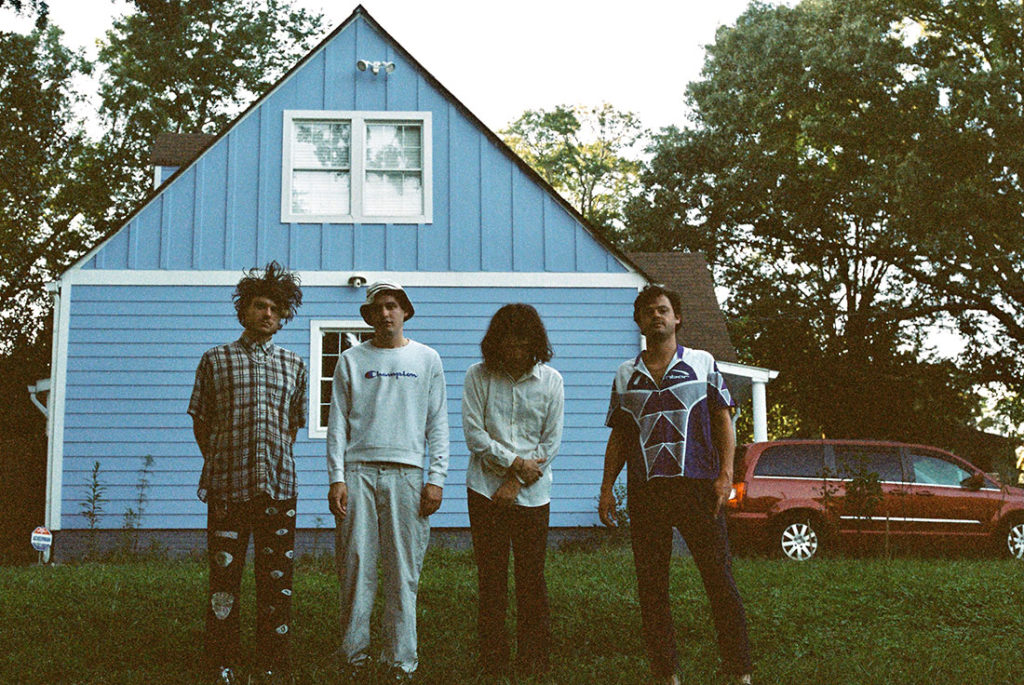 Frequently playing local stages, including the September Days Fest at Southern Brewing Co. that popped up in the wake of AthFest's cancellation, the group has spent enough time in the city to notice the rather negative changes affecting the music scene. Smith notes how many of the venues and bars meaningful to him and the development of the band have been bought out or closed down, making him wonder how easy and accessible creating will be for future artists.
Outside of the changes the community as a whole has felt from the pandemic, the band experienced its own personal impact—in particular, on the lives of Ingram and Webster. Due to COVID-19, Webster lost his job as talent buyer of The Foundry in March 2020. Ingram was feeling "stuck" in his work-from-home corporate job. So, when the opportunity to move to rural Louisiana after Hurricane Laura presented itself, the two moved states in September 2020 for an eight month stint. "In business management, a 'burning platform' means a dire need for change to avert total destruction," says Ingram. "I was headed down a destructive path and saw this as my way to change course… I feel lucky and much more empowered to better my life and the lives of the people I love."
In the Lake Charles area of Louisiana, Hurricane Laura and then Delta caused extensive damage to the community. Webster shares that there were no musical opportunities during their stay because so many bars and venues had to rebuild. For both of them, the experience was much more about gaining perspective in life rather than musical gains. Ingram and Webster recently returned to shoot a documentary focusing on the lives and struggles of the people they met after the hurricanes. "I'm glad we took the opportunity to live somewhere as different as SWLA and learn from the perspective of all the great people out there who are going through a much harder time than I was at the time," says Webster.
The time apart from one another created a space for the band members to experiment independently with their music in a way that will likely appear on future Wieuca records, says O'Reilly. Upon returning from Louisiana in April of this year, Ingram and Webster saved enough funds to help self-release Burning Platform. This band pretty much has it covered when it comes to the experience and relationships needed to push their music forward and create a product. "We've been doing almost everything DIY since the band started nine years ago, from hand-cutting the center holes in 7-inch records to directing videos and booking. We like working with others, but we want to get a lot done, and it's usually faster to just figure it out on your own," says Ingram.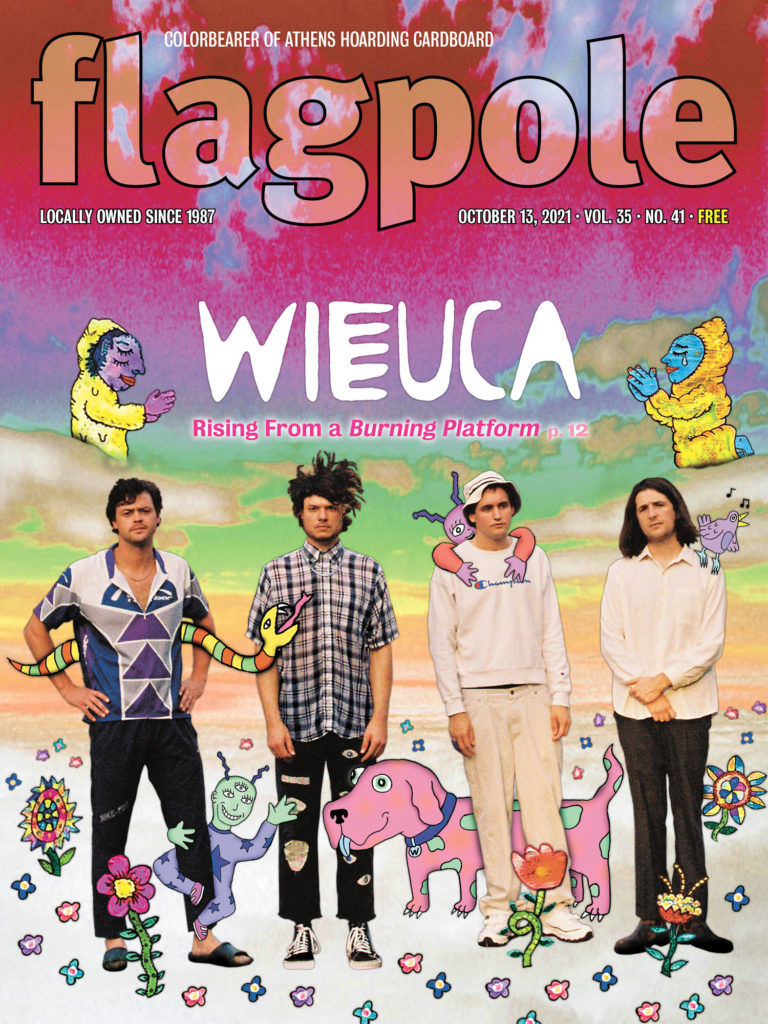 Wieuca is a band you can't package neatly into any one or even a few genres, but its brand is unmistakable. The visual element of the band, from album art to merch designs, is defined by Ingram's creative style using exploding colors, warped figures and, at times, demonic looking faces. According to Ingram, these designs demonstrate three things that have thematically tied together the band's catalog: "Who you are at a given moment depends on the context, whether you're in denial of it, and who's watching. Others see you as different 'people' depending on their perspectives. As humans, there's no way for us to perceive a truly objective, uncontaminated reality, so really anything can be anything."
These two-dimensional figures representing the band were brought to life by local director and videographer Vann Johnson in a claymation music video for the single "Llycra." The feelings of being trapped and struggling to be the person you want to be that weave through the album are particularly tangible in this video, and you find yourself relating to these blob-like characters through distorted images and vibrations. Given the band's diversion from the concept of "genre," interconnected themes, sounds and storytelling meld together to create cohesion in the alternative-based album Burning Platform—much like Wieuca fans might note from past albums, although the band claims now with better production.
Like what you just read? Support Flagpole by making a donation today. Every dollar you give helps fund our ongoing mission to provide Athens with quality, independent journalism.