Disappointing but inevitable news arrived a short two weeks ahead of this year's AthFest Music & Arts Festival. With local COVID-19 cases well above the threshold for the Athens-Clarke County government to issue permits for special events, AthFest Educates had to cancel its downtown anchor event. Fortunately for music fans, all was not lost—when AthFest was nixed, multiple smaller-scale festivals sprung forth like Hydra. Below, check out Flagpole's guide to alternatives happening this weekend.
SEPTEMBER DAYS FEST: Following the official word that AthFest was canceled, talent buyer Troy Aubrey—who books not only the festival, but at a handful of venues around town as Aubrey Entertainment—quickly pivoted by inviting as many of the scheduled artists as possible over to five-acre Southern Brewing Co. The three-day, all-ages September Days Fest takes its name from a track by Modern Skirts, who headline on Friday, Sept. 24 alongside Fishbug, Heffner and Hotel Fiction. Saturday, Sept. 25 is a doozy with Lighthearted, Grand Vapids, Well Kept, Cloudland, Wanderwild, Hazel Virtue (see "Threats and Promises" on p. 11), Five Eight, Wieuca and Monsoon. Sunday, Sept. 26 ends on a high note with Grassland String Band, Nicholas Mallis, Elijah Johnson, Caulfield, Sonderluster, Elf Power and The Pink Stones. facebook.com/AubreyEntertainmentAthensGA
LOCAL FRIENDS FEST: Spearheaded by Volumes Media (run by Flagpole's new editorial coordinator, Sam Lipkin), Local Friends Fest is stacked with a dozen hip-hop, rap and R&B artists. Popular acts like Cassie Chantel, Convict Julie, Kxng Blanco, Trvy, DK and Seline Haze will be joined by up-and-coming and visiting performers like Anime Zayy, Baybay, BYV_Trubb, HMO Sambo, KPthewolf and Uniqe. Get to Iron Factory early on Sept. 24 for what is undoubtedly going to be a wild time. facebook.com/volumeshiphop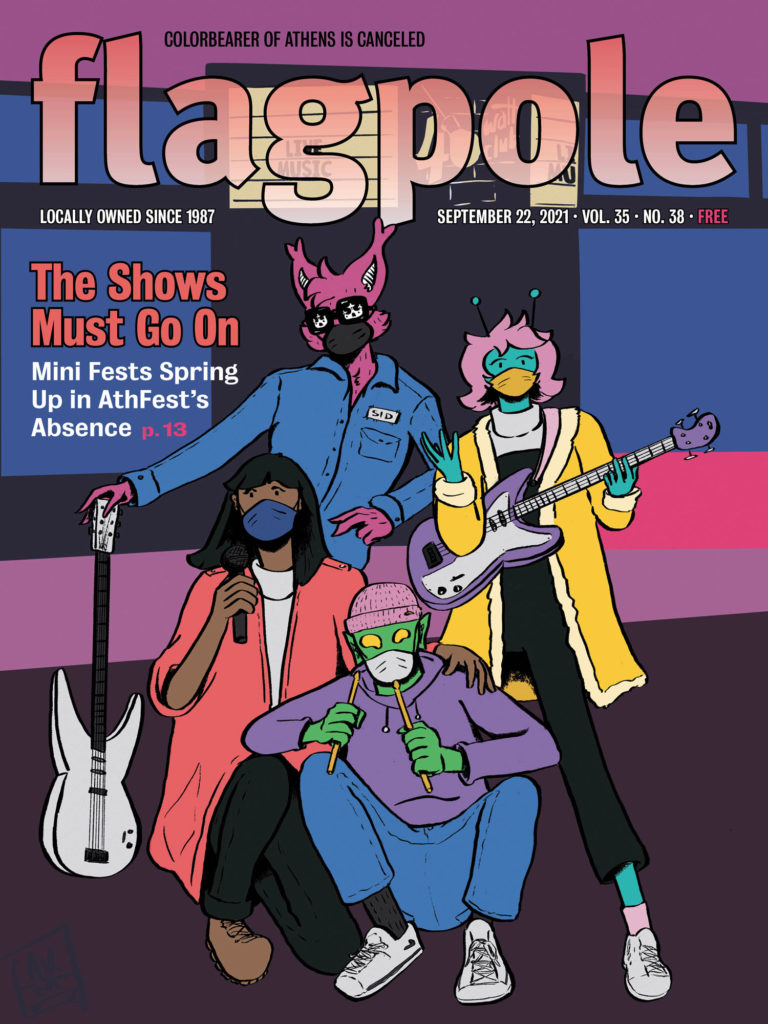 AFTER FEST: Originally intended to pop off after AthFest wrapped up—hence the name—After Fest at Flicker Theatre and Bar presents two nights of heavy hitters. Nihilist Cheerleader, WesdaRuler featuring Louie Larceny, and Calico Vision are slated for Sept. 24, while Neighbor Lady, Karaoke, Honeypuppy and Pinkest take over on Sept. 25. Though this is the only festival not occurring outdoors this weekend, proof of vaccination or a recent negative COVID-19 test is required for entry, and masks must be worn indoors. flickertheatreandbar.com
ASSFEST: It was only a matter of time before someone booked an event under this name. Roll up to Cozy Bar on Sept. 24 for sets by Nuke, CannonandtheBoxes, Motorhead2X, Kadillak, Luca Longini, Shred Flintstone and Tongues of Fire. On Sept. 25, Josey, Aldente, Skank and the Rude Boys, Uniqe, Cloud Soup, Everyday Dogs and My Modern Office perform.
TOTALLY STILL HAPPENING FEST: Swiftly assembled following AthFest's cancellation, the self-explanatory Totally Still Happening Fest offers two days of free, all-ages, outdoor music. DJ Late Night Craig, Blanko, Kadillak, Cannon and the Boxes, Turtle Grenade, Purejoy, Maxima, Libra, Incest Twins (do not Google) and John Fernandes will pack out the Normal Bar parking lot on Sept. 25. The party then moves over to Buvez on Sept. 26 for sets by David Barbe, Bain Mattox, The Howdies, Haunted Shed and Hunter Morris & Blue Blood. This shindig is presented by Dog Days Athens, a fairly new booking and event promotion endeavor by Jared Collins of Jock Gang. facebook.com/DogDaysAthens
ATH LIVE: Hot off the heels of releasing the hip-hop vinyl compilation Classic City Wax Vol. 2, ATHfactor-Liberty Entertainment will present a hip-hop showcase on Sept. 25 at Live Wire. ATH LIVE kicks off with an industry mixer while DJ Chief Rocka provides the musical backdrop. The night will then heat up with performances by Motorhead 2X, Ishues, Frank the Eagle, Caulfield and Squalle featuring Uniq.Vibez. The first 70 attendees will receive a free copy of the compilation, so don't miss out. facebook.com/athfactor
JOKERJOKERTV: If COVID case numbers have you feeling spooked, this is your best option for staying entertained from the safety of your couch. Though AthFest is canceled, Mux Blank's virtual variety show JOKERJOKERtv plans to carry forward with its (would've, could've been) festival coverage aired during a three-day livestream. In addition to live interviews and performances, the program will screen music videos from artists originally scheduled for AthFest as well as archived footage shot by Gregory Frederick of Athens GA Live Music. The livestream will take place on Sept. 24 from 5–9 p.m., Sept. 25 from 12–9 p.m. and Sept. 26, 12–7 p.m. youtube/JOKERJOKERtvofficial
Like what you just read? Support Flagpole by making a donation today. Every dollar you give helps fund our ongoing mission to provide Athens with quality, independent journalism.