Quietly nestled within an inviting, mural-decorated warehouse not far from downtown, R. Wood Studio has been churning out beautiful, functional pottery for 30 years. The studio's signature style—vessels hand-built from red earthenware clay, then hand-painted in multiple layers of glaze for rich, opaque colors—has become a table staple in homes across Athens and beyond.
"When I arrived at the art department at UGA in 1975, it was chock full of uber-talented artists and musicians," says studio founder Rebecca Wood. "It was just one of those times when there was a confluence of bright, creative people that would inspire each other. None of us had any money. Cars were scarce. Living was cheap—even a waitress job would secure you a room or apartment in an old house. We had nothing but time on our hands. Plenty of time to laze around cooking up schemes, just playing around and creating, exploring and bouncing ideas off each other. Nothing was holding us back, and nothing was expected of us. It was nothing but unlimited horizons. The Athens art scene was springing up from the hot red dirt."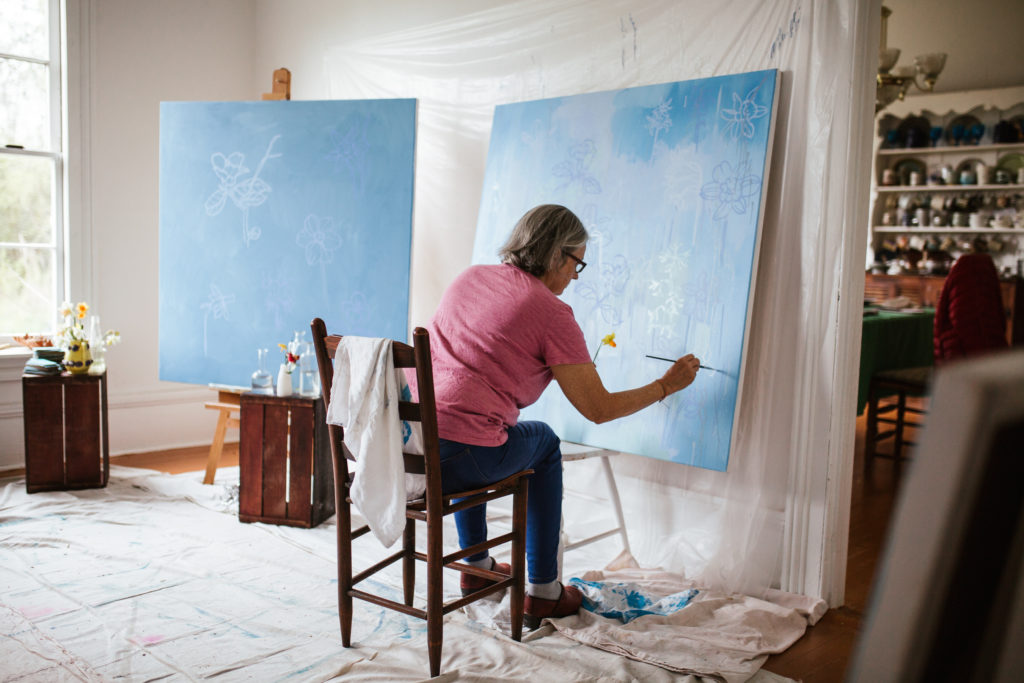 After receiving a BFA in drawing and painting from UGA's art department in 1977, Wood continued creating and selling paintings for a full decade before taking an interest in china painting. Finding how delicate the medium was after a few lessons, however, she sought to create a more durable form of ceramics. After being given a second-hand kiln found at a yard sale by a friend, Wood began making decorated plates with a simple setup of clay, a rolling pin and a few glazes.
"Once the B-52s went and played in New York to wide acclaim, we all basked in the success," says Wood. "If a ragtag thrift store band could make it in New York, we all felt we could too, and I think that's where all this 'can-do' creative scene started. But we said, 'We don't need to go to New York to be New York good. We can just do it right here.' I think that confidence is what grew the art and music scene here."
Like the B-52s, Wood's early commercial success was partly kickstarted by a visit to New York City. Following a stock market crash in 1987, Wood shifted from traditional paintings to wearable works of art: hats and scarves made from painted velveteen. On a trip to pitch her fashion items to Zona in SoHo, she also brought a small collection of her plates. Zona, as well as Barney's, soon made orders which led to Wood hiring her first employee in '91 to keep up with demand.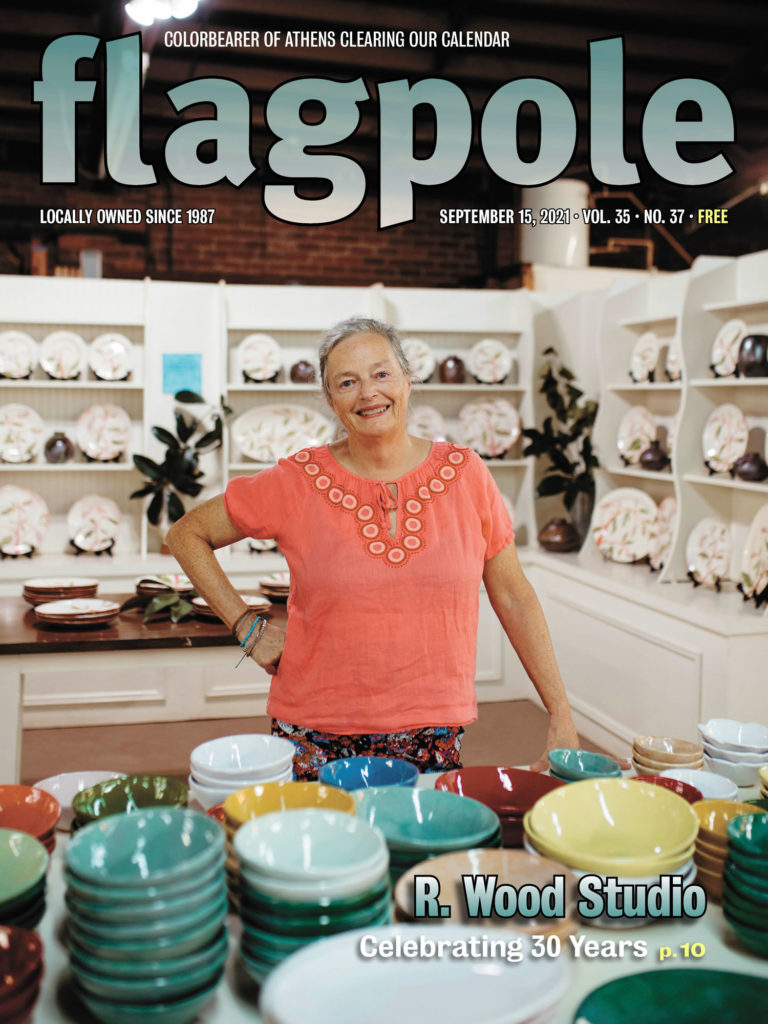 Unlike the majority of ceramists who specialize in one-of-a-kind pieces sold primarily through craft fairs or pop-up studio sales, R. Wood Studio's trajectory has been steered by landing large orders. After roughly three years of business, a big break came when Neiman Marcus requested a $30,000 order—a turning point that allowed for purchasing new equipment and hiring more workers. In the following years, the studio focused on selling to stores by appearing in catalogs and attending gift shows where thousands of potential buyers could see available products.
Employing half a dozen or so artists at a time, R. Wood Studio holds a reputation of supporting creative entrepreneurs on staff. Understanding the value of work-life balance, Wood has made it a point to offer flexible hours and the ability to take time off to travel, tour or work on independent projects. Employees are also welcome to use the studio space while off the clock to make their own distinctive pieces to sell in the shop for extra income.
Wood takes pride in knowing that many of her previous employees have gone on to pursue their own dreams, such as Rinne Allen, a successful photographer, and Kristen Bach, owner of Treehouse Kid and Craft. Allen, Bach and Wood have also continued to collaborate together as Beauty Everyday, a photography website-turned-book that captures daily moments of beauty found around the garden and home.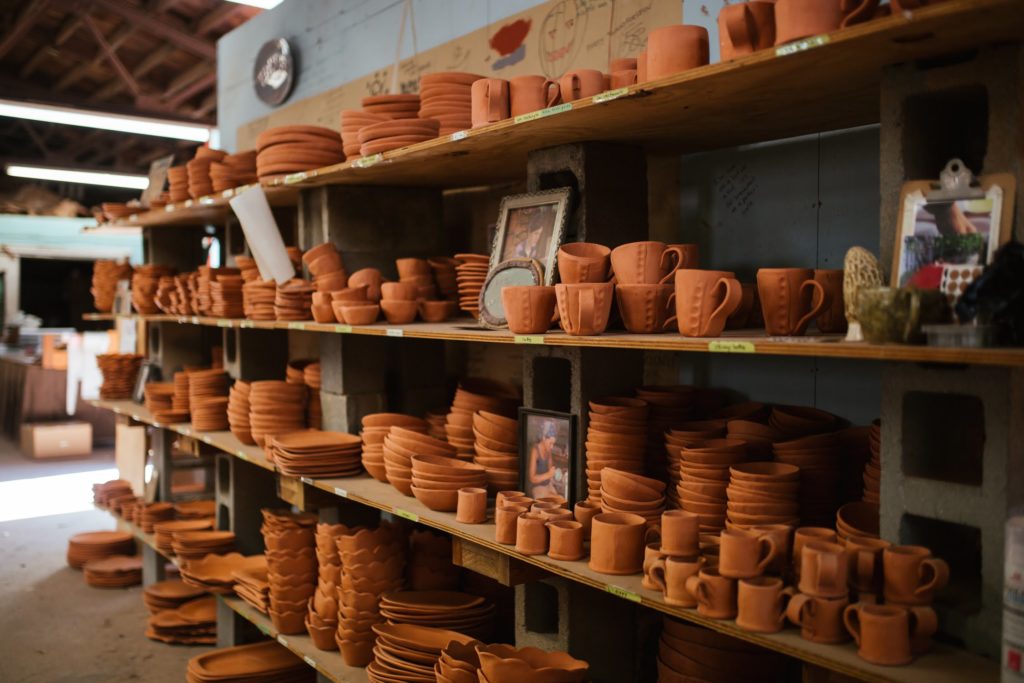 With a dedicated staff on hand to manage day-to-day operations, Wood has the freedom to devote more of her own time to exploring new ideas and pursuing other creative endeavors that in turn inform the studio's outflow. Much of this inspiration is found within nature, such as the native pokeweed, dogwood, daffodils and sunflowers specimens that later find themselves immortalized as hand-etched and painted plate designs. Sharing the four seasons of the South with a national clientele, various color palettes roll out throughout the year. Spring sees pastel buttercup, lichen and cornflower, while autumn is accented with maple, fir and wheat.
"I've always been an introvert and a nature lover," says Wood. "My childhood was spent wandering fields, creeks and woods by myself for hours, so I've always been a keen observer of nature and all her patterns and colors and beauty. Nature has always supplied me with the inspiration I need. I've done a lot of painting, drawing, sewing and pottery over the years. There's just something about pottery: making something useful from nothing but mud. I don't see how I'll ever get tired of it because the possibilities are endless!"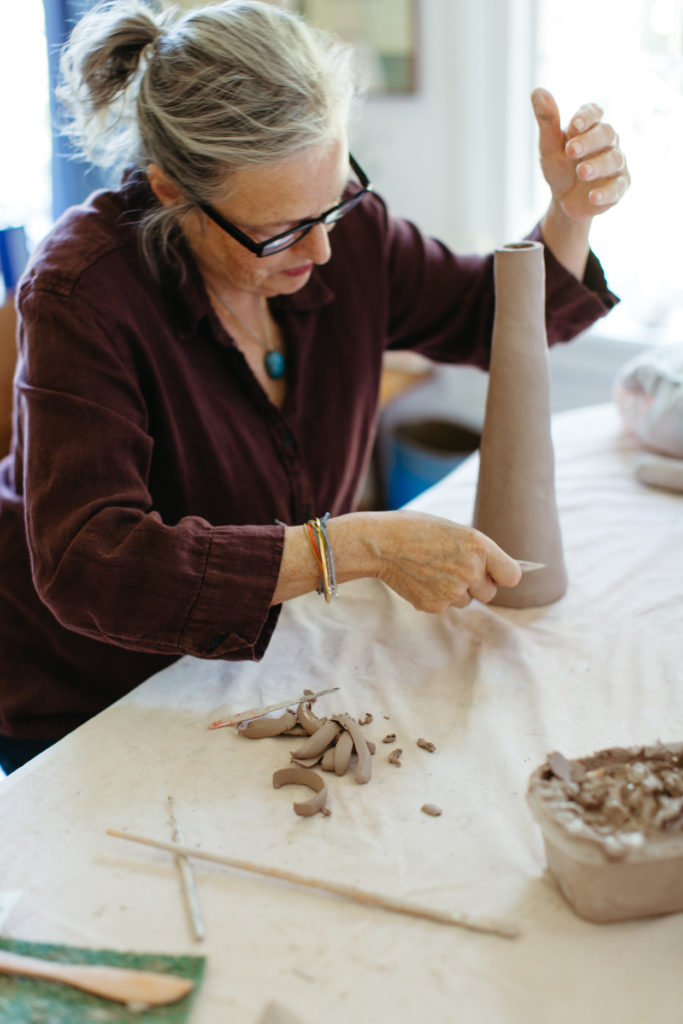 These days, the studio operates with a different model than it started out with, having largely pivoted away from gift shows and wholesale to focus on retail. During the pandemic's onset, the studio temporarily closed its brick-and-mortar shop to the public and quickly moved its inventory online (rwoodstudio.com), all while potters continued working alone in shifts to maintain social distancing and keep the business afloat. Luckily, years of high visibility through stores, magazines and catalogs built a reliable fan base that the studio has remained connected to through its strong social media presence (@rwoodstudioceramics).
In time to celebrate its 30th anniversary, R. Wood Studio reopened its doors for in-person shopping at the beginning of September. The shop is located at 450 Georgia Drive and open Mondays–Fridays from 10 a.m.–5 p.m. and Saturday–Sundays from 10 a.m.–4 p.m.
Like what you just read? Support Flagpole by making a donation today. Every dollar you give helps fund our ongoing mission to provide Athens with quality, independent journalism.