Hip hop don't stop, and the Classic City Wax vinyl compilation is further proof that, as executive producer Montu Miller often says, "We're not going nowhere."
Launched in February 2020 as Athens' first vinyl compilation to focus on local hip hop, with the help of an Athens Cultural Affairs Commission grant, Classic City Wax: Vol. 2 is celebrating its release Saturday, Sept. 4 at Creature Comforts from 7–10 p.m. The event will start with a meet and greet from 7–8 p.m where attendees can get their copies signed while listening to the album, then performances will begin with each artist playing their track in order for a live listening experience. Artists include Valley Girl D, Dope KNife featuring Anne Santos, Blakley Jones, KidArsenic, BYV_Trubb and Blesstheplaya, Nony1, Jahkiem, Young Gutta, Seline Haze, Blacknerdninja, Frank the Eagle, Graffiti'Heart (Jyshohn Lyryc and O.M.U.R.D.A.), Wesdaruler featuring Louie Larceny, Amun-Ra and Duddy Ken. As before, copies will be limited.
"I think because so many people missed the first one, or it took them so long to get the first one, they're gonna come to Creature and be like, 'I want that record,'" says Miller. "I think it's just gonna open up a market to it, where you'll find collectors that maybe got the second and ain't got the first."
This annual project is presented by ATHfactor-Liberty Entertainment (ALE)—Miller serves as the COO—as a free, promotional item to elevate the artists and hip-hop scene as a whole. Marketed as Athens-centric, the 2020 Creature Comforts DIY Fund made this year's release possible, along with the help from local supporters through Kickstarter. There was enough crowdfunding success to not only cover the album necessities but also allow for merch, created by Satisfactory Design & Printing. Funding remains the only foreseeable obstacle in continuing an annual release, but Miller feels confident now that two volumes have been completed.
"I almost feel like I'm not going to have funding problems, because even if I don't get a grant, I can get with someone like Aubrey Entertainment or Volumes Hip Hop and be like OK, let's put this out together," says Miller.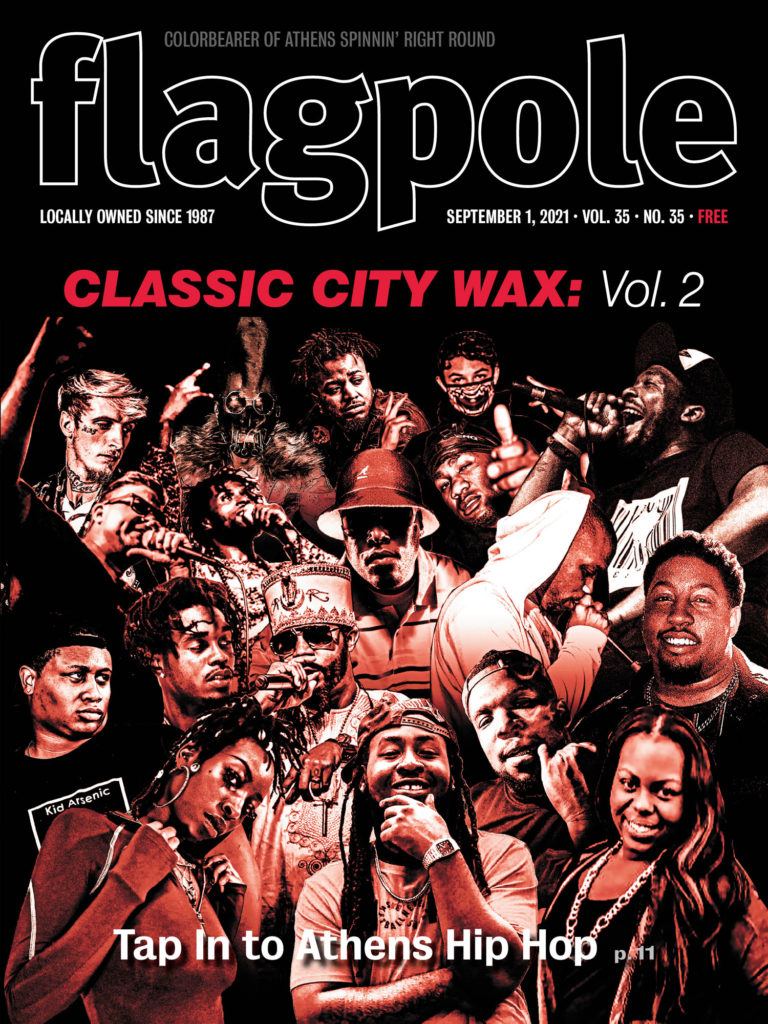 Aubrey Entertainment is co-sponsoring the album release party. Founder Troy Aubrey and Miller have a long-established working relationship from AthFest, so it felt only natural for Aubrey to help secure the venue and aid in promotion. Other new faces contributing to this year's project include Joel Hatstat of High Jump Media, who handled the audio mastering. Originally, Miller planned to have a different designer for each project as well, but Larry Choskey did such an exceptional job on the first design that he's become the official designer, adding a layer of polished consistency to the brand. Although the changing featured artists will provide a different feel to each album on their own, Miller hopes that changing the mastering each time will add to the overall representation of what Athens hip hop sounds like.
Classic City Wax: Vol. 1 was a carefully curated album hand-picked by Miller and his team for an overview of Athens' 12 "best of the best" hip-hop artists. This year, there was a submission process with a four-person panel voting for 15 artists based on a blind point system. The condition was that artists from the first album could not resubmit for the second; however, Miller says that will change in the future. The submission process will continue moving forward, but next year, it will welcome all artists to apply.
Like most things in life currently, the pandemic set back the release of this project by about five months. The vinyl was pressed by Kindercore Vinyl, which greatly felt the effects of COVID on their production schedule. Although they offered to get the project done by Miller's deadline, the uncertainty of events and downtown opening up made rushing the release irrelevant. Timing worked out perfectly as the vinyl finished up at the same time that Creature Comforts began booking events again. Providing the grant for the project, accommodating outdoor events and following COVID procedures made the brewery an ideal venue.
Last year's event, which happened just in the nick of time before the shutdown, drew a diverse crowd from the larger community, and Miller is expecting the same to happen again. His goal for this album is to create an annual opportunity for everyone to "tap in" to what the hip-hop scene is doing.
"Sort of like a cheat code for people who don't really follow the hip-hop scene, and then for people who do follow the hip-hop scene, it's another artifact for us to have to understand what we're already doing," says Miller.
Like what you just read? Support Flagpole by making a donation today. Every dollar you give helps fund our ongoing mission to provide Athens with quality, independent journalism.