Two years ago, Jade Long and Jessica Thompson had a simple goal: to amass 1,000 streams on their first song, "Astronaut Kids." In today's streaming economy, where listens are dished out as readily as $1 drinks, 1,000 listens is a meager target for any musical act.
Hotel Fiction is not just any musical act—they're the most intimate, finely tuned and marketable band to come out of Athens in over a decade. And now, two years later, they have surpassed their goal by over one million streams, are releasing their debut album, Soft Focus, on Aug. 27 and are embarking on a two-month-long tour this fall.
It started in the winter of 2018. Long and Thompson were sophomores at UGA; each meandering within the structured monotony cast upon college students; each possessed with a desire to make music. A friend set them up, and their natural chemistry was apparent from their first time meeting. Their breakthrough, "Astronaut Kids," was conceived only a few months after their relationship formed. "I was at a show on the Georgia Theatre rooftop," Long explains, "and this one girl played a song about her childhood and her parents' divorce, and it made me cry on the rooftop. It was so beautiful. Then, walking home alone, I started singing the first words: 'When I grow up / I wanna be a star.'"
Shortly after they performed "Astronaut Kids" for the first time, they were approached by Athens rock torchbearer Tommy Trautwein, who offered to record it in his home studio. His veteran touch and stupendous ear catapulted them from being a talented yet flimsy college band to an elegantly composed radio-ready ensemble. "Tommy has a huge creative hand in our music. He helps from vocals to guitar and bass, to drums… he is literally a one-man band," notes Thompson.
Sonically, "Astronaut Kids" is sweet and smooth. Thompson lushly kneads guitar riffs through Long's translucent vocal delivery. Trautwein litters the track with flashy crescendos, emotive harmonies and an essential element of dreaminess by way of airy synths. Lyrically, the song is a forsaken eulogy to childhood dreams, a vat of desperation placidly offered at the toes of the "real world." Long sounds defeated—as if she has no other choice but to obtain a practical degree and fall into the meek everydayness of civil society. She is trying to force herself to come to terms with her future, yet, she just can't stop herself from dreaming. Thank goodness she didn't give up.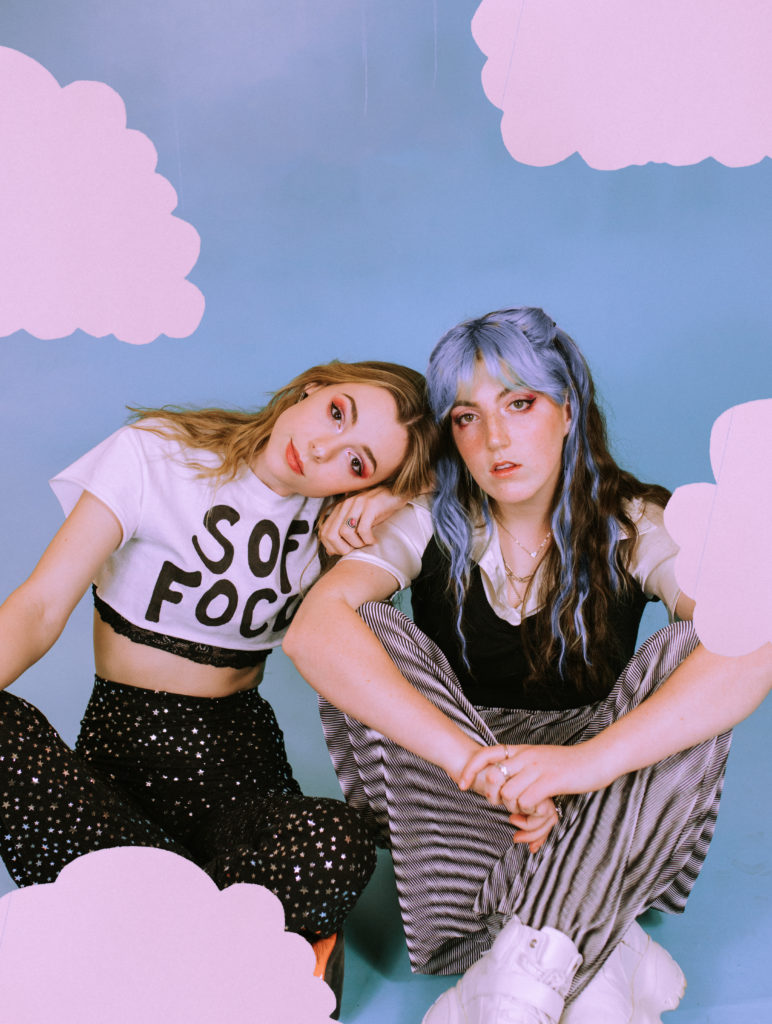 Hotel Fiction has now tasted a spoonful of success, causing Long to view the song as a living, breathing slice of life: "That song and 'Ghost Train' both feel like manifestations. I was at a place that I didn't wanna be at, and now things have changed as I wanted them to in the songs. Everyone says that 'art imitates life,' but my mom always said that 'life imitates art.'"
After the release of "Astronaut Kids," Hotel Fiction garnered a significant buzz around Athens by playing shows, and they continued to build on their internet following by releasing singles. Originally, they planned on releasing their debut album on Halloween of 2020. But due to the omnipresent coronavirus, they reeled back and waited. A virtuous decision it seems: Since then, their online following has increased significantly and they've built a team of professionals who are helping to take them to the next level.
Soft Focus comes out in two days, and to Hotel Fiction, it's a collection of memories that chronicle their college years. The album goes through mood swings: it's optimistic, defeated, elated and depressed. The consistent element lies in a miserably desperate nostalgia. On "Astronaut Kids," "Ghost Train," "Golden Days" and "17," they hold on as tightly as they can to the innocent images of their past and dream passionately of their vibrant visions for the future.
"In a lot of the songs, I feel like I'm trying to get back to who I was instead of the memories that were made back then," says Long. "During college," adds Thompson, "part of me thought that I knew myself better in high school… recently I did a deep dive through old journals and realized, 'Wow, I did not know myself at all back then.' The cool thing is, now Soft Focus feels like nostalgia to us."
The title track is the album's opus. On "Soft Focus," Hotel Fiction breaks through the stagnant reflection of their past selves and bursts into the present. Long passionately sings about what she missed most in herself: "Your feet were on the ground / Your head out of the clouds / Fully present / Fully present." The last line repeats over and over while mythological Sirens harmonize behind her; then finally, a drum kicks in, a playful piano melody ensues and they reach the present once again.
"When you're painting a picture, you put your eyes into soft focus," Long explains, "so that you can zone out and see the big picture instead of focusing on the details." This applies to Hotel Fiction's entire trajectory: they've never focused on the details, they've just made music, built relationships and taken things as they come. They didn't have plans to make an album; they didn't even have plans to record a song. Yet here they are, at the cusp of success in an occupation commonly deemed as delusory, dreaming as freely as ever.
Like what you just read? Support Flagpole by making a donation today. Every dollar you give helps fund our ongoing mission to provide Athens with quality, independent journalism.