Every year a tangible buzz builds around Athens as thousands of spectators gather to cheer on cyclists from around the world competing in the annual Twilight Criterium—that is, until last year. After COVID-19 postponed the world-class bike race, and then canceled it entirely for 2020, Twilight returns this weekend with a few surface-level changes to accommodate the fact that we're not post-pandemic yet.
"Other than that, it feels like Twilight. It feels the same, it's just in August," said Ashley Travieso, Athens Twilight's event director, about the overall spirit in light of the tweaks taking place.
Outside of the race being moved from April to August, the largest differences in this year's event are in response to the pandemic and public safety concerns. Although no mandate has been made for gatherings of large groups outdoors as of yet, the organizers are recommending all attendees wear a mask and social distance as much as possible whether or not they have been vaccinated. According to the Twilight website, "We will follow CDC and local guidelines at the time of the event and will have all approvals required by Athens-Clarke County and the Athens Health Department." Further protocols will be determined as necessary.
Changing seasons from spring to late summer does add some other variables, such as coinciding with UGA's first week of class. It is not clear of how this timing might affect attendance. Twilight is traditionally held when the students are in town for an added element to the triumphant atmosphere. "We're excited that there's now two waves of freshmen classes that have never gotten to experience Twilight, so we're excited about this becoming a tradition for them, too," said Travieso.
Another variable is the high temperatures associated with this time of year. However, the professional athletes coming in for the main race are used to traveling all season and are attuned to the heat. Even so, paying attention to hydration is critical for participants and spectators alike. The schedule includes a range of activities catering to amateurs and children outside of the professional course. Due to the nature of the event, having a robust medical plan and medical team on site is always an essential aspect of planning Twilight.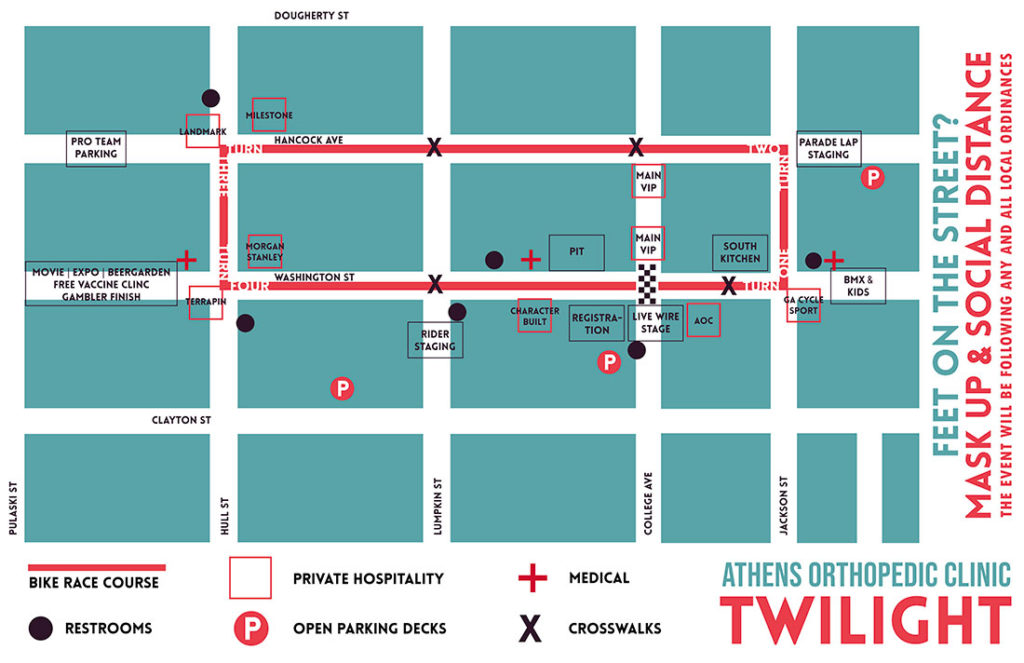 "If it is going to be extremely hot, making sure that the hydration and medical plan is in place, that's kind of my biggest concern outside of COVID," said Travieso. "I worry about our 5K runners that may not always be running consistently, even our spectators."
For newcomers unsure of what to expect, unlike the Tour de France, the name of the game for this race is speed. Former bike shop owner Gene Dixon founded Twilight in 1980, which is now one of the premier events in criterium racing. The main event spans just a few hours, with cyclists racing a 1-kilometer course around downtown in teams that work together to launch their fastest riders to the front of the pack. More than gears get grinded in the course's collision-prone tight turns.
Due to the construction taking place on Clayton Street, this year's course is flipped upward with the start/finish line on College and Washington, where it was two years ago for the last event. Travieso shared that there are hopes to be back to what is considered the "traditional" or "classic" course on Clayton Street for the 2022 Twilight Criterium set to be held in April once again; however, that decision is dependent on the construction timeline. In order to relieve some of the stress of parking due to these circumstances, they will not be closing one of the parking decks as they have in years past.
The festivities kick off at noon on Friday, Aug. 20 with the AOC Twilight Expo and food court, followed by the Festival Zone Beer Garden and a free vaccine clinic (returning Saturday) at 4 p.m.—all located on Washington between Pulaski and Hull. On the Live Wire stage at College and Washington, several bands from Nuçi's Space Camp Amped will perform at 5:30 p.m. After the Bike Athens Joy Ride at 6 p.m., Friday's festivities will wrap up with the new addition of an outdoor movie on Washington Street near the 40 Watt Club showing Pee-wee's Big Adventure, centering around the cartoonish main character going on a journey to retrieve his stolen bicycle.
Participants of all levels are invited to join the 5K run that starts bright and early Saturday, Aug. 21 at 7:30 a.m. The Gambler Ride begins at 9 a.m., followed by the Kids Zone and Keith King BMX Shows starting at 10 a.m. Amateur Cycling Races take place at 10:30 a.m., with Amateur Finals at 5:30 p.m. For the main events, the women's pro-am criterium and the men's pro-am criterium are set to begin at 7 p.m. and 8:30 p.m., respectively. After a long day of activities and celebrations, Twilight will conclude with the USA CRITS Award Ceremony. For more information and registration details, visit athenstwilight.com.
Like what you just read? Support Flagpole by making a donation today. Every dollar you give helps fund our ongoing mission to provide Athens with quality, independent journalism.