Something of a character in Athens folklore himself, Art Rosenbaum is a painter, muralist and illustrator, as well as a performer, folklorist and collector of traditional American folk music. As an educator, he has influenced an entire generation of emerging artists while teaching for some 30 years at UGA's Lamar Dodd School of Art, where he retired as the university's first Wheatley professor in fine arts emeritus. All the while, the 82-year-old artist has balanced his own studio practice with traveling near and far to preserve every unrecorded banjo, fiddle, blues, gospel, mountain ballad and other traditional folk song he caught wind of. 
The Dodd Galleries are presenting an exhibition of paintings, curated by Tif Sigfrids, that visually connect these interlocking passions within Rosenbaum's illustrious life. Brimming with seemingly unrelated components at first glance, these works create a window into his memories, contemplations and unique position as someone who both documents and carries on traditions. 
Offering a glimpse into Rosenbaum's decades-long career as a professor, "Sextet" is a series of six scenes, each rendered as both a graphite drawing and oil painting, that were based on black-and-white Polaroid photographs shot many years ago during a drawing class. Rosenbaum asked his students to stage dramas with masks and props to later use as subject matter, and the time finally arrived after rediscovering the images among his vast stashes of old photographs.
Though there are clues that reveal the setting as a campus, the vignettes largely exist without any discernible plot. Instead, the viewer is left to consider the complexity of works that document bursts of real-life spontaneity and playfulness, yet also suggest a layer of mysteriousness, obscurity and tension bubbling below the surface. Though they do not specifically reference the pandemic, they hold contradictory, thematic elements that resonated with how the artist was feeling at the time.
Rosenbaum's figurative paintings frequently take form as allegorical tapestries that weave together visual threads inspired by multiple sources. The massive painting "Strainer" exemplifies this episodic approach as a cast of characters modeled after real people—Athens poet Aralee Strange, a former student who played banjo and a nude couple, among others—encircle the base of a large canvas laced into a wooden frame (the strainer). It'll be intriguing to see an additional dimension of gallery visitors surrounding the painting—visitors who, like the near-life-size subjects behind them, find their paths intersecting through Rosenbaum's magnetism.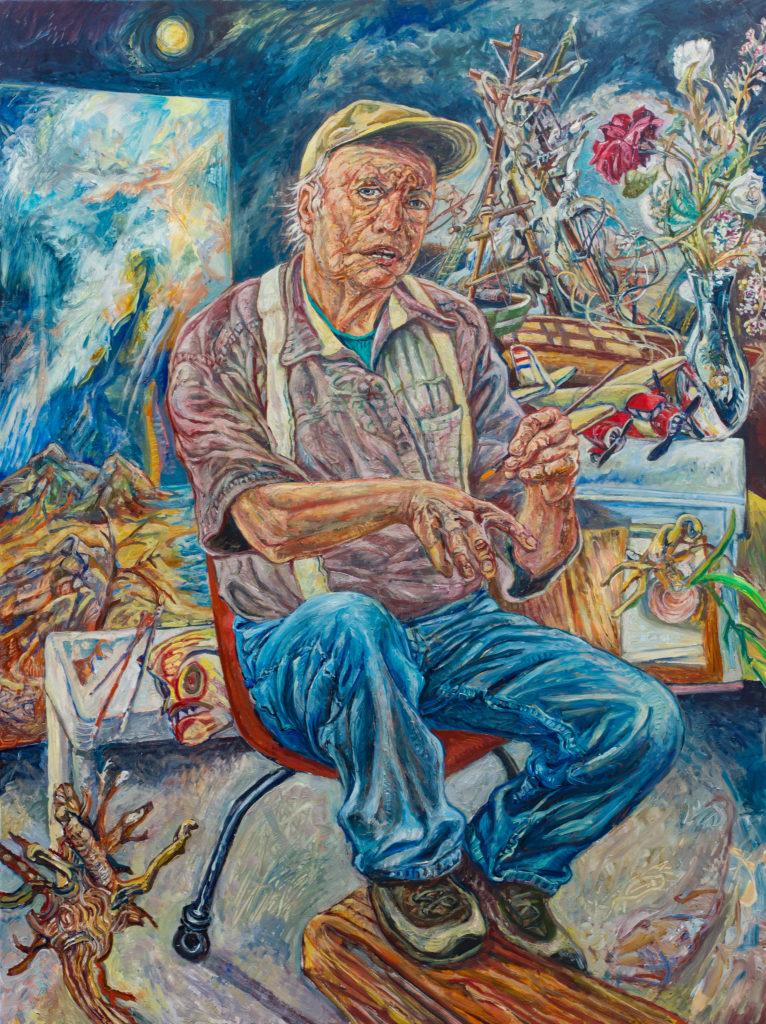 "I like the idea, and have done it in other works, of having an image within an image, or time past and time present, and sort of have them flow one to the other," says Rosenbaum. "In this case, I use that to have this older image kind of central, but also, you can see through the edges to the ocean and what's beyond it to give it a kind of physicality."
Based on an old portrait found in his collection of stereoscopic images, the scene depicts an Irish wake set around the late 1800s. Painted in a more muted color palette to convey antiquity, the merriment of drinking, fiddling and wearing masks nearly distracts from the dead body displayed on the back table.
Popular in the Victorian days, stereoscopes were devices used to combine a pair of left-eye and right-eye views of the same scene taken from slightly different angles to create the illusion of depth. In "Strainer," Rosenbaum establishes this sense of depth through wood paneling and floorboards that extend deep into the room, almost appearing like a portal.
"When you look at the past in a stereoscope photograph, they're tactile, they're just like this stuff," says Rosenbaum, motioning towards his studio's treasure trove of sketches and art supplies. "It's so different from working from the flat photograph of the same image… So you say, 'Wow, I'm there in that space.' Whether it shows in the painting or not, it makes the act of painting it more engaging in a certain way."
The physical boundaries of painting are also pushed in "The Grey Rabbit Trilogy," a triptych spanning from 1982–2019. Each painting contains a number of recurring details: a modern train, mountainside town, armed officer, nude couple and grey rabbit. Observed from multiple vantage points, the trains travel across this landscape, essentially expanding and revealing more of this invented world as it goes along.
In addition to visual art and art education, Rosenbaum has pursued a lifelong passion for documenting traditional American folk music. Several albums appear on Smithsonian Folkways, and his box set Art of Field Recording Vol. I: Fifty Years of American Traditional Music Documented by Art Rosenbaum won a Grammy for Best Documentary Recording in 2008. 
Naturally, he is also a dedicated musician and has published three instructional books on traditional banjo styles: Old-Time Mountain Banjo, The Art of the Mountain Banjo and Art Rosenbaum's Old-Time Banjo Book. His other titles include The Mary Lomax Ballad Book: America's Great 21st Century Traditional Singer and Shout Because You're Free: The African American Ring Shout Tradition on the Coast of Georgia. Melding music and art, Folk Visions and Voices: Traditional Music and Song in North Georgia was created with his wife and frequent collaborator, Margo Newmark Rosenbaum, who photographed subjects as Art recorded, interviewed and painted them.
When it comes to painting musical scenes, Rosenbaum typically focuses on depicting the musicians themselves and seldom illustrates the narratives of songs, making the painting "Adamham Town" a special exception. Originating as "Nottamun Town," this folk tune has evolved over the last century with varying names and modifications along the way, including "Adam Ham Town" by Ozarks singer Ollie Gilbert, whom Rosenbaum once met. The lyrics describe a journey on horseback through a series of unusual, riddle-like chapters, which Rosenbaum depicts happening simultaneously along a winding road. 
"It's really about a quest," says Rosenbaum, "and I wanted to make the city not look like an ancient city—and also have someone recording, someone singing and someone videoing—just to show that this is not a storybook view of the past. It's the past and present. We're in the time flow."
Videographers, field recorders and photographers often appear throughout Rosenbaum's paintings, emphasizing the perspective of an onlooker. This degree of separation can establish sensitivity towards historical events that were not experienced first-hand. These figures also act as bridges to the future as they carry their documentations forward to new audiences.
"One thing a painting is that makes it different from a time-based medium like a novel or a film, which you have to experience in a flowing time, is that a single painting is all there and if you wish to sort of evoke present, past and in some cases future, you can use various means of doing that."
Vibrating with motion and colorful exuberance, Rosenbaum's paintings reflect a tenderness and devout interest in the human condition. He works with time in a nonlinear fashion, suggesting that the past is often still very much present whether it takes the form of memory, song, storytelling or the legacy of other folk traditions.
An opening reception will be held at the Dodd Galleries on Friday, July 23 from 6–8 p.m. The exhibition will remain on view through Aug. 19, and the galleries are open Mondays–Fridays from 9 a.m.–4 p.m. and until 9 p.m. on the third Thursday of the month.
Like what you just read? Support Flagpole by making a donation today. Every dollar you give helps fund our ongoing mission to provide Athens with quality, independent journalism.