The storefront windows of over two dozen businesses have become pop-up exhibition spaces for "When in Athens," a photography project that brings together images made in any place named Athens, whether that's here in Georgia, abroad in Greece or in one of over 20 other U.S. cities. The exhibition was organized by Irina Rozovsky and Mark Steinmetz, professional photographers and co-founders of The Humid, an educational space dedicated to the practice of ambitious photography. Initiated at the height of the pandemic, the series was envisioned as a way to connect the global to the local. The project bridges our town to the outside world by introducing artists from afar, yet also visually reinforces the many similarities that exist between most places—a thread that resonates with the universality of living together, yet apart, during a global pandemic.
"We were all pushed down by the pandemic, walking by all the sad closed businesses downtown, feeling very distressed and despondent, and meanwhile The Humid was exploding online, more interest for Zoom events than we've ever had for in-person ones," says Rozovsky.
Though some artists had previously traveled from out of town to attend artist talks and workshops at The Humid, switching from in-person to virtual programming during the pandemic opened the opportunity to people living as far away as Poland, Iceland, India, Portugal, Australia and Europe. Taking advantage of this newly expanded virtual reach, Rozovsky and Steinmetz also sought a way to fill the need for uplifting, physical experiences. With support from an Arts in Community Resilience Award from the Athens Cultural Affairs Commission, they decided to organize an exhibition of photographs made in Athens.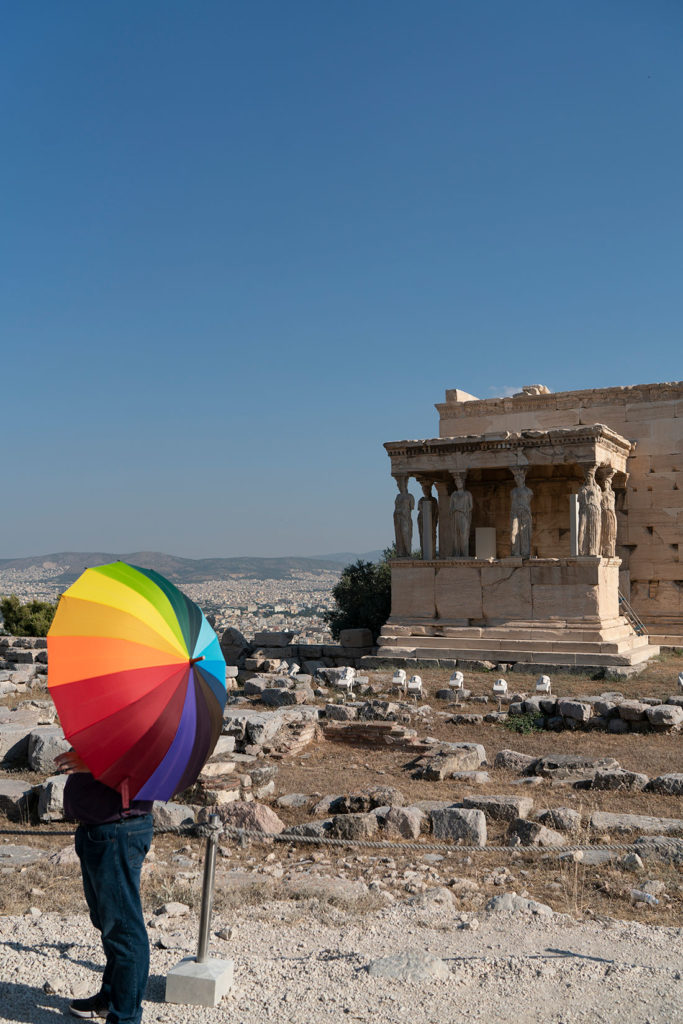 "We thought photographers who had come to one of our workshops would submit photos they'd taken while they were here," says Rozovsky. "But we didn't clarify and someone submitted photos made in Athens, Greece, and a light went off like, wow, this is so much more interesting and allows so many more people to participate and makes it so much more global rather than insular, so we decided to officially ask for photos made in any Athens."
Through an open call, The Humid received approximately 500 submissions from 200 photographers living all around the world. From this pool, 108 photographers were selected to have their images installed in the windows of 29 different businesses. Rozovsky and Steinmetz were assisted by photographer Alec Peyton, a recent BFA graduate from the Lamar Dodd School of Art.
Extending along the Prince Avenue corridor into Normaltown, "When in Athens" is primarily concentrated downtown and was designed to lend itself to independent or socially distanced walking tours. Enlivening storefronts by utilizing window space, the project is well-suited for the town's current transition period as more and more people get vaccinated and acclimated to going back out.
Many of the images were grouped together to respond to a specific installation site or complement each other to reinforce a mood. These thoughtful arrangements serve as mini exhibitions with their own distinct themes or narratives.
"It was fun to blend climates and environments when bringing the images together in windows," says Rozovsky. "We really considered the patronage of each business and its style and architecture to make sure the photos worked in the space."
Dedicated to the architectural column, the photographs at Big City Bread contrast the iconic structures built by ancient Greeks—documented by Asier Uribarri Gutierrez, Matthew Monteith, Parker Smith and others—with a few of their more modern replicas, seen in Justin Schmitz's shot of a booze-littered column in Athens, GA and Alon Koppel's snowy portrait of a historic home in Athens, NY. Athens, Greece is also spotlighted at Wilson's His and Hers Styling Shop where Jenny Kim and Kaitlin Jencso's portraits capture tourists at ruins. 
The display at the Georgia Theatre creatively demonstrates The Humid's sensitivity to place. In addition to the marquee, which announced the exhibition's arrival to town in bold red letters, the venue's outdoor poster display cases—typically reserved to promote upcoming concerts—were repurposed to showcase photographs. Charlie Hartness presents a photographic portrait of artist, musician and documentarian Art Rosenbaum, who in turn holds up an illustrated portrait of Charlie with Nancy, his wife and bandmate in Hawk Proof Rooster. This portrait hangs to the left of a portrait taken by Margo Newmark Rosenbaum, who has photographed countless performers of traditional American folk music over the years as her husband, Art, collected field recordings. In the center box office, Gerald Alderman's black-and-white scene from Latinx Fest depicts a young entertainer in a fringe jacket and cowboy hat as he stands in front of a row of other performers. 
Even the non-musical images at the Georgia Theatre still respond to their environment in clever ways. Caren Winnall's diptych of trees is divided by the pairs of chevron patterned wooden doors. And the "coming soon" decal above Lucy Reback's portrait of a DIY outdoor haircut seems to hint at the upcoming taming of pandemic styles gone wild. These subtle parallels invite passerby to engage more deeply with their surroundings and wonder or reflect on the images themselves.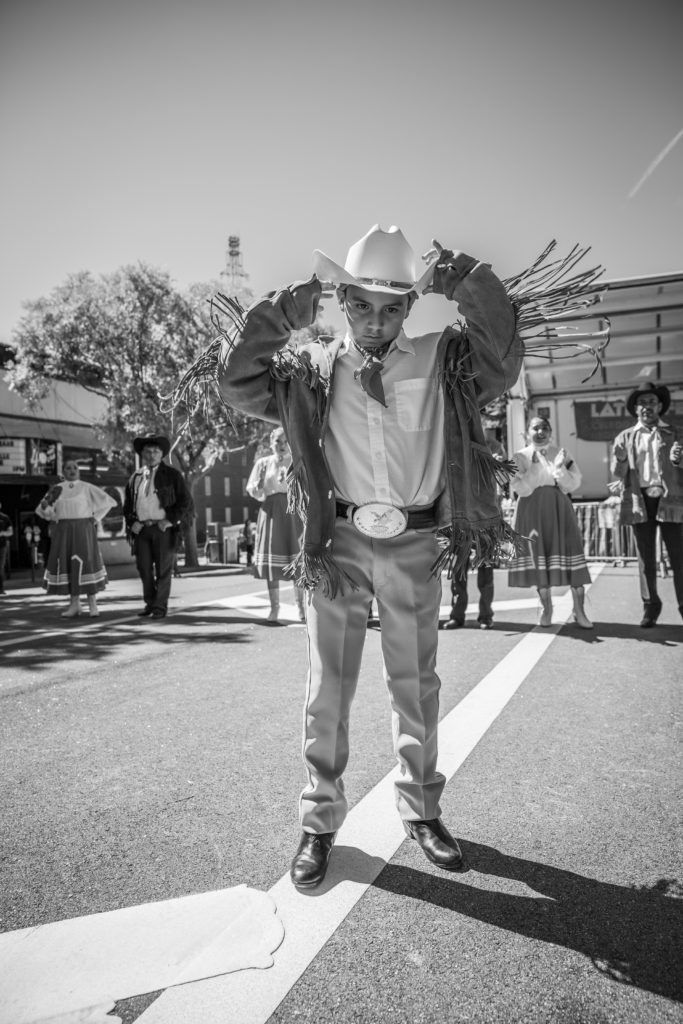 Operating out of the Leathers Building, The Humid was established in 2018 to celebrate photography as a medium and facilitate a forum for its intersecting visions, generations, cultures and geographies. Workshops and portfolio reviews aim to meet photographers where they're at on their path by providing valuable critique and insight into refining skills and finding meaning.
"We're finding there are a lot of serious photographers out there who are seeking some guidance on their projects," says Steinmetz. "Maybe they've already been to an MFA program, or they are considering going to school one day, or they want an alternative to school. We like to think of ourselves as a little more old school, a little more practical and grounded than many of today's programs, which seem a bit overburdened by theories and wishful concepts."
"There are many flows in contemporary photography, but we are mostly interested in what's sometimes called straight photography—being in, looking at, responding to the world around you," says Rozovsky. "Documentary is a loaded, often contested term—but it's one that plants your feet on the ground. That kind of photography is closest to our hearts."
The Humid will host a "When in Athens Photography Meet, Greet, Talk & Walk" on Monday, July 19, meeting at Normal Bar at 5:30 p.m. and Little Kings Shuffle Club at 7 p.m. Upcoming virtual events include workshops taught by Steinmetz, a portfolio review and an artist talk by a South African photographer. In the future, Rozovsky and Steinmetz hope to organize a photography festival that will further secure Athens on the map as an arts destination. Visit thehumid.com for a complete list of participating artists and venues.
Like what you just read? Support Flagpole by making a donation today. Every dollar you give helps fund our ongoing mission to provide Athens with quality, independent journalism.