While empathy—the ability to recognize, understand and share the feelings of others—is widely considered an integral part of healthy interpersonal relationships and general functioning within American life today, the term is fairly new to the English language and is rooted, fascinatingly, in aesthetics. Introduced only a century or so ago, the idea of empathy initially focused on the ability to project one's own feelings and movements onto an object—thereby experiencing an emotional or imaginative response to an artwork.
Currently on view at the Oconee Cultural Arts Foundation, Melody Croft's solo exhibition, "TOO: An Orientation of Spirit," embraces the belief that art can serve as an effective medium for evoking empathy and facilitating dialogue on issues surrounding racial inequality.
A self-taught artist, Croft began watercolor painting in the early 1990s and eventually expanded into oils. Inspired by the social realist works depicting the daily lives of ordinary people in "Coming Home: American Paintings from 1930–1950," an exhibition held at the Georgia Museum of Art in 2004, her practice took a pivotal turn into creating narrative work dedicated to exploring social and cultural issues. "When He Takes a Knee" documents athletes' protests against police brutality, for example, while the oil painting "From Where She Stands" captures the exhaustion of hearing the retort of "all lives matter." Created from the perspective of an observer and ally, this body of work is an emotional response to the racism that permeates the U.S.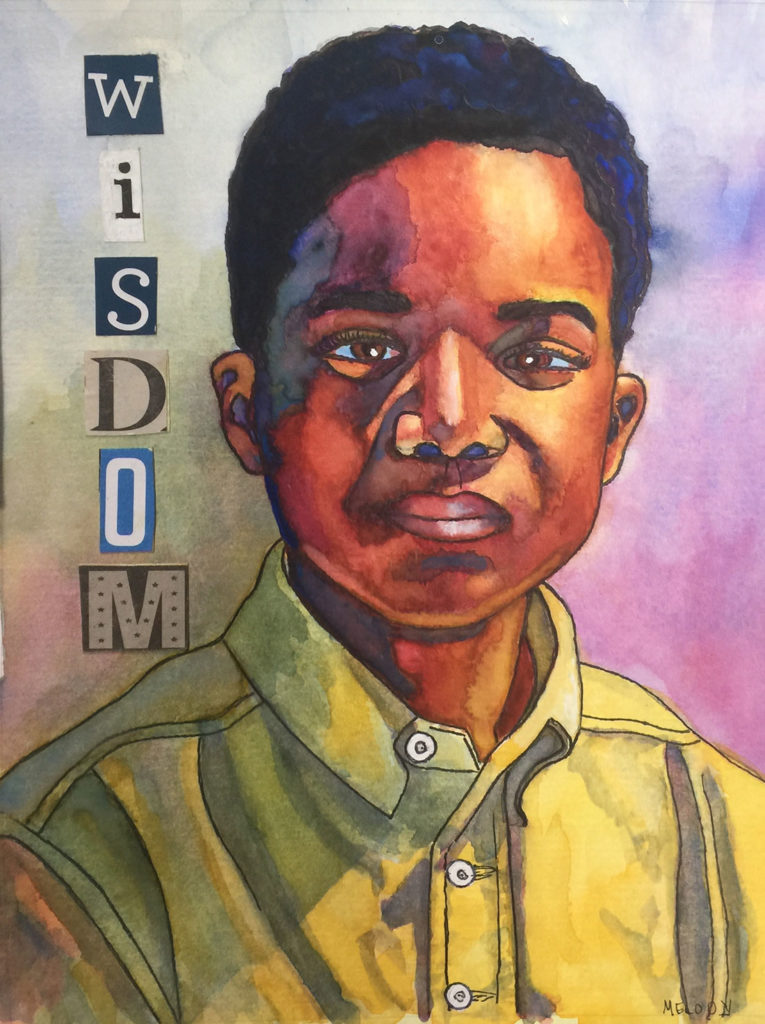 Installations on opposing walls represent a relationship between the past and present. In homage to the enslaved Africans who crossed the Middle Passage, acrylic pours on canvas are laid along the floor beneath both displays to mimic not only the physical turbulence of ocean water, but the sensation and emotional distress of separation. To establish the past, "Ancestral Hopes and Dreams for the Future: West African Adinkra Symbols" is a polyptych—hung in the shape of the word "TOO"—of 26 painted symbols used by the Akan people of Ghana in West Africa to represent concepts or values. Each Adinkra correlates to one of 26 watercolor portraits, "We Are Our Ancestors' Wildest Dreams," that hang in a salon-style cluster across the room. Putting a face to each Adinkra—leadership, truth, knowledge, faith, wisdom, courage and other cherished aspects of life—reinforces the universality of these cultural aspirations and reminds viewers of the injustices still faced by those whose ancestors were torn from their homeland.
Croft's artistic practice is strongly influenced by her previous career as an elementary school teacher. Observing how racism and generational poverty impacted many of her African-American students both in the classroom and well into adulthood, she felt a desire to take their struggle on as her own. Visually, her teaching experience also carries over into a bright color palette and collaged words from cut magazine paper. This is best demonstrated by a series of five portraits—including "Melinda" on the cover of Flagpole this week—that contemplate the burden of the "Strong Black Woman" trope and are decorated with lines from Maya Angelou's poem, "Still I Rise."
"My master's degree in reading education and the 30 years of reading aloud to children and being read to by children from storybooks where picture and text go hand-in-hand is probably why I add text into my paintings," says Croft. "I attribute my realistic narrative style to the daily moment-by-moment immersion into my students' concrete thinking. The children's Crayola colors appear on my palette of oil paints, and I even share their compulsion to cover the surface and stay inside the lines."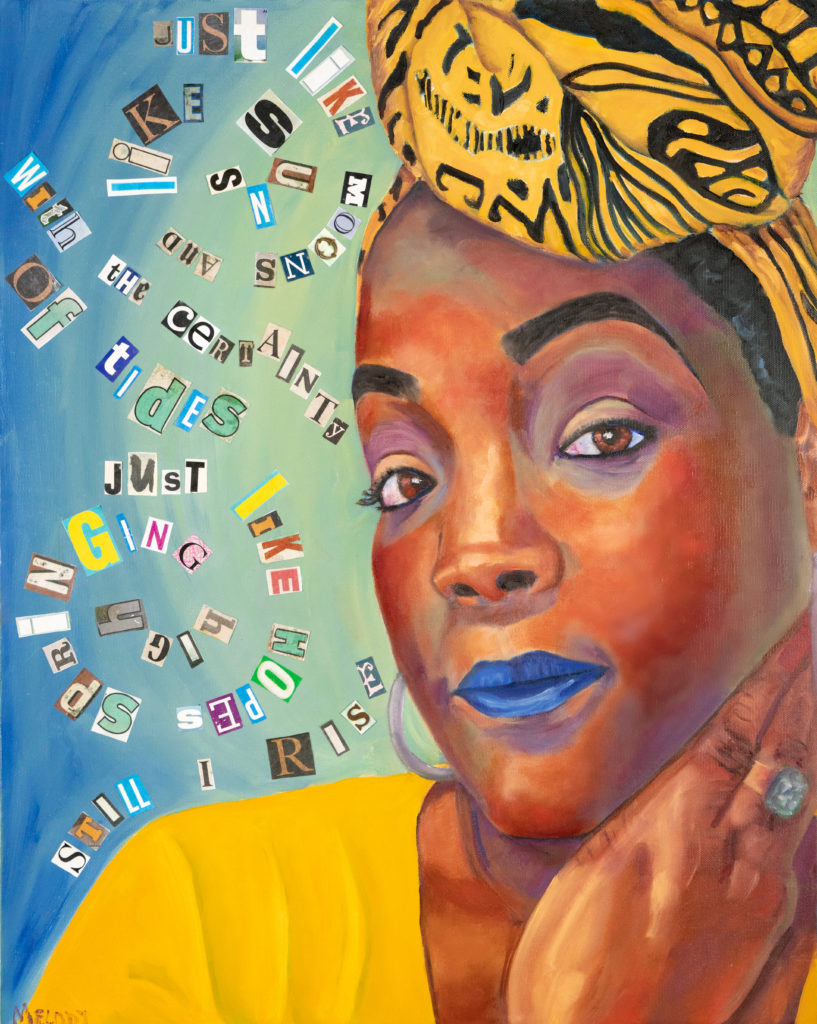 As Black Lives Matter rallies mushroomed across cities of all sizes last summer, many museums and galleries turned inward to address their own complicity in upholding white supremacy and reaffirm a stronger commitment to diversity and inclusion. Though Croft's exhibition of portraits depicting Black subjects feels particularly timely as part of this wave towards increased representation of artwork by and of individuals with marginalized identities, Croft completed the majority of paintings between July 2018 and February 2020. 
"The global protests of George Floyd's death showed me that people around the world shared the feelings and thoughts that had prompted me to spend the last 19 months painting in my studio," says Croft. "This realization prompted me to paint seven additional works concerning allyship to the exhibition."
Named after a line of Dr. Martin Luther King, Jr.'s "I Have a Dream" speech, the oil painting "A Symphony of Brotherhood" depicts a densely packed rally whose crowd members hold signs pleading for safety, respect and peace—non-controversial values that ought to be difficult to oppose. Featureless faces in a variety of skin tones invite viewers to find themselves within this future transformed from jangling discords. Taking inspiration from propaganda of the First World War, the remaining six paintings are ally recruitment posters with slogans such as, "Take on the struggle as your own" and "Stamp out racism."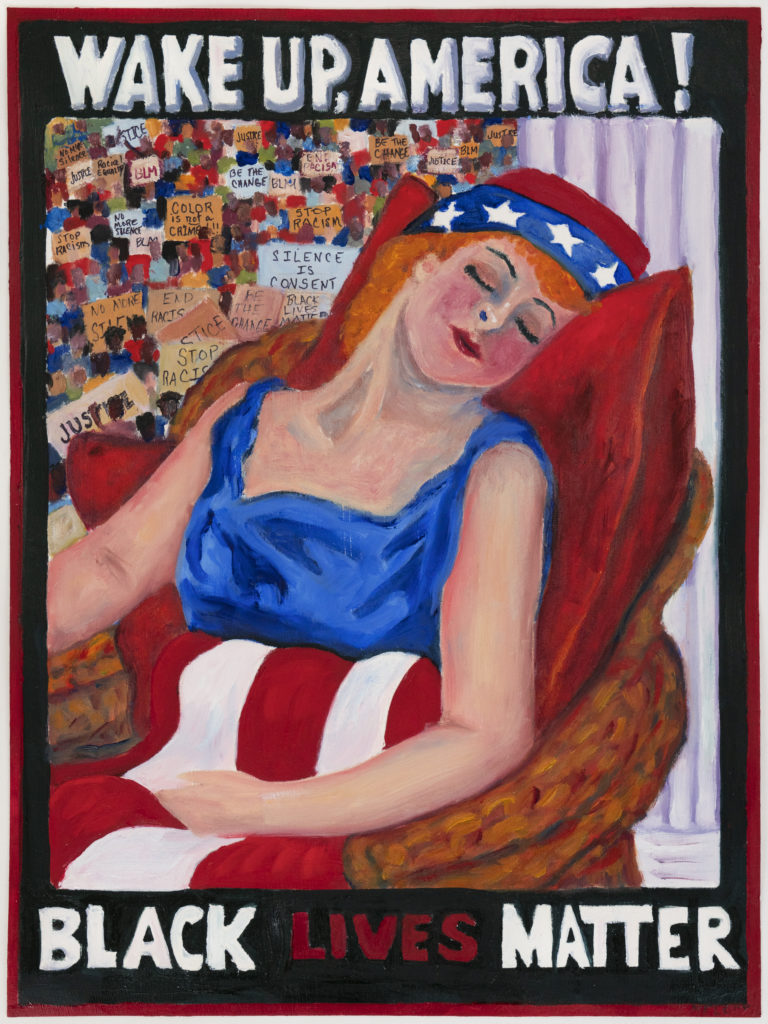 "An art critic once wrote that I paint people and look inside of what appears to be seen," says Croft. "I have since taken that statement as my artistic mission and create narrative works that subjectively observe and comment on the status quo and social norms of modern life. In the role of an ally, I want my work to invite viewers to look and consider the psychological, sociological or emotional complexities of race, gender, age and culture."
"TOO" is currently on view through July 16, as are two other exhibitions. Displayed in the entranceway, Margaret Warfield's "BEHOLD. BECOME. BEYOND." is a portrait series celebrating Black women, many of whom are depicted as dancing joyously in a vibrant color palette rich with purple and teal. Filling the main gallery, the 27th annual "OCAF Members' Exhibition" showcases the creativity of individuals who support the foundation. Ranging from sculptures, paintings and photographs to ceramics, textiles and assemblage, this a great introduction to an interesting cast of artists such as Lamar Littleton, Lawrence Stueck, Ana Anest, Thomas Supensky and Lisa Freeman. The gallery is open Tuesdays through Saturdays from 10 a.m.–4 p.m., and the exhibitions are also available to explore through photographs and videos at ocaf.com.
Like what you just read? Support Flagpole by making a donation today. Every dollar you give helps fund our ongoing mission to provide Athens with quality, independent journalism.