The impact of the COVID-19 pandemic on the film industry has been crushing: box office figures plummeted, production schedules screeched to a halt, award ceremonies lost their dazzle, festivals were upended and many theatrical releases were postponed or sent straight to streaming platforms. While indoor movie theaters remained closed due to restrictions on large gatherings, drive-in theaters experienced an unexpected surge in interest as a socially distanced alternative.
Drive-ins hit the pinnacle of their popularity in the mid-1950s with over 4,000 locations across the U.S., but this number has steadily dwindled to around a mere 300. Though the simplicity of their setup now holds a nostalgic charm, most drive-ins shuttered due to a combination of factors: improvements to home entertainment systems, urban sprawl and rising property values, and competition with the convenience, technological advancements and other luxuries offered by multiplexes.
Athens was hip to follow the mid-century trend, but all of its traditional drive-in theaters vanished decades ago. The Alps Drive-In (1952–1980), Athens Drive-In (1952–1984) and Prince Avenue Drive-In (1954–1957) once existed in open fields where shopping centers now stand. The last nearby holdout was the Commerce Drive-In, which closed in 2001 after nearly 50 years in operation. Today, of an estimated 130 drive-ins that operated in Georgia during its prime, only five remain scattered across the state: Tiger Drive-In in Tiger, Swan Drive-In in Blue Ridge, Starlight Drive-In in Atlanta, Jesup Drive-In in Jesup and Wilderness Outdoor Movie Theater in Trenton.
Pop-ups in parking lots have become a nationwide trend, inspired by the relics of a mostly bygone era. The pandemic forced nearly every event to become virtual, move outdoors or surrender to postponement altogether, and socially distanced, open-air film screenings became a rare and treasured opportunity to feel connected to the community. The Athens-Clarke County Leisure Services Department was swift to reformat its "Movies by Moonlight" series, originally envisioned as a picnic-style event, into a drive-in experience that has bounced around among the Georgia Square Mall, Sandy Creek Park and Southeast Clarke Park.
There has also been an uptick in creative outdoor film screenings, such as Office Space viewed from "cubicles" (pandemic pods) under the 440 Foundry Pavilion, and Beasts of the Southern Wild at the State Botanical Garden of Georgia through Films in the Flower Garden, a new series co-presented by the Georgia Museum of Art that hopes to resume in the fall. All the while, Flicker Theatre & Bar has continued to churn out a fairly steady stream of Japanese cult, martial arts and horror films on the patio between Pachinko Pop Cinema, Showdown at the Equator and the Flicker Film Society.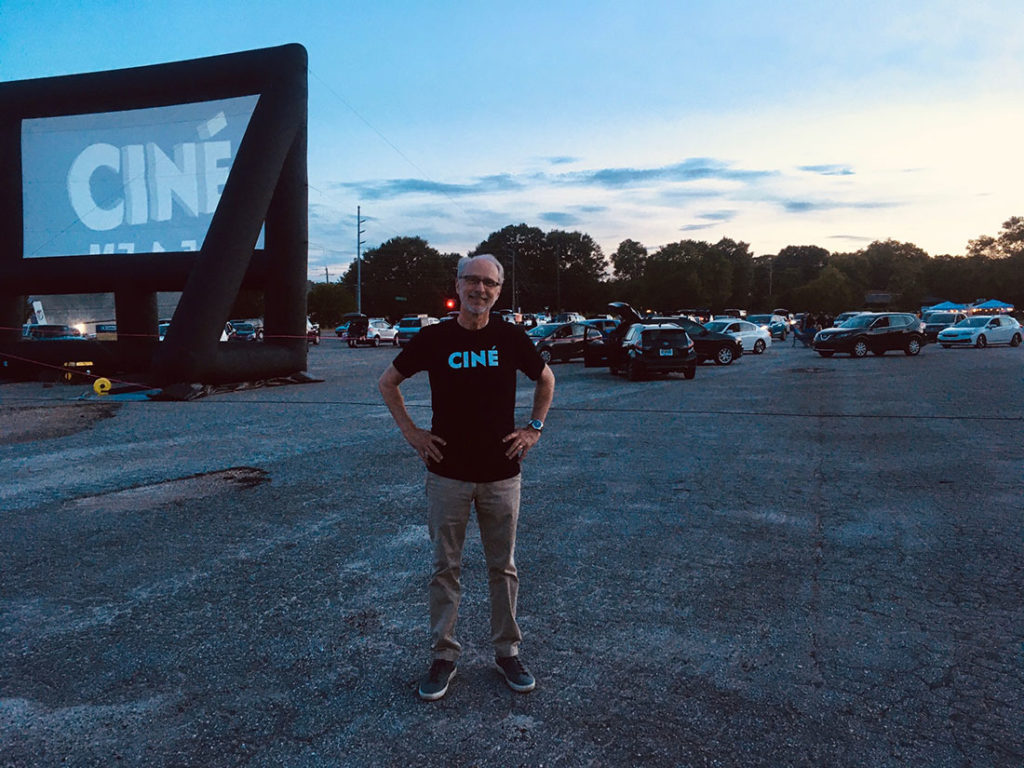 Finally, Athens has its own consistent drive-in theater experience again thanks to the nonprofit art house theater Ciné. Held every Tuesday evening throughout the summer and possibly into fall, the pop-up Ciné Drive-In takes place in the parking lot of General Time Athens, an upcoming mixed-use development located at 100 Newton Bridge Road where the General Time/Westclox factory once operated.
"During the pandemic, drive-in theaters experienced a big resurgence in interest," says Pamela Kohn, executive director of Ciné. "As such, I started to explore how Ciné could add an outdoor experience to our cinema offerings. Ciné was pretty much closed for 15 months, and like other movie theaters, we experienced the massive effect of being shut with not many options."
In addition to applying for grants and loans, theater staff used the window to find a suitable screen, the correct projection equipment and a sizable location with minimal light and sound pollution. A 40-foot-wide inflatable screen was selected for its relative ease of setting up and breaking down. Audio, meanwhile, is transmitted directly into everyone's car speakers through an FM radio channel.
"The drive-in experience is very different from an in-theater experience, both being wonderful," says Kohn. "There is a certain energy and excitement to being under the stars watching a movie on a giant screen. The drive-in brings a festive communal atmosphere, and gives people the opportunity to enjoy a great movie experience while being in the privacy of their own vehicle or sitting by their car on deck chairs."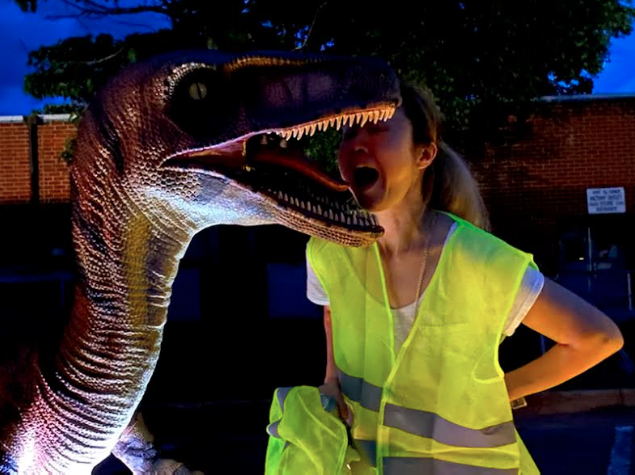 The Ciné Drive-in is supported by a grant from the Athens Downtown Development Authority as well as several other grants and sponsorships from members of the community. The series debuted on June 1 with a sold-out screening of Mad Max: Fury Road, followed by Jurassic Park and Do The Right Thing. Upcoming films are announced one week at a time and are determined by a programming committee that consists of both staff and board members. Technical operations director Nicholas Gould and board member Todd Kelly have been particularly integral to planning and executing the series.
"I really enjoy the excitement of the drive-in as a pop-up event," says Kohn. "It is an enormous amount of work and a very long workday, but there is real satisfaction seeing an empty parking lot transform into a highly professional drive-in movie setup. And then seeing it all disappear again at the end of the night."
In true movie-going fashion, a concession stand offers popcorn, candy and other snacks, along with both non-alcoholic and alcoholic beverages. Food trucks are also invited to set up each week. Ticket prices run $30 for a vehicle carrying up to three passengers or $50 for groups of four or more, and cyclists are welcome to make it a bike-in for $12. Ciné reopened its brick-and-mortar theater to the public on May 27 and plans to continue offering streaming rentals. Visit athenscine.com for showtimes and selections.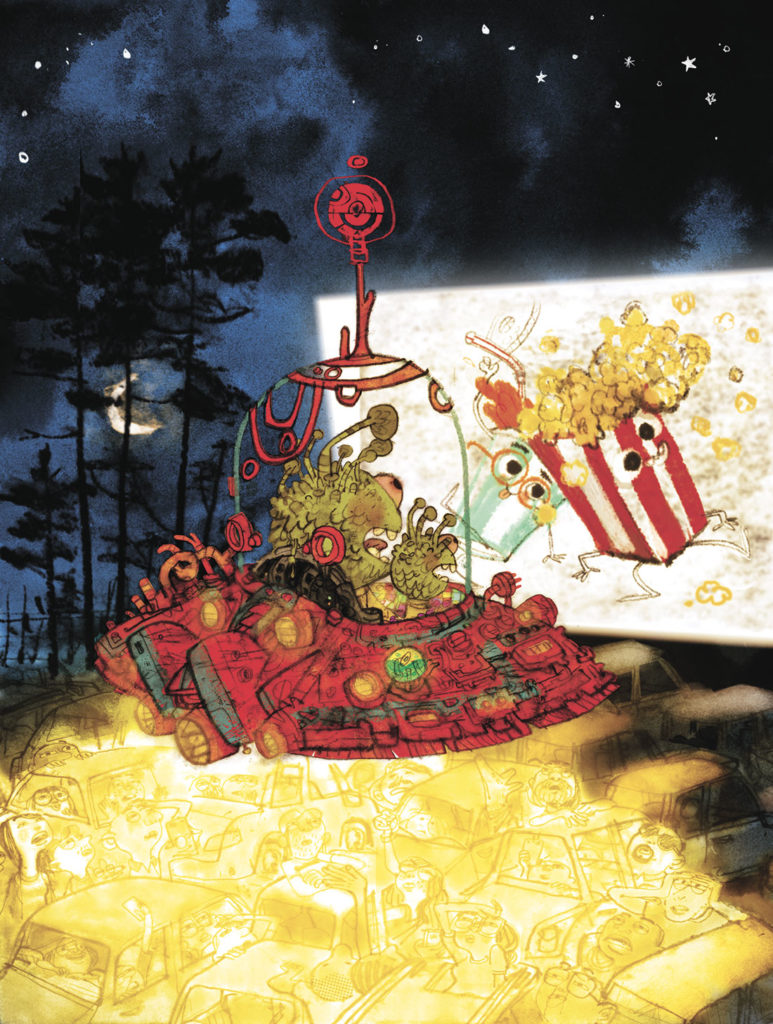 Held this summer over at Rabbit Hole Studios, a new Queer Abolitionist Drive-In Film Series offers a thoughtful lineup exploring the history and nuance of queer abolition of systems of policing, incarceration, state-driven debilitation and oppression. Organizer Alden DiCamillo approached Ronika McClain to curate the series after participating in GAYREADS, McClain's reading group that included an additional list of film recommendations within its curriculum.
"I remember crying during United in Anger because they kept subtitling the birth and death dates of ACT UP members," says DiCamillo. "Most of the people in that documentary died around the time I was born. And I realized those were supposed to be queer grandparents and fathers and mothers and siblings. For me, abolition expanded broadly at that point: it was more than basic tag lines, it was about abolishing every system that kept us from each other, be that prisons, binary gender/sex schemes, purity cultures, medical industrial complexes that kept important, life-giving medicines from people we could have loved, misogyny, homophobia and so on."
Each night focuses on a different theme: "Desire" on June 25 features Shakedown and Tongues Untied; "History" on July 16 shares United in Anger, Disclosure and Paris is Burning; "Camp" on July 30 screens But I'm a Cheerleader, Hairspray and Bound; and "(Black) Future" concludes the series with Watermelon Woman and Moonlight. Collectively, these films can be used to consider abolition from a queer perspective and imagine a future in which all people are truly free. 
"I am a cinephile, and my personal artistic work centers on the power of pop culture and media to both reflect ourselves and influence our identities," says McClain. "Films in particular have a way of expanding our ideas of what we know is possible aesthetically and politically. Obviously, there's a sense of recognition, like, 'Oh my God, that's me,' but there's another layer to it. The moving image helps us physically sense the possibilities of other worlds, be it an apocalypse, a fantasy world or a gay bar. In my experience, people wanting to commit to an abolitionist ideology have the hardest time with, 'But what will actually happen when we get free?' And the answer lies within our imaginations, and our imaginations are most easily sparked by things like films, or TV."
Double features will begin at 8 p.m., and audio is played through a PA system. Bikes, blankets, chairs and snacks are all welcome. Funded by an Arts in Community Resilience Award from the Athens Cultural Affairs Commission and a Staycation/Gaycation Grant from Southerners on New Ground, the series is provided free of charge by RSVPing at bit.ly/QueerAbolitionist. Visit athensmutualaid.net for more details.
Like what you just read? Support Flagpole by making a donation today. Every dollar you give helps fund our ongoing mission to provide Athens with quality, independent journalism.