In makeup artist Tom Savini's blood-spattered remake of the classic horror film Night of the Living Dead, the character Ben, played by Tony Todd, delivers one of the most chilling reckonings the zombie apocalypse has ever known: "This is something that nobody has ever heard about, and nobody has ever seen before. This is hell on Earth… This is pure hell on Earth."
Midway through Vision Video's debut album, Inked In Red, the song "Organized Murder" builds around this foreboding dialogue—Todd's gravelly voice oozes up from beneath an ominous drone and drum machine, stirring up layers of depth and texture from which the group's singer, guitar player and principal songwriter Dusty Gannon has carved out a gothic pop odyssey.
The 10 songs that make up Inked In Red are a survey of troubled and complex emotions and an ecstatic purging of mental and physical stress. Songs bearing titles such as "Comfort In the Grave," "Static Drone" and a cover of Ski Patrol's 1981 post-punk number "Agent Orange" are teeming with abstract tales from Gannon's days spent crawling out of his skin while deployed as a rifle platoon leader in war-torn Afghanistan, working as a metro Atlanta firefighter and paramedic on the front lines of the COVID-19 pandemic and watching a relationship fall apart while coping with post-traumatic stress disorder.
The Night of the Living Dead intro in "Organized Murder" is something of a Rosetta Stone when it comes to deciphering Inked In Red's true message. As the opening number on the B-side, it's a deep cut that brings these various underlying dark themes into perspective.
"There was a point when I was in Infantry Officer School in Fort Benning, rehearsing what's called an L-shaped ambush, when I realized that this was literally organized murder," Gannon says. "I went through a really tough time leading up to my deployment where I didn't know if I could do it. I kind of lost my mind for about a year."
He goes on to say that the whole conversation from Night Of the Living Dead, "talking about the zombie invasion, and how nobody really knows what's going on—it's all just chaos and pure hell on Earth—resonated with how I felt. There is nothing worse than war," he adds, "It is the absolute worst thing that humanity has committed to."
Throughout the album, these images blend with a gothic snarl, new wave giddiness and campy horror film theatrics. The band's name is a nod to Athens' once-great video store, bringing something that all of the group's members loved back from the dead—at least in namesake.
All of this culminates in a modern sound that falls within a classic musical lineage of bands including Joy Division and New Order, the Cure, Bauhaus, Siouxsie and the Banshees and the Sisters of Mercy.
And, of course, it isn't all as dour it sounds on paper. Inked In Red is propelled by barreling dance-floor rhythms and major-chord songwriting.
The look of Gannon in full make-up, dressed head-to-toe in goth gear while performing in the videos for "Static Drone" and the album's title track, obscure the fact that he writes vital music with Vision Video. There is a sense of having fun here, albeit steeped in layers of eyeliner and Aqua Net.
"Humor for us is incredibly important," Gannon says. "To be blunt, I don't think it's reasonable to take yourself ultra seriously as a goth band. I mean, we look like glam horror movie monsters. I think it's one of my favorite parts of playing with people's predisposed conceptions of the goth subculture. People often expect you to be this hilariously morose caricature of Bela Lugosi or Dorian Gray or something. My experience with goth has been full of people who are vibrant and full of life, and it's important for people to see that."
After forming the group in 2017 with drummer Jason Fusco, singer and keyboard player Emily Fredock and bass player Dan Geller joined soon after. Geller is a co-owner and Chief Technical Officer of Athens' Kindercore Vinyl pressing plant and has a long history playing in Athens indie, pop and rock-and-roll bands, including Kinkaid, the Agenda and I Am the World Trade Center. He's also a member of the Booty Boyz DJ team.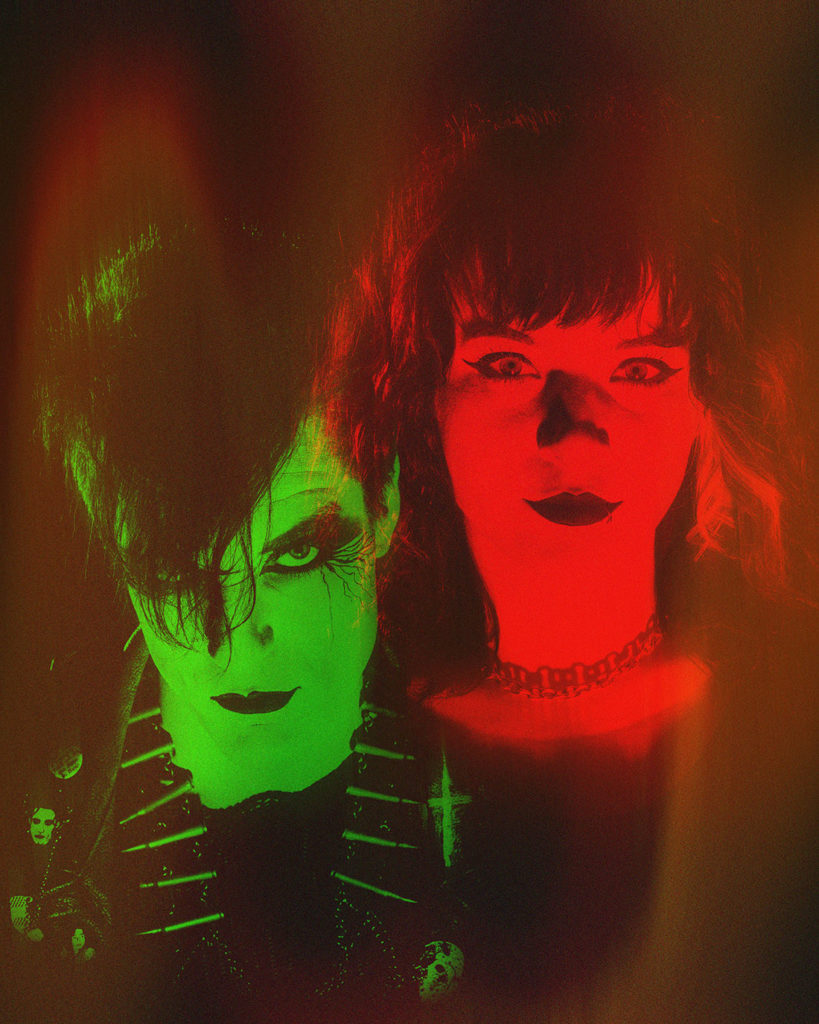 Gannon's nearly operatic voice rings out as though he's having the time of his life—a cathartic reaction to confronting so much hardship. Fredock's soaring lead vocal in "Comfort In the Grave" is an equally powerful counterpoint that emphasizes the breadth and depth of the group's musical range.
Inked In Red was recorded and produced by British-born Athens transplant Tom Ashton at SubVon Studio. Ashton is perhaps best known as the guitar player for Leeds' early '80s post-punk outfit the March Violets. He also did a stint performing with the early '90s iteration of Clan Of Xymox—simply dubbed Xymox at the time.
The two met one night at the Georgia Theatre, where Gannon spun records under the name DJ WarDaddy for the "Make America Goth Again" dance parties.
Ashton was in attendance on a night when Gannon spun the March Violets' 1984 club hit "Snake Dance" during his DJ set. They were introduced by a mutual friend and hit it off immediately.
Ashton has lived in Athens since 2001 and has operated a home studio since 2014, working on March Violets material and film scores, including one for an upcoming rotoscoped dark medieval action movie called Dwarfhammer.
"I built a room in our basement purely as a production suite, but when we later finished out the rest of the area I realized there was now room to fit in a whole band with a full kit," Ashton says. "After a month or so I thought I'd mention the space to anyone who might be interested in coming in and joining the experiment."
The basement production suite was christened SubVon Studio in 2018. In recent years, a small but undeniable scene of bands has developed around Ashton's production skills. He has worked with a variety of bands, fleshing out the confrontational death-punk of Tears For the Dying, the cinematic gothic rock of Entertainment, and the acerbic psyche-punk of Hip To Death. Aesthetically speaking, each of these bands approaches their music quite differently, but are all bound by a stylish and somewhat intangible sonic thread that Ashton has honed.
"This scene kinda reminds me of the special time back in Leeds/W Yorks in '81-'82," Ashton says. "Bands like Red Lorry Yellow Lorry, the Sisters Of Mercy, Dance Society, Southern Death Cult, Skeletal Family and the March Violets all combined and developed our own take on punk, post-punk and goth but most importantly, had our own way of doing it. I'm lucky to be in the right place at the right time not only once but twice."
After hearing an early version of "Organized Murder," Ashton started working with Vision Video to record tracks for the album.
"It was quite an intense experience, as it should be," Ashton says. "We started the session with a literal thunderstorming monsoon surrounding the house. Dusty and Dan both got zapped by lightning in the room, and we all took it from there. But seriously, I have to say that this band is committed to its art and aesthetics in a way that you don't come across often, and again, it reminded me of the take-no-prisoners approach we all had in Leeds in '81. I love that kind of thing and respect it deeply," he adds. "These are the types of things that make a great album."
Inked In Red is out Apr. 16, pressed on metallic red, black-and-white splatter and clear vinyl.
From the grave sprouts a new beginning. Vision Video's debut keeps one foot forever lurching forward, and the other planted firmly in the macabre nostalgia of zombie flicks and gothic pop, a sound full of ferocious darkness and power.
"Goth is a good term for it, but at the end of the day, it's going to be what it's going to be. I suspect that the second record is going to be a lot different," Gannon says. "I'm not interested in writing the same music over and over again… I always think back to Tony Todd's line in Night of the Living Dead. He's so good at delivering that sense of horror, which is really the unknown. The whole idea for me is to challenge myself and to pull out these complex emotions. Moving forward, I don't think that it would be fair to those ideas if we just did the same thing again and again."
Like what you just read? Support Flagpole by making a donation today. Every dollar you give helps fund our ongoing mission to provide Athens with quality, independent journalism.