Opening just a week shy of the nationwide wave of pandemic shutdowns, last year's Juried Exhibition at the Lyndon House Arts Center was left to quickly formulate a virtual game plan for how to continue safely engaging an audience. Meanwhile, the facility itself shifted gears into serving other community needs, such as producing face masks and hosting an early voting polling location. Now, the annual anchor show returns, hopefully on the other side of things, to fill the gallery walls with all sorts of paintings, drawings, sculptures, textiles, photographs, metalwork and more.
This year's selection process for the 46th Juried Exhibition was modified into a digital format, unlike in previous years when physical submission drop-off days made for social events all on their own, and the juror could carefully consider the dimensions, texture and overall presence of each work in person. This change did not seem to hinder interest or participation, however, as a total of 720 works were submitted by 270 different Athens-area artists. Guest juror Hallie Ringle, the Hugh Kahul curator of contemporary art at the Birmingham Museum of Art, was tasked with whittling the pool down and ultimately chose 161 works representing 116 artists.
"I am not sure whether this is due to the digital entry process, but I feel this show is a bit more intimate in scale and subject than other shows," says Didi Dunphy, program supervisor of the LHAC. "This may be because of this last year of sheltering, and possibly all working on our dining room tables or on top of the bedsheets?!"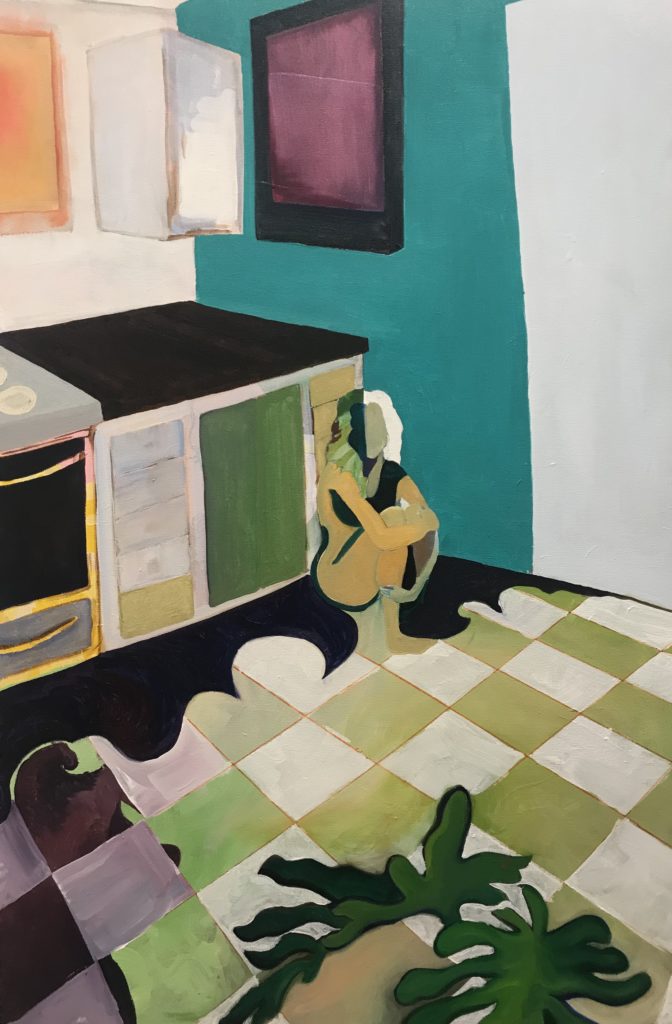 With part of the year spent sheltering in place, it seems only natural that artists should find inspiration within private interior spaces or houses themselves. Appearing on the cover of Flagpole this week, Emmie Harvard's oil painting, "POV: My neighbor's dog," depicts a woman crouching in the corner of her kitchen, possibly sharing in the feelings of anxiety, boredom, dread or surrender that many viewers have experienced this past year. Nearby, Bess Carter's "Green Velvet," a painting of a mid-century-style living room, and Luke Slaboda's "Nashville Skyline (Nashville)," a photograph of natural sunlight coming through a window onto a bedside table, feel significant and intimate. There's also a shared focus on housing, like Noel Holston's photograph "In the Low $200s," and by extension, finding human contact through windows, like Emily Cameron's "The Local Athenian: Vernon Thornsberry."
"For me as a curator, it was a special opportunity to see what artists are thinking about while the world around them is rapidly changing," writes Ringle in the exhibition's accompanying guide publication. "There were some works about contemporary events including a painting of Stacey Abrams [by John Ahee], a memorial to Li Wenliang [by Robert Clements], images of Donald Trump, but not an overwhelming amount. What I was really struck by, though, was the number of landscape works that I saw. It seemed that many artists were returning to the places just around them or imagining the lands they'd see post-pandemic. In many of the pieces, when the figure is present, they're alone, blurred or abstracted in some way. Perhaps it's too much to say that this connected to COVID-19, but either way, many of these artists captured the horrible, and sometimes wonderful, shifts that this pandemic brought us."
With access to public indoor spaces severely limited, many people turned to the natural world for refuge, entertainment, distanced socialization or inspiration. Ben Slaboda's photograph "Foggy Morning Mist" feels eerie and lonesome at first glance, but also carries a certain element of cleansing renewal. Printed on aluminum, Chris Greer's large-scale photograph "Barns at Sunset" has a delicate luminescence that makes the sherbet-colored clouds and yellow-flecked pastures pop.
Beautifully merging design and function, Chris Dené's "Sun Chair" and "Moon Chair" are similarly rooted in an appreciation for the natural world. Viewing head-on, the circular "Sun Chair" resembles a giant eye, rays of exposed wood suggesting long lashes. From the side, it becomes plausible that the sharply angled seat is intended to recline the sitter so far back that their gaze becomes perfectly positioned for cloudspotting or sunbathing. Meanwhile, the crescent-shaped "Moon Chair" provides a cozy nook for stargazing, and the rounded edges suggest the form of a rocking cradle.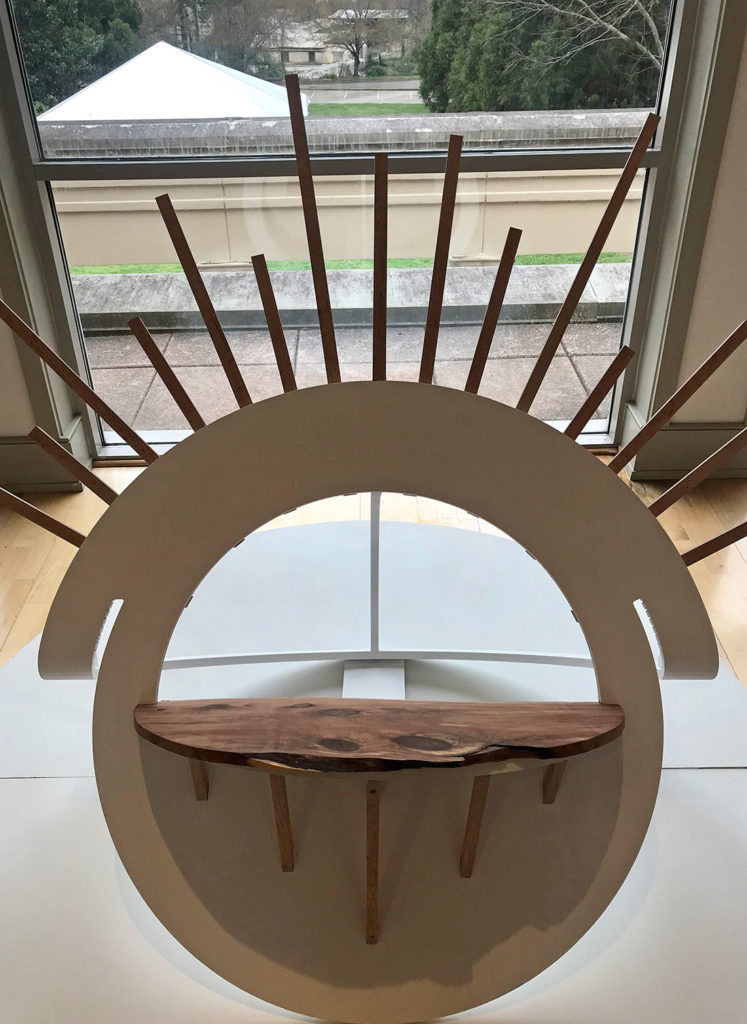 As per tradition, Ringle selected the recipients of 16 awards that totaled $2,550 in cash prizes. Additionally, artist David Froetschel received the Arts Center Choice Award for his mixed media piece "Liminal Window," which will grant him the opportunity to present a solo exhibition in the Lounge Gallery, a space dedicated to spotlighting emerging artists.
While the opening receptions of yore were surely missed—when hundreds of visitors would flood through the galleries during a short but sweet, two-hour window—the 46th Juried Exhibition debuted earlier this month with three consecutive preview days to responsibly stagger attendance. The exhibition will remain on view through June 26, and ticketed gallery talks with various artists are scheduled for Apr. 15, May 20 and June 26.
Like what you just read? Support Flagpole by making a donation today. Every dollar you give helps fund our ongoing mission to provide Athens with quality, independent journalism.