Everyone has that moment when things got real. Maybe you had a spring break vacation cut short. Maybe it was when players were pulled off the floor at the SEC basketball tournament. For me, it was the afternoon of Mar. 12.
Universities were shutting down around the country, but UGA had assured us that it would stay open, even after the World Health Organization officially declared a pandemic on Mar. 11. Then came the announcement the following afternoon: Classes would be suspended for two weeks effective Mar. 16.
After that, the floodgates opened. The Clarke County School District quickly followed suit. Many local businesses shut down, not only hitting Flagpole's advertisers hard, but taking away half of our distribution points as well. We're hoping to add back some of the things you may miss—restaurant and movie reviews, local comics, additional music coverage—this fall as things return to some semblance of normal.
A week later, the Athens-Clarke County Commission declared an emergency and issued a shelter-in-place order. What was supposed to be a two-week shutdown to "flatten the curve" and keep hospitals from being overwhelmed stretched on for weeks and months. K-12 and college classes eventually resumed, but online, until the Board of Regents' decision to bring students back to campus in August resulted in a frightening spike. Restaurants reopened, but for takeout only. Grocery runs turned into harrowing experiences as the conscientious among us dodged the maskless hordes while we tried in vain to find toilet paper. (See grocery store employee Tim Root's cartoons on these pages.) Shaming college students going out downtown became townies' favorite hobby on social media. Time was a flat circle. Everyone started baking bread.
Weddings were postponed and funerals were missed, or else turned into superspreader events. My parents are in their 70s and live 600 miles away, so we haven't seen them since Christmas of 2019. Other than a three-week span in November when the virus receded enough for schools to reopen, my 6-year-old daughter only hung out with the two other kids in our "pod" for an entire year. I now spend hours every week watching local officials bicker via Zoom instead of in person, which is somehow even more excruciating. My hair is longer than it's been since high school. At least some things stayed the same: During an ill-advised abbreviated season, the Bulldogs blew it, and so did the Braves.
What follows is other Flagpole staffers' perspectives on the pandemic: intern Laura Nwogu, music critic Gordon Lamb, arts and music editor Jessica Smith, restaurant critic Hillary Brown and health-care reporter Jessica Luton. Blessedly, the end is in sight. Vaccines are going into arms—more slowly than I would like, but it's happening. God willing, I'll see y'all at Normal Bar in a few months! [Blake Aued]
Elegy for a Senior Year
The world had stopped, and it felt like all of our memories were scattered about like the aftermath of a tornado.
I always think about that "two-week" spring break. That limbo where the world was in disarray due to COVID-19, but we couldn't yet see all the chaos, confusion and mourning on the horizon. That limbo where I and my fellow students thought we would get to come back to campus but soon realized that our realities were changing—email after disappointing email, heartbreaking news after heartbreaking news. And in that change, students were left with missed opportunities and memories we could only look back on and cherish.
This time last March, I was training to be an ambassador for the University of Georgia's Road Dawgs, a cool program where a group of students use their spring break to speak to Georgia high school students about their college experiences. Looking back at our excitement, our eagerness to talk to students about electric Saturday nights in Athens, stuffing ourselves at the dining halls, walking out of the Tate Student Center with free food and new T-shirts and the number of opportunities for students to get involved, is bittersweet. Our personal experiences have changed, and that campus we boasted about? Pretty much a ghost town. I mourn what could've been of my senior year, but I also mourn the what-ifs for the first-years. The question is, is it better to have experienced peak college life and lost that than to never have experienced college life at all?
I miss "snellebrating." I miss Memorial Hall coffee hours and big cultural student productions. I miss late-night study sessions at the MLC and having minor breakdowns about whether I was going to pass a test or not. I miss running to catch the UGA bus or struggling to get on a packed Orbit. I miss going to that late-night party and having fun with friends and strangers, then going to grab some Raising Canes afterward. I miss lighting up Sanford Stadium for the fourth quarter of a home game. I miss interacting with my Grady professors face-to-face and soaking up their knowledge. I miss meeting alumni who'd reminisce about their time at UGA. I miss "Tate Time" and seeing my fellow Black students finding comfort within each other and walking through Tate Plaza to see a random camel or horse. I even miss the Tate preachers because this crazy campus wouldn't be campus without them. And this crazy campus isn't a campus without its students.
But my comfort is that once a Bulldog, always a Bulldog. And the heart of the campus will beat again—if not for me, then for its future students. [Laura Nwogu]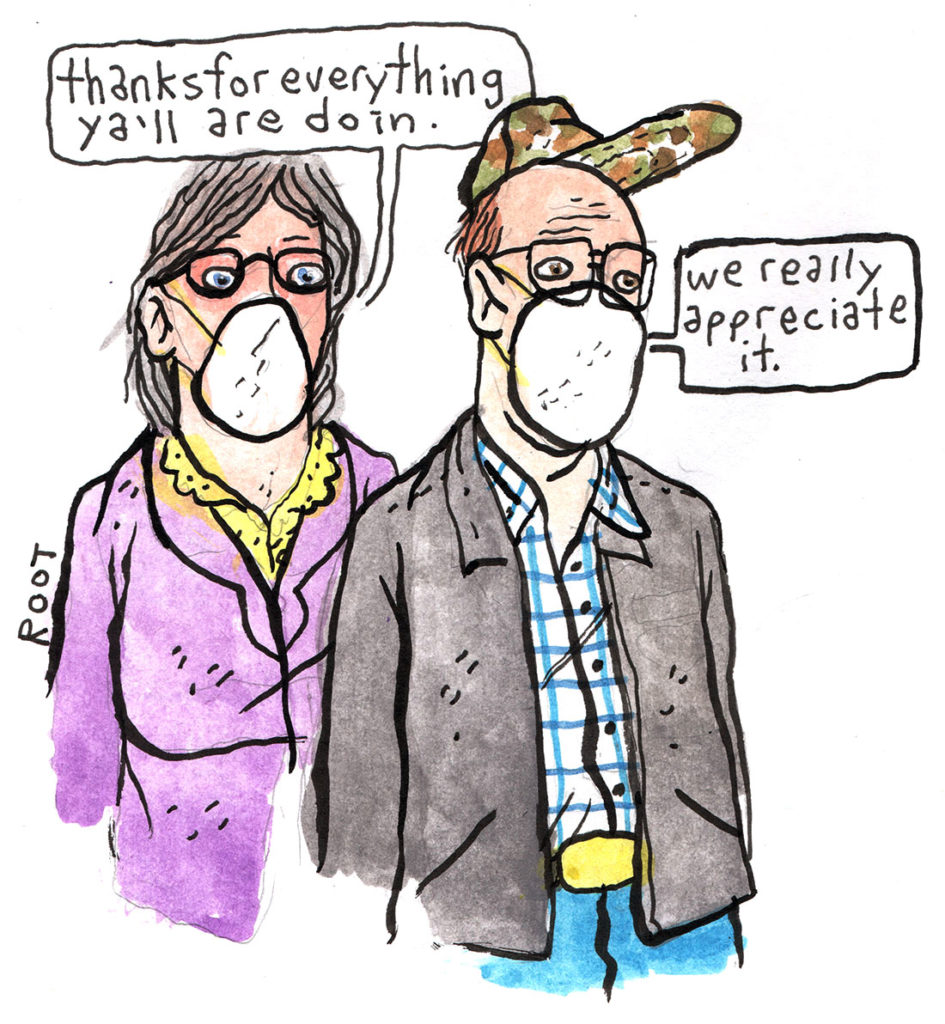 Crushing Blows and Creative Fertility
The speed at which the pandemic took over turned terms many of us never used with any regularity into total clichés. As God is my witness, please slap me if I ever publically utter the words "unprecedented times" again. That said, these unprecedented times have been both devastating and curiously fertile. The shuttering of The Caledonia Lounge was, "bar none," the most brutal and furthest-felt crush the music scene experienced in 2020. For over two decades, the club was an essential incubator of nascent local talent. This event, as well as the previously unthinkable 12 months of empty stages around town meant that baby bands had nowhere to take their first steps. It's kind of navel-gazing and ultimately unproductive to think about, but how many bands simply didn't form and won't ever exist now? How many potential promoters, engineers, tour and band managers, label owners, etc. will now never be those things because the opportunity to begin one's journey into this music life was simply not there? You get my point.
The above notwithstanding, the Athens scene was incredibly productive this year. The sheer heft of local records, demos, major releases, videos, streaming events and more was positively overwhelming. By my rough estimation, nary a week went by when there wasn't some opportunity to engage—however distant—with new local music. I wrote 50 columns covering it, like every other year, and still didn't get around to everything worthy of mention. The cancelation of AthFest was wise but it still stung. The North Georgia Folk Festival did a wonderful job with its streaming programming, as did Historic Athens with its second annual Porchfest. Eli Saragoussi had a great run with her curated Cry Baby Lounge streams, as did the Flicker Theatre & Bar with its Deadstream series of online shows. These shoutouts aren't comprehensive at all. We've not even talked about how studios, record shops and instrument dealers are doing. Nor have we talked about how our scene is overwhelmingly created by service-industry workers who have struggled mightily through all this.
There's no telling what our scene will look like once we, as the cliché says, get "back to normal," but we remain eternally grateful to everyone who has continued to give it a face. [Gordon Lamb]
Support for the Arts Surges
Though local galleries, along with all other "non-essential" businesses, temporarily closed at the onset of the pandemic, many quickly reformatted their exhibitions into online presentations that could be conveniently and safely experienced while sheltering in place. It's nearly impossible to capture a physical work's true dimension and detail through pixels, but several curators did impressively augment exhibitions with supplementary writings that provided rich context without any danger of cluttering gallery walls. As art venues generally see manageable foot traffic in between events, most were able to successfully reopen with timed entry and safety precautions in place.
Understanding the inherent financial vulnerability of artists, the creative community quickly pivoted its energy into finding relief opportunities and identifying advocacy strategies. Representatives from various cultural institutions began meeting weekly as the Athens Arts Alliance and released a COVID-19 Economic Impact on Artists Survey Report. The AAA also organized the Athens Banner Project, which paid five artists working in the service industry $350 each to design uplifting banners that were hung in downtown storefronts. UGA's Willson Center for Humanities and Arts provided $500 grants called Shelter Projects to 34 graduate students and community practitioners to create shareable reflections on their pandemic experience through the arts and humanities. The Athens Cultural Affairs Commission successfully funneled funding from the Athens-Clarke County Resiliency Package into $2,000 Arts in Community Resilience Awards that were distributed to 50 artists and organizations to complete creative projects throughout the year.
As the Black Lives Matter movement rose to the international spotlight, the art world at large turned inward to reexamine its own complicity with white supremacy. Locally, we saw a concerted effort by arts organizations to strengthen their commitment to inclusion, diversity, equity and access in the arts. The Athens Area Arts Council, through funding from Creature Comforts' Get Artistic campaign, launched a Black Emerging Artists Mentorship program offering $1,000 grants, while the Morton Theatre Corporation distributed $500 grants to 10 Black artists, performers and filmmakers under a new program called the Defiance Project Awards. The Lyndon House Arts Center allotted $1,000 stipends for guest artists/curators identifying as Black, Indigenous or persons of color. The series kicks off this May as La Ruchala A. Murphy, Executive Director of the Oconee Cultural Arts Foundation, curates "NotAStereotype," an exhibition of work by Black artists living in the South.
Over the past year, many people have turned to the arts as a way of processing, coping and reflecting on a wide range of experiences. Through several grant programs, combined with the scene's near-constant output of projects, lasting reflections and documentation exist across music, film, performance, dance, theater, literary and visual arts. [Jessica Smith]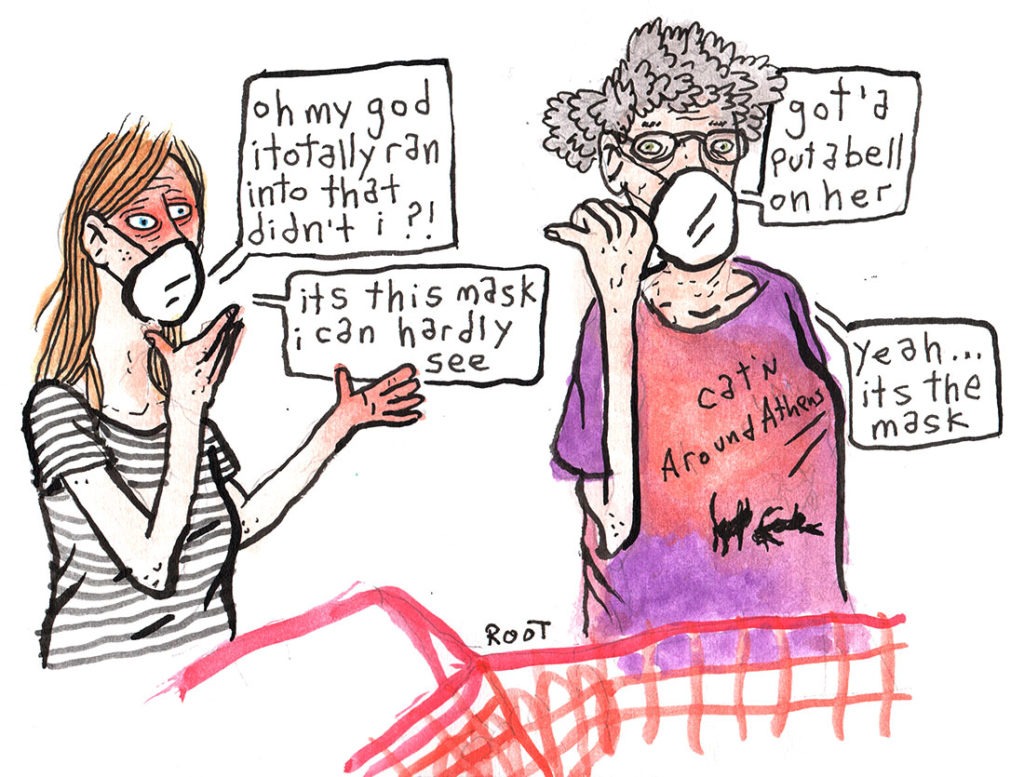 Stay Safe and Support Local Restaurants
Restaurants have been coping with the pandemic that began, for us, in mid-March of 2020, in a variety of ways. Although the best solution would have been for massive government support to pay those workers and many others to stay home, that didn't happen. Some restaurants are doing very little to keep their customers and employees safe, which is certainly an option—especially with our governor much more invested in pushing folks back to work than in public health—but not the most ethical one. Others are still closed, but it's been a year, and there are fewer and fewer of them. Most places fall somewhere in between, and it's a wide range. Restaurants with patios and other outdoor seating areas have found themselves in a good position to capitalize on folks' desire to eat out. Many have added or expanded those areas, with the ACC government helping out by allowing sidewalk cafes in what were previously lanes of traffic. If you are going to eat in a restaurant (and I'm going to continue to say "please don't do that"), outside and distanced is your best option. Even if you have been vaccinated, chances are good that your server and the other people who work in the restaurant have not, and the science still seems a little unclear about how much risk you pose to others.
Much safer for you and everyone who works in the restaurants is takeout, and you have an amazing variety of options, complete with booze, many of which are completely contact-free and available completely online. You don't have to see or talk to another person, much less change out of your pajamas, to take advantage of that option, although you should still tip lavishly. There are also local drive-throughs at places like Tamez, Tlaloc, BBQ Shack and others if you, in fact, very much want to talk to a person. If you don't leave your house, you can order delivery from a much-expanded array of restaurants, and if you want to help restaurants and not just yourself, you should endeavor to use our local delivery services (Bulldawg Food and Cosmic), not the national chains, which exploit desperate restaurants to skim those places' already extremely slim profit margins. You can also continue to pay attention to the creative solutions restaurants are coming up with to keep themselves solvent (GoFundMes, cool T-shirts, meal kits) and throw money at them. They're having a hard time, but a lot of them are just managing to hold it together, so be nice, be flexible and be generous. [Hillary Brown]
Like Vonnegut Said, You've Got to Be Kind
To say that it's been a long, difficult year for everyone is an understatement. This time last year, I never could have imagined that we'd still be dealing with this a year later and that the United States would let this pandemic get to such a state.
As a health and science journalist reporting on COVID-19 each week for Flagpole, I spent much of my time poring over data, interviewing doctors and other health-care professionals and consulting with other journalists and public health experts. Initially, Athens did a very good job containing the pandemic, and I was and still remain proud of our effort to fight the pandemic by following public health measures. In this way, my reporting experience reminded me of what I love most about Athens—the value of community here. I saw so many instances of businesses, neighbors, friends and strangers alike all helping one another and supporting each other and the community. 
In a personal instance, one evening early on into the pandemic last year, I remember sitting out on my back deck and hearing the sounds of children singing along to the songs of Mary Poppins. The neighbors had set up a TV outside so that their children could watch movies safely. I just remember smiling. It was a day when, after hours of examining data and learning about the pandemic, I really needed to hear it.
While the work—especially in those first few weeks as I adjusted to the weight of the pandemic alongside everyone else—has been especially challenging, it has also been rewarding in some surprising ways. I love Athens, and doing this work for the community has been a labor of love. In that same regard, the community—friends and strangers alike—have taken the time to reach out about my reporting. In all my years as a reporter, I've never experienced quite so much feedback. The year certainly reinvigorated my belief in the value of local journalism, and I hope the local community continues to remember just how important having good community journalism is during the good times, and not just in a pandemic.
As we pass this one-year mark, I am more inspired than at any other point in the pandemic, except for maybe this time last year, when I was still optimistic that we would be able to flatten the curve and continue on with normal life. Now, as we gain more access to vaccines and numbers are down, I would ask you all not to be naive. Continue to practice public health measures. Get the vaccine when it's your turn. Help your neighbors, friends or strangers get the vaccine. Most importantly, continue to be kind to one another. This particular anniversary stirs up memories of trauma that we all experienced collectively last year, and we'll be healing from it for some time. [Jessica Luton]
Like what you just read? Support Flagpole by making a donation today. Every dollar you give helps fund our ongoing mission to provide Athens with quality, independent journalism.