Reclaiming the female body, the Black body and the disabled body constitutes a liberating act of defiance and a central idea in the work of interdisciplinary artist Victoria Dugger. Informed by her own experience as a disabled Black woman, she creates images that investigate how concepts of self, normality and othering are shaped by the physical body and material world. Currently on view at the Lyndon House Arts Center, Dugger's series of gouache-on-paper paintings, "Mind the Body," connects these two interior and exterior halves.
Several of the paintings in "Mind the Body" reference historical works of art. Appearing on the cover of Flagpole this week, "BabyDoll" transcribes Johannes Vermeer's "Girl with a Pearl Earring" by maintaining the enigmatic, over-the-shoulder stare of the original figure, yet substituting for the pearl a large, golden hoop. A play on Édouard Manet's "Olympia," Dugger's "Watchin' You" replaces the reclining white courtesan with a disorienting mass of mouths, and instead diverts attention to the portrait-within-a-portrait of "BabyDoll," who appears in place of the original Black domestic worker. The vibrantly surreal "Painting the Roses Red" depicts a woman whose crossed hands and slight smirk recall Leonardo da Vinci's "Mona Lisa."
"I really admire these paintings in that they portray women in very confident poses," says Dugger, who is currently pursuing an MFA at the Lamar Dodd School of Art. "There is a dignity in those works of art that I think isn't present in many paintings and sculptures depicting the female form through the male gaze specifically. I often think about the lack of representation of marginalized identities throughout art history, so with the works that are inspired by these masterpieces, I position my work featuring marginalized identities directly in the canon of art history."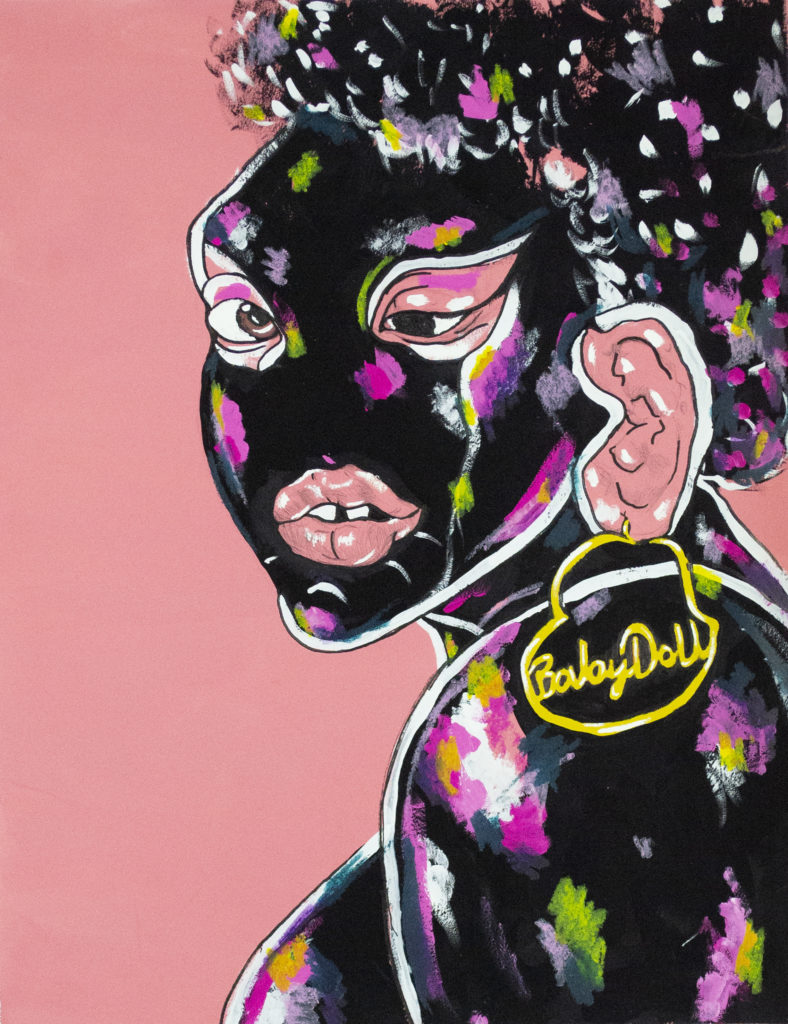 Dugger's depictions of bodies have a visceral quality, often exaggerating eyes, mouths and ears while concealing other features—an approach that emphasizes sensory organs used for communication and connection. Other works fixate on viscera as an exploration of the body's inner workings. These depictions collectively elevate the visibility of disabled women of color while contemplating the relationship between self and body.
"I think what I would like to emphasize with my work is to embrace your unique differences," says Dugger. "There is an outdated standard of beauty that is being challenged in real time, and I want my work to contribute to the ongoing conversation surrounding the revolution of the status quo. Again, the elephant in the room is that society has to change for real legislation and policy to take place for equity to occur. Self-love is so important, but people in marginalized communities need to be valued on paper for what we bring to the table."
In the wake of Black Lives Matter protests, museums and galleries across the country have been releasing statements denouncing institutionalized racism and promising a renewed commitment to promoting diversity, accessibility and equity in the arts. But doing so will require very heavy lifting to unlearn curatorial practices that have contributed to a centuries-old legacy of prioritizing white male perspectives. The Black female experience of disability is severely underrepresented in the art world, and the visibility of authentic representation is crucial for building a more equitable and inclusive future.
"I think art offers an incredible platform for dialogue to take place. Through this wonderful outlet, we are able to express emotions and provoke thought in others that we might not have had the opportunity to do otherwise. Art is a communication tool that meets each individual where they are. I think it's a beautiful metaphor for how and where we could meet each other."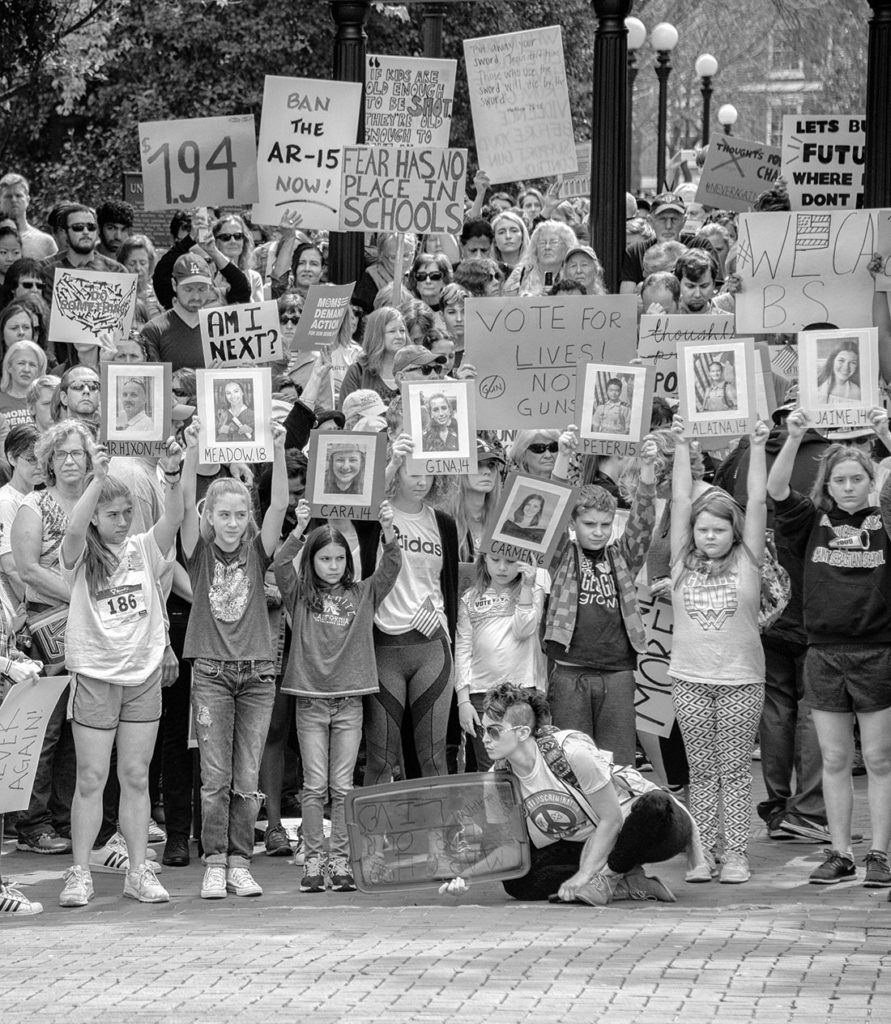 In addition to "Mind the Body," the Lyndon House is currently hosting "Athens Together," an exhibition of photographs taken at local rallies by Nathaniel Burkins, Lucy Calhoun, Sean Dunn and Penny Noah. All four artists take a street-photography approach, more so than that of documentarians or photojournalists, resulting in emotionally charged images that are sensitive to composition, color and mood. Collectively, these images ask important questions regarding how photographs help define the understanding of social and political movements.
Though the bulk of "Athens Together" primarily focuses on the Black Lives Matter rallies held last summer, Noah initially proposed the exhibition idea back in 2018. Capturing events that targeted health care reform, gun violence, racial justice and women's rights, her images reveal how activism, outreach and rallying are deeply rooted parts of the local culture.
Burkins finds intrinsic excitement in protests and is drawn to interesting scenes and colors. Preferring to act like a fly on the wall, he aims to convey a point of view through each photo. Dunn, on the other hand, establishes direct one-on-one connections with each person he photographs, resulting in head-on portraits that carry a certain intimacy and trust. Read in sequential order, the titles of his images spell out, "If they open fire, stand behind me," a phrase of protective allyship.
"I think this exhibit would feel very different if Biden had lost," says Noah. "Many of us would have been gritting our teeth and digging in for a longer fight. Now, the images seem almost celebratory. Look what we did! And though there is still plenty of madness afoot in the world, and democracy can never sleep, we have this moment to be proud that we stood against the madness and for sanity. Let's enter that into the record."
"Mind the Body" is currently on view through Apr. 3, and a 3Thurs Artist Talk will be held with Dugger on Mar. 18. "Athens Together" remains up until Apr. 10. The 46th Juried Exhibition, which received 720 submissions by 270 artists this year, opens Mar. 11, with reservations for timed entry available. Curated by La Ruchala A. Murphy, "#NotAStereotype" is currently seeking submissions through Mar. 15 from Black artists living in the South and will open May 1.
Like what you just read? Support Flagpole by making a donation today. Every dollar you give helps fund our ongoing mission to provide Athens with quality, independent journalism.