"Place attachment theory," a body of research investigating the unique emotional and cultural bonds between people and physical environments, suggests that the more individuals love their city, the more likely they are to participate directly through actions like volunteering, voting or supporting locally owned businesses. Recognizing that a thriving creative economy is a strong predictor of place attachment, Creature Comforts Brewing Co. developed "Get Artistic," a program that invests in the local arts to foster place attachment and ultimately increase civic engagement. 
Community Specialist Madeline Blankenship oversees the Get Artistic program. She began working at the brewery when it opened in 2014 while she was also studying art history at UGA's Lamar Dodd School of Art. After a few years of curating exhibitions for the taproom, she saw an opportunity to help expand the company's community-impact strategy. Joining the brewery's Get Comfortable initiative—which raised over $500,000 in 2020 to support nonprofit partners in need—Get Artistic was publicly launched in June 2018 after a year of research. 
"My story could be a case study for how building personal place attachment can drastically change your experience of where you live," says Blankenship. "In the same way, taking small steps to purposefully get involved in a place—learning its history, getting to know your neighbors and their needs, and finding the delight and real benefits of supporting creators and growers around you—can instill in you a sense of purpose in connection to others and your surroundings."
"My work with Get Artistic has given me both the joy of creative satisfaction and what I view as a serious responsibility of working to help more artists bring more art to Athens. And if we want more art in Athens—which not only inspires happiness and creative thinking, but also yields significant civic and economic impact for our community—we must work to acknowledge, investigate and effectively address inequities that either directly or passively prevent citizens from having the same access to opportunities to create or experience art."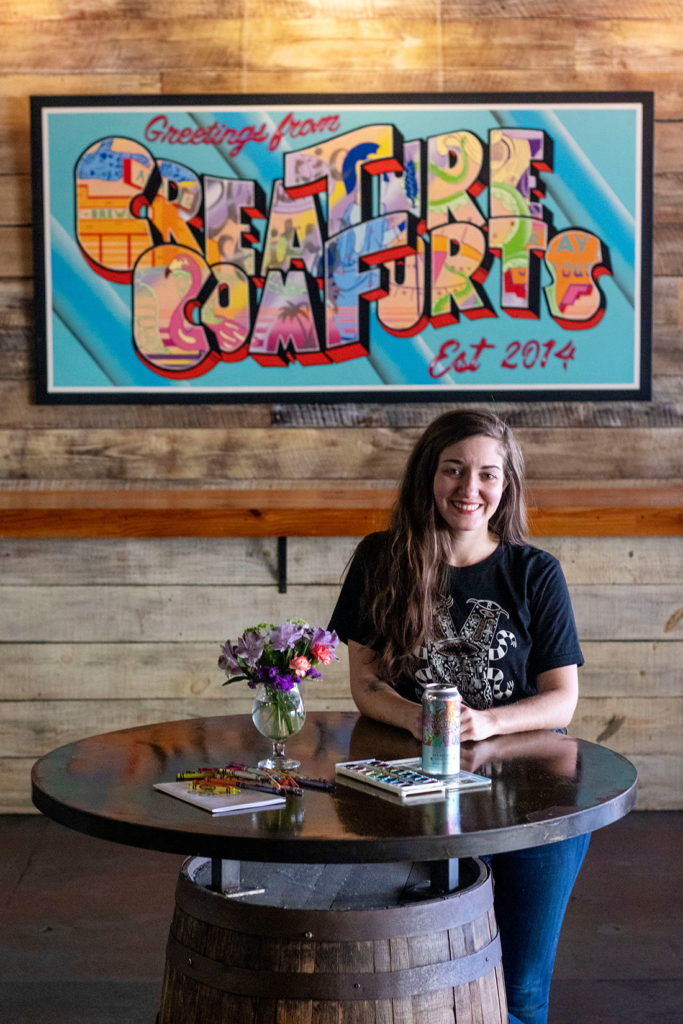 Despite the many challenges of operating during a pandemic, Get Artistic succeeded in generating $75,781 in 2020 through the sale of the Get Artistic Berliner Weisse (Elinor Saragoussi's label art for that beer appears behind Blankenship on the cover this week), artist-designed T-shirts and coloring books, events and a percentage of onsite exhibition sales. Of this amount, $22,010 was distributed to six recipients as grants, offering an exciting forecast of meaningful projects currently underway.
Since its inception, Get Artistic has supported a variety of visual, theater, film, movement and musical arts. Grant recipient Beto Mendoza released a powerfully moving compilation album, Voces en Pandemia, with songs by Silverio Jimenez, Francisco Palacios, Beto Cacao, Alys Willman and Lydian Brambila. Collectively, these haunting tracks amplify the complex experiences of migrant workers and the Latinx community during the pandemic. Exploring the intersection of music and art, Nuçi's Space hired four artists to paint the center's practice room doors for a new series appropriately titled "Art of Music." Finished paintings by M Anteau, Peter Reitz, Lenny Sandvick and Chris Xavier were unveiled last week. 
Esther Carillo, an aspiring ceramicist, will use her grant to rent a studio and purchase clay, paint and other materials necessary for pursuing her passion. Broderick Flanigan, owner of Flanigan's Portrait Studio, intends to paint a new mural with the assistance of local youth, who will receive stipends through HARPS: Helping Art Reach Public Spaces. With fingers crossed for the approval of a proposed site on Hull Street, he hopes to work with residents from Bethel Homes to inform the design. 
Other recipients are using the funds to expand their current programming. The Athens Area Arts Council recently launched the Black Emerging Artists Mentorship award, which will provide two recipients with $1,000 grants and six months of mentorship with an established artist in their field. The first awardee was musician Convict Julie, and the AAAC is accepting applications through Mar. 1 for the next spot at athensarts.org. Meanwhile, the Athens Institute for Contemporary Art will increase its online programming through artist talks with Drék Davis and Craig Coleman, a new reading and discussion group called "Thinking About Art" and a series of educational activities for K-12 students.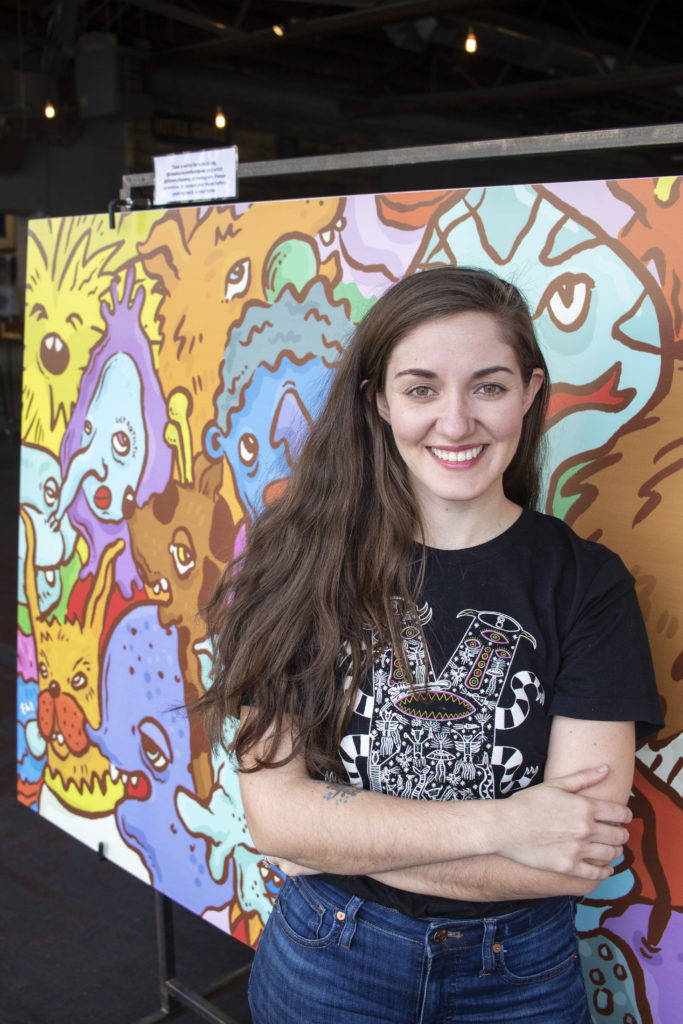 The Get Comfortable and Get Artistic campaigns can be thought of as a pair of tools designed to help individuals climb Maslow's hierarchy of needs. While Get Comfortable addresses physiological and safety needs—partnering with multiple organizations such as Mercy Health Center, Athens Area Homeless Shelter, Acceptance Recovery Center and Advantage Behavioral Health—Get Artistic removes barriers and nurtures individuals towards feelings of belonging, esteem and self-actualization.
"Get Artistic is a separate but complementary program to Get Comfortable. We think of Get Comfortable as helping citizens survive, working to meet the most pressing and basic needs of the community such as housing and access to medical care, while Get Artistic helps citizens thrive by building place attachment to community through the arts—which research indicates as one of the most effective means to do so," says Blankenship. "Place attachment is an important predictor of civic engagement—volunteering, involvement in local issues, charitable fundraising, voting—which will ultimately help to address the community issues that are the focus of Get Comfortable. And when we can improve peoples' lives by meeting their critical needs, those citizens can build capacity to become pursue their passions and become civically engaged. So the programs are designed to enhance one another."
To complement the Get Artistic grant program, which is targeted towards arts nonprofits and individual creative practices, the brewery also runs a DIY Fund to empower independent artist- or collective-led projects that are more collaborative in nature. Determined through science-fair-like presentations and community voting held last fall, Montu Miller of ATHfactor-Liberty Entertainment was awarded $2,000 to organize Classic City Wax: Vol. 2. Currently being pressed at Kindercore Vinyl with an expected release in March, the hip-hop compilation features 15 tracks by local artists, including Seline Haze, WesdaRuler and Louie Larceny, BlackNerdNinja and Dope KNife. DIY Fund runner-up The Mental Hearth received $1,000 to produce a series of artist-on-artist interviews de-stigmatizing conversations around mental health and creativity. Host Nate Mullet plans to launch the series at the end of March and has invited local artists Jennifer Pham, Abby Kacen and Gunnar Tarsa, so far.
Last summer, Creature Comforts launched a new Get Artistic Artist-in-Residence program, providing. a $1,000 stipend and an opportunity for artists to expand their creative practices within a unique setting. Sharing the brewery's goal of maintaining sustainable practices, creative waste reduction specialist Abigail West spent eight weeks repurposing the taproom's hard-to-recycle production materials into decorative garlands and installations that consisted of hundreds of individually cut and assembled flowers. 
Last fall, the brewery even introduced a novel arts reimbursement program called the Local Arts Booster, through which employees across all cities are encouraged to invest in their creative economies by submitting proposals for works they would like to purchase or commission. So far, 18 employees have generated a collective impact of $10,720—90% of which was offset by LAB funding—with artworks such as paintings, drawings, a mural and a tattoo.
"In the same way individuals can employ their gifts to serve their communities, businesses, we believe, should take the time to assess the ways in which they are uniquely positioned to give back," says Blankenship. "It might be through financial means, it might be through volunteerism, it might even be their space or a skill set. But good companies figure it out and then turn it loose."
Like what you just read? Support Flagpole by making a donation today. Every dollar you give helps fund our ongoing mission to provide Athens with quality, independent journalism.