In an annual holiday tradition, regional artists and makers come together every December to showcase and sell their diverse, one-of-a-kind creations. Whether it's a multi-vendor fair or an intimate open house at a private studio, these events provide opportunities to connect directly with the talented entrepreneurs who provide the backbone of Athens' arts community.
This year will look a little different, of course, as the pandemic presents challenges to gathering safely. Many markets plan to move their merchandise outdoors as much as possible, and some will hold extended hours to better spread out foot traffic. Masks are required at all markets, and it's not a bad idea to carry your own hand sanitizer.
There are also many artists who will have to skip this season for understandable reasons, and it's important not to forget them. Countless artists sell wares through their personal webpages or are open to taking commissions if you simply ask. The newly launched Athens Creative Directory–a searchable catalog of workers in the visual, literary and performing arts organized by the Athens-Clarke County Economic Development Department and CREATE Athens (a division of Envision Athens)—aims to highlight active artists this season. Search for "Holiday2020" on athenscreatives.directory for a list of registered creatives, or create your own listing if you're an artist yourself.
Though there are only half the usual number of markets, there are twice as many reasons to support artists whose livelihoods have been severely impacted by the pandemic this year. With over 20 different events scheduled over the next three weeks, finding handcrafted and locally sourced gifts can be a safe and worthy experience for all.
In the spirit of tradition, let Flagpole make shopping locally a little simpler this year with our annual Holiday Market Roundup, a list of artist markets, studio open houses and craft sales happening in Athens and nearby.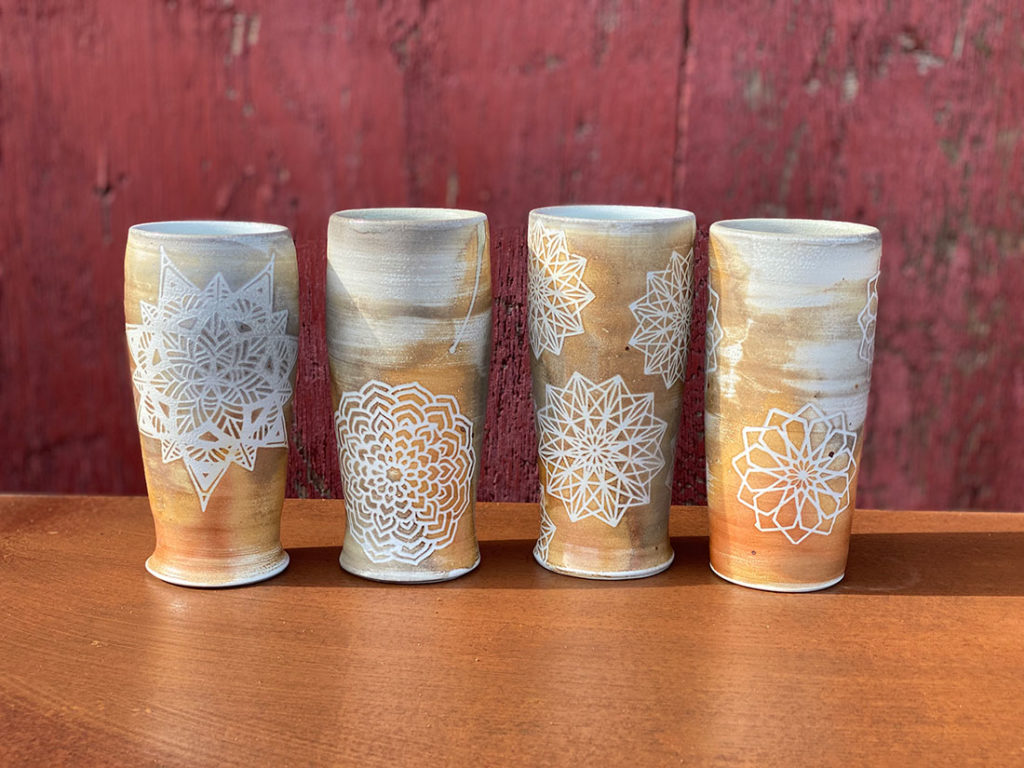 In Athens
Though Good Dirt Clay Studio is still closed, aside from its independent studio membership program and private lessons for members, owners Rob and Jessica Sutherland are currently offering private shopping appointments for individual family or friend groups through Dec. 23 from 9:30 a.m.–7 p.m. The Sutherlands' work is also available through Good Dirt's online shop, with both shipping and contactless in-person pickup available. Good Dirt is located at 485 Macon Hwy. Contact the Sutherlands at 706-355-3161 or info@gooddirt.net to set up an appointment, and visit gooddirt.net/pottery for examples of work.
In addition to the Beechwood Shopping Center's restaurants and retail shops, the inaugural Beechwood Holiday Market will set up several pop-up storefronts—including Kempt, Matilda Jane and Ann Peden Jewelry—as well as vendor booths and local artisans. Activities include hayrides, fire pits to roast s'mores, an ornament and craft station, seasonal food fare and Santa's post office. Partnering with the 501 Exchange, a Christmas tree farm will donate a portion of proceeds each week to a different non-profit like Extra Special People, The Sparrows Nest, American Lunch and The Boy Scouts of America. Located at 196 Alps Rd., the market is currently running through Dec. 20 on Thursdays and Fridays from 6–9 p.m., Saturdays from 2–9 p.m. and Sundays from 2–6 p.m. Visit beechwoodathens.com/holiday-market.
Maria Dondero's 12th annual Marmalade Pottery Holiday Sale will be held outdoors at Southern Star Studio, located at 180 Cleveland Ave., Dec. 5–6 from 9 a.m.–4 p.m. The ceramic artist will share a new collection of mugs, planters, platters, pour-over sets and more, all decorated in her one-of-a-kind illustrations of flowers, animals and faces. Check out mariadondero.com.
Heirloom Café and Fresh Market, at 815 N. Chase St., will host an opportunity for seasonal shopping at the Heirloom Holiday Market Dec. 5–6 from 9:30 a.m.–2 p.m. Handmade wares include jewelry, gourmet foods, woodwork, ceramics, soaps and bath products, textiles and more. Each day has a different lineup of vendors, with participants like Will Eskridge, R&R Secret Farm, Piedmont Provisions, Normal Soap Company and Grands Designs. Visit heirloomathens.com.
For specialty items straight from the garden, visit the UGArden's Have Yourself a Herbal Holiday Market on Dec. 5 from 10 a.m.–2 p.m. In addition to UGArden's teas, seasoning blends, bath and beauty products, herbal tonics and vinegars, the outdoor market will feature vendors such as Cherokee Moon Mixology, Mama Bath and Body, MEplusTEA, Professional Plant Girl and Roseman's Remedies. UGArden is located at 2500 S. Milledge Ave. Check ugardenherbs.com for more information.
The West Broad Farmers Market will offer a special Holiday Market Dec. 5 and Dec. 12. Online orders can be placed during the week between Sunday at 5 p.m. and Thursday at 1 p.m. for drive-through pick-up on Saturdays from 11:30 a.m.–1:30 p.m. The in-person markets, held 10 a.m.–2 p.m., will focus on offering craft and gift items in addition to the market's staples of fresh produce and baked goods. Both shopping options are held at the Athens Housing Authority at 300 Rocksprings St. Go to wbfm.locallygrown.net to order online.
Artists Zuzka Vaclavik and Kyle Jones will host a Ceramics Holiday Sale outdoors at the Athens Running Company on Dec. 5–6 and Dec. 12–13 from 10 a.m.–5 p.m. ARC is located near the Five Points intersection at 1210 S. Milledge Ave. Visit spencerkylejones.com and zuzkavaclavik.com to see recent creations.
Fiber artist Mary Rugg will host a porch sale at her home studio located at 263 Milledge Circle on Dec. 5–6 and Dec. 12–13 from 12–3 p.m. or by appointment. Using centuries-old traditions to inspire modern designs, Rugg weaves a variety of scarves, shawls, cowls and wraps in a blend of colors and fibers. Contact 706-202-7636 or maryerugg@gmail.com to arrange an appointment, and visit maryruggweaver.com for examples of work.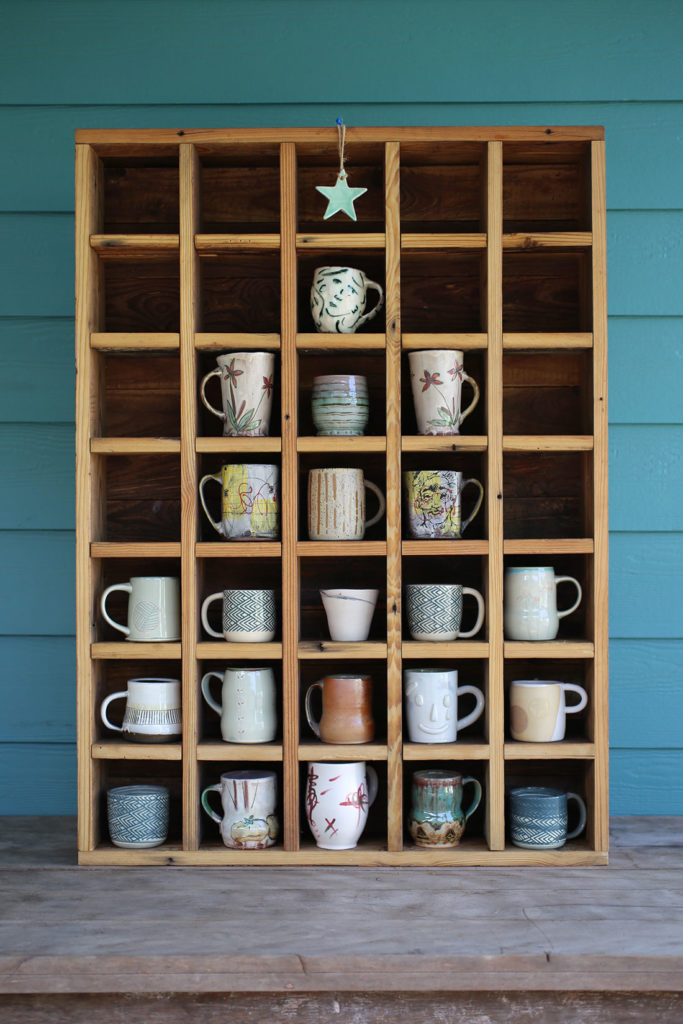 As an effort to fundraise for Flicker Theatre and Bar, the Flicker Holiday Market will present local vendors offering crafts, artwork, small business promotion, vintage clothes, hot drinks, treats and more. The indoor and outdoor markets are held Dec. 6, 13 and 20 from 11 a.m.–5 p.m. Flicker is located at 263 W. Washington St. Visit flickertheatreandbar.com.
The Boulevard neighborhood café Buvez will host a Pop-Up Shop showcasing ceramics, jewelry, clothing, artwork and books from a variety of local artists and collectors. Browse handmade items, grab a cocktail and have your tarot cards read. Slated for Dec. 6 from 12–5 p.m., the outdoor event will happen at 585 Barber St., Suite A. See facebook.com/buvezathens.
The Normaltown Pottery Holiday Sale, slated for Dec. 11 from 4–8 p.m. and Dec. 12 from 9 a.m.–4 p.m., will feature handmade, functional pottery by Nancy Green and studio owner Juana Gnecco. Additional items include local honey by 3 Kings Honey, natural soap by Farmington Herbs and face masks by Ann Sears. Normaltown Pottery is located at 465 Belvoir Heights, and the sale will be held outdoors with firepits. For more information, call 762-728-0575.
Michele Dross Ceramics will host an outdoor Holiday Studio Sale at her cozy backyard studio in Normaltown. Dross' distinctive handmade porcelain pottery is characterized by mystical narrative drawings full of celestial women, plants, rainbows, snakes, goats and roosters. The event takes place Dec. 12 from 9 a.m.–3 p.m. at 515 King Ave. Keep up with the artist at micheledross.com.
The second annual Holi-LADDER-day Market at tiny ATH gallery will make the best use of its small square footage by displaying creations vertically on ladders. Ten different artists will participate each day, with highlights including folk art by Peter Loose, ornaments by Valley StipeMaas, jewelry by The Fuse Muse, wool dolls by Cricket Bancroft, prints by Lois Songster, paintings by Sam Balling and light switch covers by Marisa Leilani Mustard. Located at 174 Cleveland Ave., the outdoor market will be held Dec. 12–13 from 9 a.m.–4 p.m. Visit tinyathgallery.com.
New this year, ARTini's Art Lounge will host ARTini's Artist Holiday Market to showcase the creations of artist instructors Ali Phillips, Jessi Nuss, Liz Boudreau and Thea Grindeland. Their friends and family members will join them, with available wares by Rio Parks, Becky Cox, Row Jerles and David Phillips. ARTini's is located at 337 Prince Avenue in the Bottleworks building. Visit artinisartlounge.com.
Indie South's 14th annual Holiday Hooray is one of the largest markets of its type in the region and covers virtually everything handmade, from original art in every medium, bath and beauty products, vintage and sustainable fashion to artisanal food and home goods. Keep an eye out for Oriskany Glass, Appaloosa Designs Jewelry, Humble Hutch (John Lundy), Lovely Bones, Christina Kosinski, Merging Metals, Forestique, Stoned Beautiful, Chris Hubbard and Bear Hug Honey. The two-day open-air market takes place Dec. 12 from 10 a.m.–5 p.m. and Dec. 13 from 11 a.m.–5 p.m. at 660 Chase St. For more details, visit theindiesouth.com.
Southern Star Studio, located outdoors at 180 Cleveland Ave., will present its fifth annual holiday sale of members and friends Dec. 12–13 from 10 a.m.–4 p.m. Participating potters include Brandon Bishop, Abby Deschenes, Maria Dondero, Carter Gillies, Susan Hable, Jennifer Heynen, Courtney Howard, Chona Leathers, Regina Mandell, Esther Mech, Kerry Steingberg and Lee Turner. Check out southernstudioathens.com to learn more about the collective work space and gallery.
Artists will come together during the seventh annual Holiday Artists Market to benefit the local nonprofit Campus Cats/Cat Zip Alliance Dec. 12 from 5–9 p.m. at Little Kings Shuffle Club, at 223 W. Hancock Ave. Information on Campus Cats can be found at catzip.org.
Southern Brewing Co. will present last-minute shopping at its Holiday Artist Market. Local artists and small businesses will offer handmade jewelry, pottery, leather goods, candles, paintings and more. Located at 231 Collins Industrial Blvd., the sale happens Dec. 19 from 2-7 p.m. Visit sobrewco.com.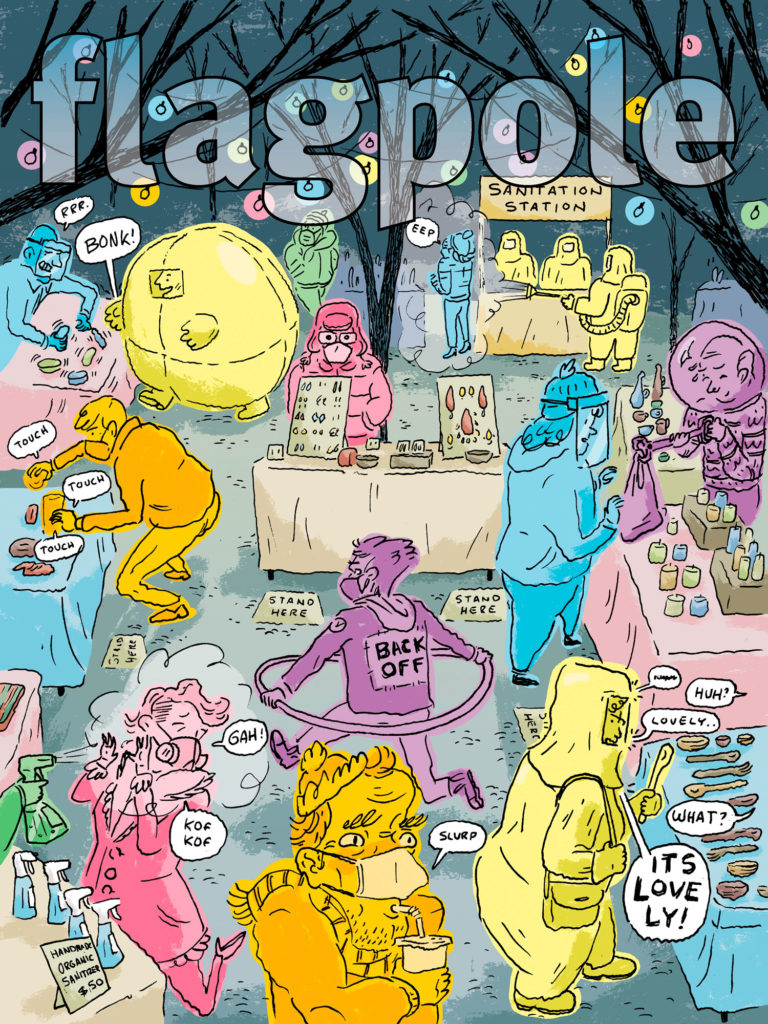 Outside Athens
The family-run Bendzunas Glass Studio and Gallery, at 89 W. South Ave. in Comer, will be open to the public daily from 12–5 p.m. through the holiday season. Operating primarily as a wholesale business that distributes to galleries countrywide, a public gallery displays some of the family's best functional and decorative glass works, including cups, paperweights, bowls, ornaments, bird feeders and vases. The studio is also open by appointment by calling 706-783-5869. For more information, check out bendzunasglass.net.
The Oconee Cultural Arts Foundation's 26th annual juried Holiday Market presents the works of dozens of regional artists and crafters, including paintings, pottery, stained and fused glass, jewelry, photography, woodwork, sculpture, fiber art and more. The market is open Dec. 4 from 5–8 p.m. and Dec. 5–6 from 10 a.m.–5 p.m., with the first hour of each day reserved for vulnerable guests. This year, the gallery will limit the number of shoppers per time period, so tickets should be reserved online in advance. Admission for all three days is $3 for adults and free for children under 16. OCAF's Artists Shoppe, which features handmade items created by the gallery's members, opens in conjunction with the Holiday Market and will remain open from 10 a.m.–4 p.m. Tuesdays through Saturdays until Dec. 19. OCAF is located at 34 School St. in Watkinsville. For more details, visit ocaf.com.
Venture over to Farmington Pottery's December Open House Pottery Sale Dec. 5–6 from 9 a.m.–5 p.m. to view the latest creations of Geoff and Lisa Pickett. A wide variety of Geoff's wood- and gas-fired dinnerware, kitchen and tableware for the home and garden will be available, as well as a selection of handmade soaps and botanical skin-care products made with fresh herbs grown by Lisa. All pots will be displayed spaciously outside. Farmington Pottery is located at 1171 Freeman Creek Road in Farmington. For more information, visit pickettpottery.com and farmingtonherbals.com.
Farmview Market, at 2610 Eatonton Hwy. in Madison, will host a Holiday Market Dec. 5 from 9 a.m.–1 p.m. In addition to locally sourced veggies, meat, soaps, baked goods and preserves, you'll find a few vendors offering handcrafted items like cutting boards, knitted accessories and jewelry. The family-friendly event also includes Christmas carols, an appearance by Santa Claus and live music by Random Acts, Andy & Amanda and Christa Rooks. Check out farmviewmarket.com for what's in store.

This year's lineup at the Nancy Green Ceramics Group Holiday Studio Show and Sale promises a diverse array of traditional and contemporary ceramic pieces, with participating potters including Juana Gnecco, Nancy Green and Minsoo Yuh. Additionally, there will be hand-printed textiles and cards by Sara Parker as well as local honey from 3 Kings Honey. Located at 1500 Tappan Spur Road in Watkinsville, the studio's annual event is Dec. 5–6 from 9 a.m.–5 p.m. For more details, call 706-410-5200.
A new collection of work by Lori Breedlove will be available at the Rose Creek Pottery Holiday Sale Dec. 5–6 from 9 a.m.–5 p.m. An assortment of pots, cups, vases, bowls and other vessels will be spaced outside in front of the studio, as well as within the studio, which is open to the fresh air. Rose Creek Pottery is located on a grass-fed cattle farm at 1051 Rose Creek Drive in Watkinsville. Visit rosecreekpottery.com.
While in the area, visit the annual J.B. (Jeff Bishoff) and Friends Pottery Sale for new works. Occurring Dec. 5–6 from 10 a.m.–5 pm., the sale is located at 1790 Salem Road in Farmington. Call 678-863-1847.
For richly glazed pieces of pottery that draw inspiration from nature, check out the works of David Morgan, a regional potter who has been creating functional stoneware for over 30 years. The David Morgan Pottery studio, located at 3747 Old Wildcat Bridge Road near Danielsville, opens for a Holiday Sale Dec. 12 from 9 a.m.–5 p.m. and Dec. 13 from 12–5 p.m. The studio can also be visited by appointment by calling 706-207-2325 or emailing dsmorgan9350@gmail.com. Find David Morgan Pottery on Facebook.
Like what you just read? Support Flagpole by making a donation today. Every dollar you give helps fund our ongoing mission to provide Athens with quality, independent journalism.