Across cultures, swallows are often used to symbolize luck, rebirth and hope. For sailors out at sea, for example, looking to the sky and spotting a swallow can indicate that the ship is finally nearing shore and returning home.
Local artist David Hale's newest mural, "Hope," explores the barn swallow as a symbol. Painted in his distinctive style of angular linework, a flight of swallows swirls across a prismatic, rainbow-colored sky with golden halos around their little heads as if to suggest their liminal role between Earth and the heavens. Made to commemorate the upcoming 25th anniversary of the AthFest Music & Arts Festival, the mural encourages viewers to look upward—not unlike hopeful sailors at sea—and reflect on what the future may bring.
"I have spent a large amount of my time throughout the past year reflecting on and contemplating hope," Hale says. "What is true hope here is a sailor who cannot see the shore climbing up the mast and looking out on the horizon day-after-day. This is what hope must become for us to persevere—we must learn to hope in hope itself, and if we can do this and pull our eyes out across the sea and up to the sky, we will be greeted with a piece of Heaven with feathers and wings." 
"Hope" is the third mural by Hale to beautify this brick canvas located on the exterior walls of Epiphany Athens and The Rook & Pawn, adjacent to the area where the music festival anchors its main outdoor stage at the intersection of Pulaski and Washington Streets. The new mural replaces "Birdsong," a collection of 20 different species of Georgia songbirds that were painted onto individual panels and installed into a cohesive mural to commemorate the festival's 20th anniversary in 2016.
Noticing that the red pigments on "Birdsong" had begun to fade under the sun, Hale initially wanted to retouch the panels with UV-resistant paint and realized that downtown's forced downtime could be an ideal window to work without disrupting nearby businesses. This intention soon coalesced with another idea to auction the panels as a fundraiser for AthFest Educates, effectively sending "Birdsong" into flight across the community and providing an opportunity to create a new mural in its place.
The 10-day online silent auction raised a total of $58,000, with half the proceeds designated to assist AthFest Educates in its mission to provide music and arts education for local youth. This much-needed support will help offset lost profits from the organization's two main fundraising events: the festival, which was canceled after the onset of the pandemic; and the AthHalf Half Marathon & 5K, which, while held virtually in October with over a thousand registered participants, raised only about 35% of what could have been expected during a normal year.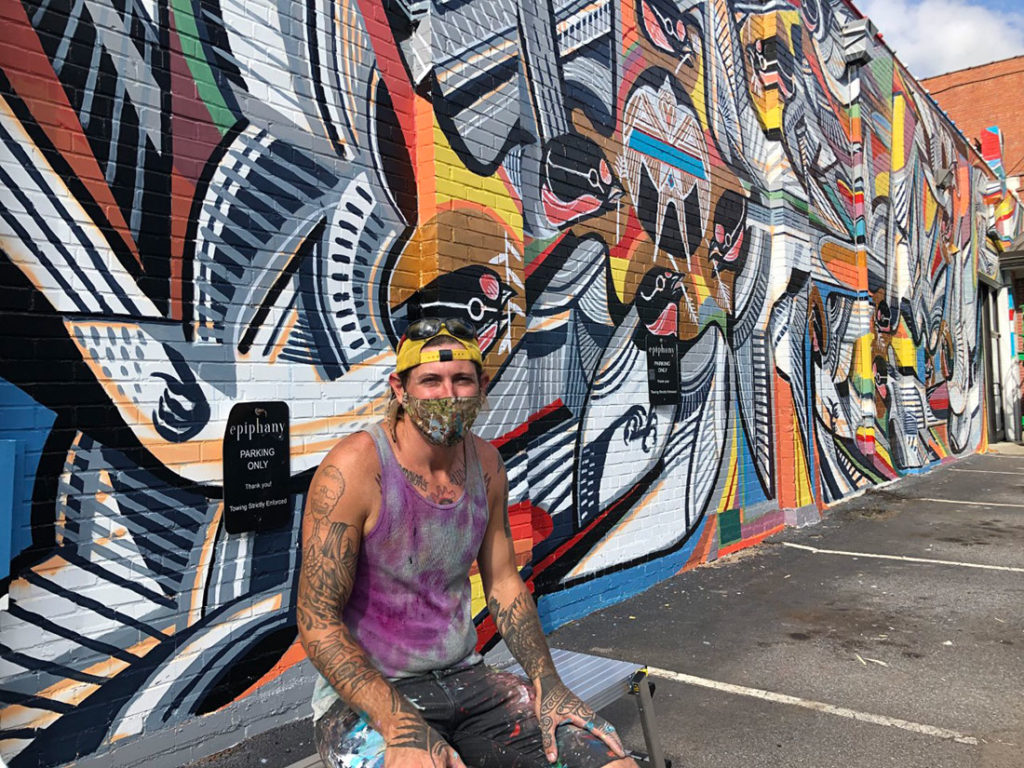 "The swallow is the universe sending us a reminder that we have not been forgotten and our hope is enough in and of itself," says Hale. In his design, each year of the festival's history is represented by a bird which carries a twig toward the central focal point, a nest that symbolizes a period of sheltering in place, creative incubation and envisioning the future.
"There are 24 swallows in flight, and the 25th swallow is in the nest," Hale says. "This represents this piece honoring the 25th anniversary of AthFest and the complexity of how we navigate this one year that seems so difficult at times but is also so full of hope, specifically because it is so difficult."
Hale painted "Hope" during October, with the assistance of Mara Bastow, Marci White and Gunnar Tarsa. Currently on view through November, a special exhibition at Creature Comforts' gallery features nine paintings that were created in preparation for the mural, as well as two larger paintings. All pieces have already sold, and 50% of proceeds will be donated to the brewery's Get Artistic grantmaking efforts.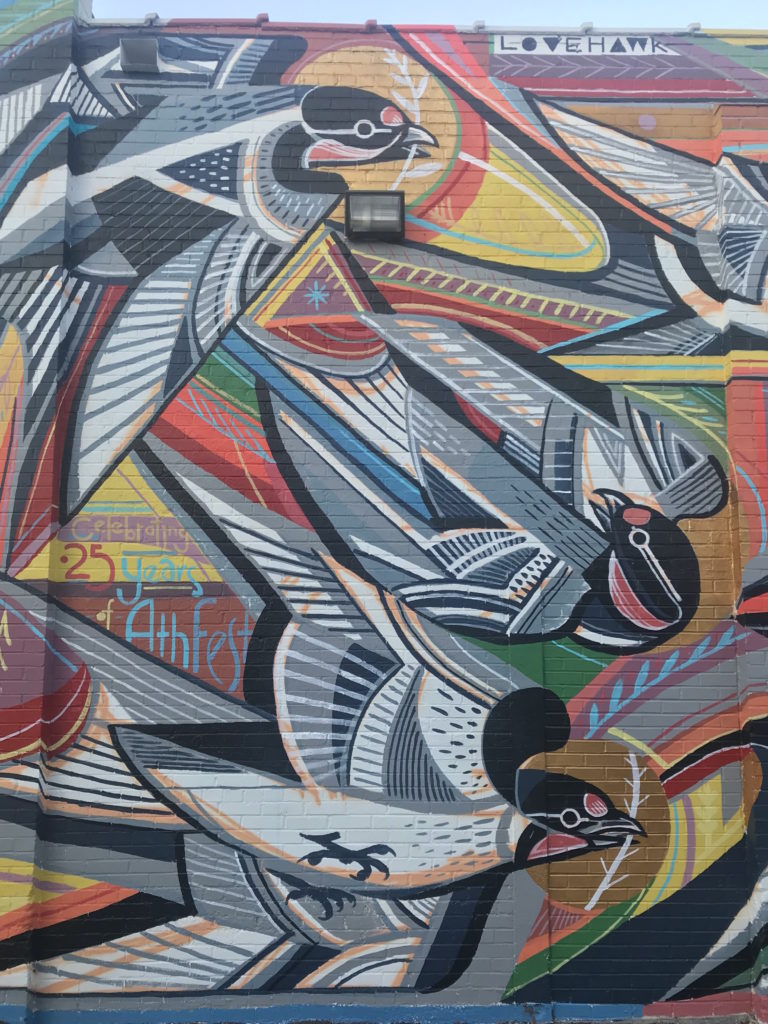 In addition to the mural, Hale has been steadily working alongside Peter James McCarron and Dave Harrison to create a large-scale public art sculpture called "Origins," which will feature a 20-foot-tall hen atop an interactive, painted concrete egg. Organized by the Athens Cultural Affairs Commission, the SPLOST-funded project will be installed at the Cooperative Extension Service Center on Cleveland Road. Last week, Hale delivered a collection of mounted woodblocks to Indie South's brick-and-mortar shop for the holiday season, and soon he will create a video art lesson for a series shared through the Lyndon House Arts Center.
"Art is how we navigate these times and come out on the other side stronger and more resolute to become who we are capable of being," says Hale. "I have seen through these months and through my personal experience that this community and the leadership here recognize this outcome and are doing everything they can to support the arts and artists… I believe the potential we are all sharing right now here in Athens is greater than any of us can know or imagine. I hope we can all hold that in our hearts, and the mural can act as a tiny sliver of a reminder to keep climbing up the mast together and looking on the horizon."
Due to the pandemic's current holding pattern and the unpredictable distribution rate of vaccines, it is still too early for AthFest Educates to make any announcements regarding the 2021 festival. Events of its scale typically require several months of behind-the-scenes work to line up sponsors, vendors, permits and performers, but here's hoping AthFest will return in a safe capacity. AthFest Educates plans to recognize Hale's new mural at an official dedication ceremony coinciding with the festival's 25th anniversary.
Like what you just read? Support Flagpole by making a donation today. Every dollar you give helps fund our ongoing mission to provide Athens with quality, independent journalism.