In the pre-pandemic landscape—before businesses had to severely modify their walk-in operations or temporarily close altogether—a notable number of restaurants, bars and coffee shops in Athens consistently reserved their walls to showcase rotating displays of works by local artists. Though there are several professional galleries in Athens and nearby counties, these spaces are fairly competitive in that they typically schedule exhibitions far in advance and prioritize visiting artists or timely themes into their programming.
The food and beverage industry therefore offers an essential service to artists and supporters: Artists receive high-traffic visibility from a broad audience, as well as a quicker turnaround time for moving new bodies of work from the studio to the wall. Because the businesses' staffing and streams of revenue are already structured around the sales of food and beverages, catering, rentals and merchandise, they're typically unconcerned with squeezing commissions out of art sales. This helps remove barriers of entry and creates low-stakes opportunities for both novice and full-time artists alike.
While some places like Flicker Theatre and Bar, The Grit and Hendershot's CoffeeBar have always been well-known destinations for frequent exhibitions, other businesses have financially supported and incorporated the talents of local artists into their decor by commissioning permanent wall murals. Currently, outdoor paintings offer an appreciated and socially distanced way to experience art, such as those painted by Eleanor Davis at home.made, Vivian Liddell at LRG Provisions, Peter Ferrari at Little Kings Shuffle Club, Dave Jenkins at Last Resort Grill, Anthony Wislar at Creature Comforts, Taylor Shaw at Chuck's Fish, Broderick Flanigan at Food for the Soul, Nack at Journey Juice, Amanda Burk at Half-Shepherd and Addison Adams and Malcolm F. Alexander at Tlaloc. Spread across town, these intricate murals establish a distinctive sense of place by weaving colorful details into the larger tapestry of the community.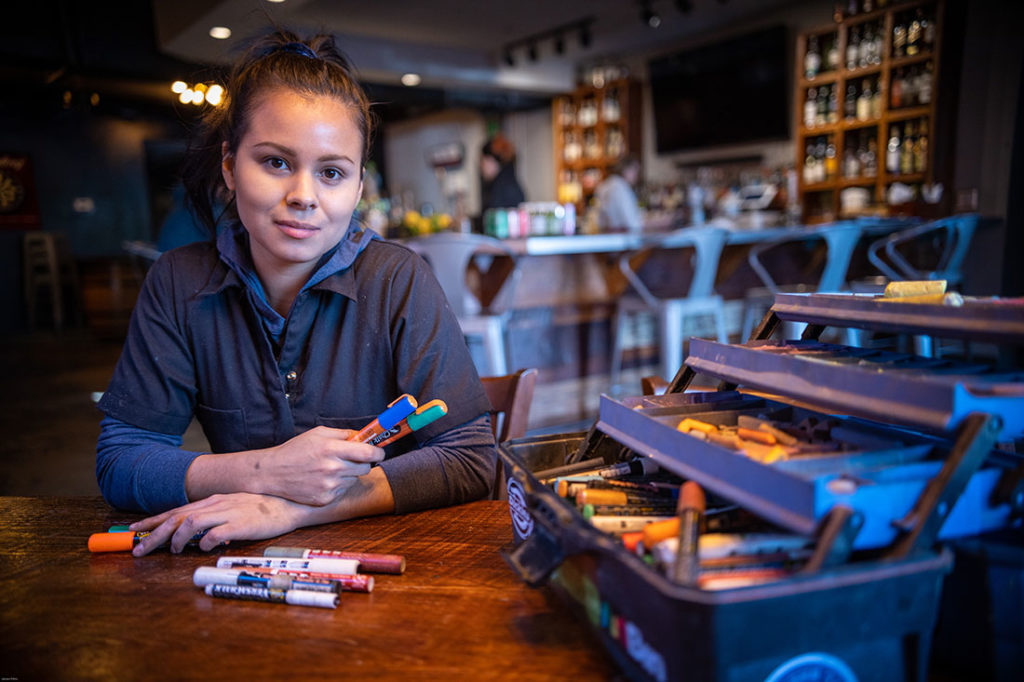 El Barrio's patio mural, depicting lush red, yellow and purple roses blooming between cacti, was painted by Marvella Castaneda, who also illustrated this week's cover of Flagpole. Castaneda's tool of choice is chalk, a medium she naturally gravitated towards while working as a server and bartender. After getting her start at The Pine, she began consistently creating detailed display boards for Terrapin Beer Co., and has since decorated the menus of everywhere from Five & Ten and Jittery Joe's to Athens Bagel and Akademia.
"I definitely dove right into chalk because of my restaurant jobs; they always seem to have chalkboards," says Castaneda. "I'd usually always volunteer to write the specials. I found so much joy in lettering and organizing chalkboard content."
Combining precise lettering with colorful flourishes to add personality, she strives to maintain a balance between information and illustration. In addition to her functional artwork that appears on menus and chalkboards, she also excels at lifelike portraits that build layers of color to establish depth and tone.
"Chalk has such a forgiving nature and is easy for on-the-go work," says Castaneda. "I feel like chalk is the original medium for restaurant signage, and I love working with it to catch people's eye or to spread an important message."
Castaneda is one of five artists—the others including Jess Dunlap, Maximos Salzman, Klée Schell and Eli Saragoussi—whose proposals were selected for an upcoming public art project called the Athens Banner Project. Funded by the Athens Downtown Development Authority, in collaboration with the Athens Area Arts Council and members of the Athens Arts Alliance, the project was targeted towards artists who supplement their income by working in the service industry and had been financially impacted by closures during the pandemic. Each artist designed a unique, uplifting image, and these welcoming banners will be distributed to 130 downtown businesses to hang in windows this summer.
"Being in the service industry is like networking for my side hustle," says Castaneda. "The hours are great, and scheduling is usually flexible for me to work in some chalk gigs. I've met many amazing clients through the service industry that I am so grateful for."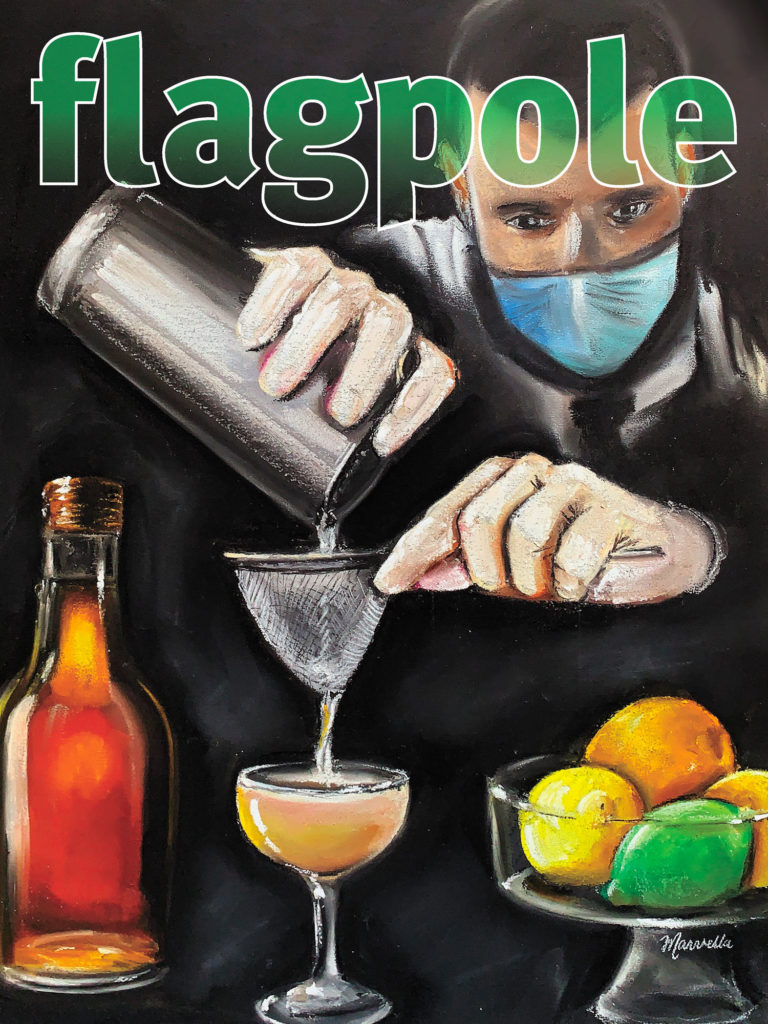 Outside of offering wall space or flexible employment to artists, many businesses within the service industry frequently donate catering or offer sponsorships to support events that highlight the visual and performing arts. Going above and beyond, Creature Comforts Brewing Co. leads an initiative to foster place-attachment by investing directly into the local creative economy through its Get Artistic campaign, which provides exhibitions, performances and arts-enrichment activities. Primarily using the sales of its Get Artistic beer—a pale ale inspired by the beverage of gallery openings, white wine—the initiative has distributed over $34,000 in grants since its launch in June 2018. The deadline for this year's partners is July 17, and interested arts-based organizations and individuals can find more information on how to apply at getcurious.com/get-artistic/grants. But hurry!
Like what you just read? Support Flagpole by making a donation today. Every dollar you give helps fund our ongoing mission to provide Athens with quality, independent journalism.