Lineup: Nicole Bechill, Ben Bone, Jason Fusco, Jeff Hannan, Noelle Shuck. Featuring Members Of: Phoenix Pharaoh, Shackler, Skull Spiders, Vestibules, Fire Zuave, Thunderchief, Texas Death Machine. Influences: The Sex Pistols, The Jesus and Mary Chain, The Kinks, The Ramones, The Runaways, Black Flag, The Cramps, X, Stooges, The MC5, The Dictators, The Dead Boys, Generation X, The Donnas, L7, The Bangles, Lita Ford, Motorhead, The Buzzcocks, The Misfits.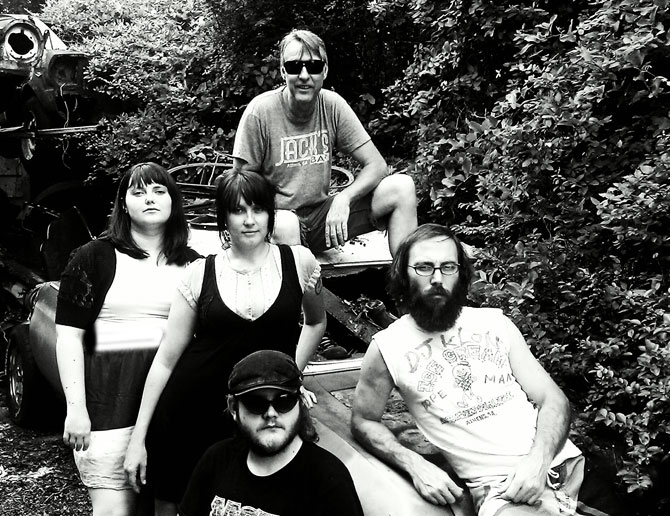 For this local and loud new five-piece outfit (which came together, bandmembers explain, after they "serendipitously met poolside at the Bulldog Inn"—an undeniably interesting, if slightly terrifying, origin story), rock and roll is not just an artistic style; it's a lifestyle. You can hear it in every fiber of SheHeHe's music, which takes the tinny, confrontational punk of that genre's earliest days and clothes it in a snot-sequined, glam-denim jacket.
SheHeHe's tunes are irresistible, infectious even while they drown in an ecstatic sort of nothingness—the nihilistic void that is the hallmark of all good punk music. Tough, terse songs like "Going to New York," "Chuckie" and "Outta My Head" (all available for streaming on www.reverbnation.com/shehehe) are lightning strikes, bursts of energy that find the group in one continuous mode: on.
Expectedly, SheHeHe is the kind of band that especially thrives in a live setting. Each member of the group contributes vocals, which lends the music a booze-soaked, arm-around-your-neighbor's-shoulder kind of quality. Chug a beer (or three)! Put your fists in the air! And also, um, make sure to visit www.facebook.com/sheheheband. Even punk rockers need to be Liked.
Next Show: July 31st @ Nowhere Bar
Like what you just read? Support Flagpole by making a donation today. Every dollar you give helps fund our ongoing mission to provide Athens with quality, independent journalism.