Jeff Rosenstock is hard on himself. After seven years of spinning the universe that is his band, Bomb the Music Industry!, and releasing a sixth full-length album, Vacation, in July, he still questions his instincts.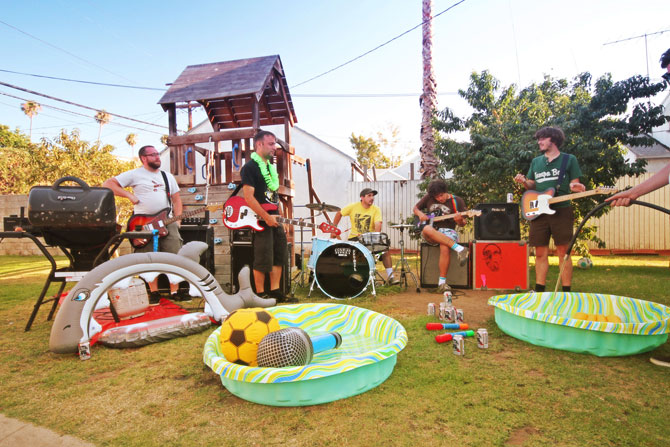 "I never know, because I'm like, if one person says one bad thing, I'm like, 'This record sucks and everybody hates me,' so I do not have any gauge whatsoever on whether or not people like the record," says Rosenstock. "It does seem, though, that when we play these songs live, people aren't pissed off about it.â€
Vacation is a solid continuation of BTMI's ska/punk hybrid that's greater than the sum of its parts, denouncing ego with both earnestness and flippancy. Rosenstock's lyrics self-consciously fight his urge to complain about being broke and unimpressed while dreams manifest themselves and bills go unpaid.Â
"I thought it was a more positive record," he says of Vacation. I thought it was a lot more 'looking at the brighter side of bad times' kinda thing, but everybody who I've talked to about it has been like, 'Yeah, man, this one's pretty fuckin' dark,' so I don't know. I think it's always coming from the same dark place that does not leave ever."
Rosenstock and the band lived in Athens in 2006 and 2007, where they recorded the album Get Warmer with an assembly of Athens musicians contributing for a ragtag good time. When he returned to mix Vacation, Rosenstock kept the songs true to the recordings made back in New York.Â
"The first three records are incredibly loud and spazzy and a million ideas all at the same time,†says Rosenstock. "I guess this one's a little more focused than that; it's more like 100,000 ideas at the same time, but it's still kinda bonkers."
Part of BTMI's continuous protest against the music industry's dark side is that they only play all ages shows with an admission price of $10 or less. For seven years they've held this policy as the band has gained a huge fanbase and toured internationally. But in that time, Rosenstock printed a band t-shirt that listed, manifesto-style, all the instances over a then six-year career when he thought the band had "cashed in,†including playing a $25 show and something about "going back on their word and proving all the naysayers right.â€
The band has chosen their fans over a bigger paycheck since the beginning. The naysayers and the perils of foiling the music business can be cruel muses, but BTMI was recently invited to play music festivals in Brazil and Australia. When the band plays at Little Kings on Tuesday, they will be a week and a half off a full Australian tour.
Flagpole writer Jeff Tobias, who used to play with the band when they lived in Athens, recalls Rosenstock's music finding only moderate success in a small town where more people from Atlanta came to see the band than fans from down the street. The band moved to New York shortly after leaving Athens, and has played for bigger and more appreciative crowds since.
"Bomb has just been on this straight, upward trajectory becoming more and more well respected,†says Tobias. "They've never sold out, they've never made any creative missteps, so any band like that just keeps getting better and better, and doesn't alienate their fans and is always putting out music.â€
Like what you just read? Support Flagpole by making a donation today. Every dollar you give helps fund our ongoing mission to provide Athens with quality, independent journalism.