Tucked away in Oconee County, just off Hog Mountain Road, sits a place you may have never heard of. I myself lived in Athens for many years before it was ever on my radar and yet, in 2021, Butterfly Dreams Therapeutic Riding Farm changed my life. Established in 2005, this nine-acre farm provides therapeutic riding and hippotherapy services to individuals of all ages with a wide variety of disabilities. After seeing it work for a friend's son, I learned it could help in my own battle with rheumatoid arthritis and fibromyalgia. I had hoped to strengthen my core in order to reduce back/neck pain, but I was thoroughly unprepared for the ways I would be changed.
I have loved horses for as long as I can remember, but they were always a distant dream—something exotic that I would never be able to have for my own. A stereotypical thing to love as a young girl and then let go of when you realize you will never have the space to make it happen. At Butterfly Dreams, suddenly that world could be mine, albeit in small increments that I could handle as a chronically ill person. From my first appointment, I was in awe of how calming it was to be in the presence of horses—to brush them, to smell them, to simply share their physical space. Over the course of my first two months of riding, my instructor Heidi helped me build a bond with my horse as well as a better bond with my own body. I expected riding to help with my back pain, but I had no idea that I would experience a reduction in my widespread chronic pain. It was almost as if my body forgot how to hurt while I was on the farm, and that carried over into my day-to-day life to some extent.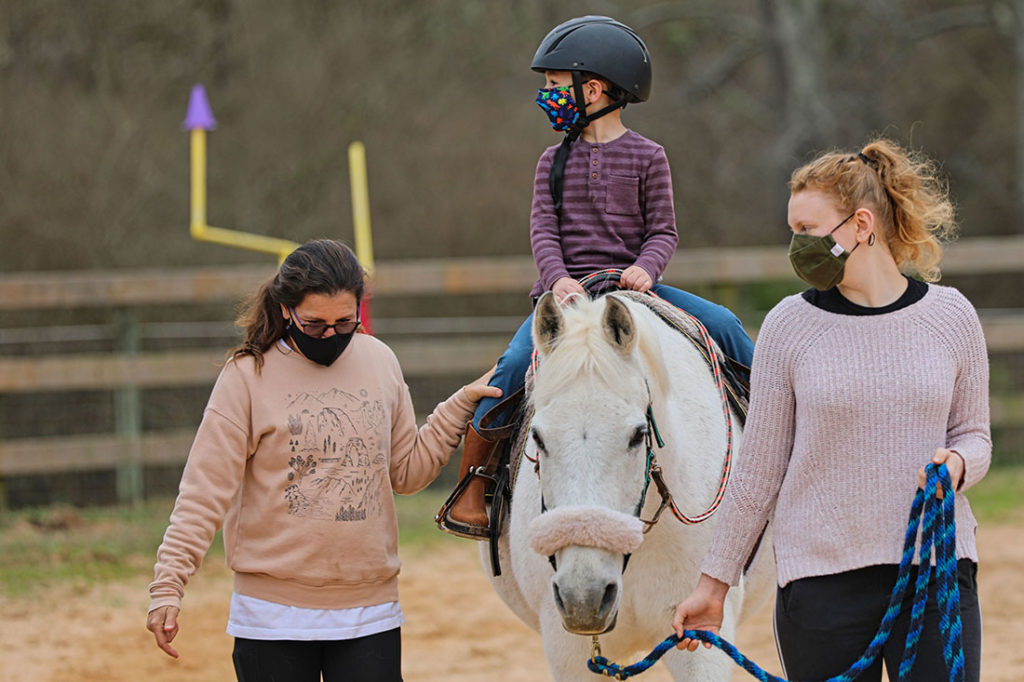 I received more healing than expected for my physical body but, beyond that, I received mental health benefits that no other form of therapy or medication had ever been able to give me. I had suffered from chronic PTSD since the end of an abusive relationship in 2004. Within a few months of beginning therapy at BDF, things that once caused me intense fear and anxiety (e.g. taking the dog out after dark) were tasks that I was suddenly tackling. As a kid, my imaginary friend was the horse Goliath from the movie Ladyhawke. He would run beside the car whenever I went anywhere or stand beside me at school, sleep beside my bed at night. I, of course, outgrew the imaginary friend phase long before I entered adulthood, so I surprised myself when, last year, I found myself imagining that Kitty, my equine partner at BDF, was with me when I was in triggering situations. In the dark, he was there, ready to protect me from all of the imagined dangers that my mind could conjure. In time, I didn't need to visualize an imaginary horse to turn off my mind because of the confidence and trust I was building with the real Kitty, but it was a useful tool in helping me arrive at a place where I now experience demonstrably fewer symptoms than I did before. It is a gift for which I can never repay Kitty or the people at Butterfly Dreams who work hard everyday to change lives through the power of horses, but I will certainly try.
Like what you just read? Support Flagpole by making a donation today. Every dollar you give helps fund our ongoing mission to provide Athens with quality, independent journalism.