Millard Grimes has turned out to be a prophet. He set out to write a book in hopes that he could influence the 2020 Democratic presidential primary, but it took him so long to get the book out that the primary was just about over by the time he achieved publication.
Even though he once was a Republican, Millard, who grew up in the Georgia cities of Lagrange and Columbus during the economic depression of the 1930s, has always been an ardent admirer of President Franklin D. Roosevelt and his administration's use of the national government to solve human and economic problems. Millard has read and thought a lot about Roosevelt's New Deal, and he also lived through it, seeing all around him how government programs provided a much-needed helping hand to families like his and the businesses they depended on.
Millard earned a degree in journalism from the Grady College and after graduation went back to the Columbus newspaper where he had started out as a summer copy boy. He worked his way up the editorial ranks and eventually, with the help of financial backers, bought the Auburn-Opelika News across the river in Alabama, built it up and eventually sold it during the newspaper boom times. That gave him the capital to begin buying and selling Georgia newspapers (including my interest in the Athens Observer), but it wasn't just business. Millard loved newspapers. Even as an owner/publisher, he always wrote an editorial column, and he just couldn't keep his hands out of the process: He was bad to tweak headlines while the presses waited for the edition.
Many of Millard's columns were—in spite of his fat-cat, mogul status—paeans to the efficacy of government to make things better for Americans. In the world of newspaper publishers, Millard was, like his idol FDR, a traitor to his class. He was (gasp) a liberal—a New Deal liberal.
Millard is such a liberal that he extolls the movie It's a Wonderful Life, which everybody else sees as a Christmas story, as a New Deal parable—the little savings and loan trying to help the local folks, and the big banker trying to shut it down and foreclose on everybody. So Millard set out to write a novel (never mind that he had never written a word of fiction) inserting the New Deal into the primaries.
At the time, he was 87 years old. He was not what you would call computer literate, so he started typing on his typewriter and eventually found a transcriber who retyped his copy into a computer. And by this process, Millard wrote The Last New Dealer and eventually published it himself as a 557-page hardback book, though by the time he revised it and kept going over it the way he used to adjust newspaper headlines, the 2020 primary was just about history.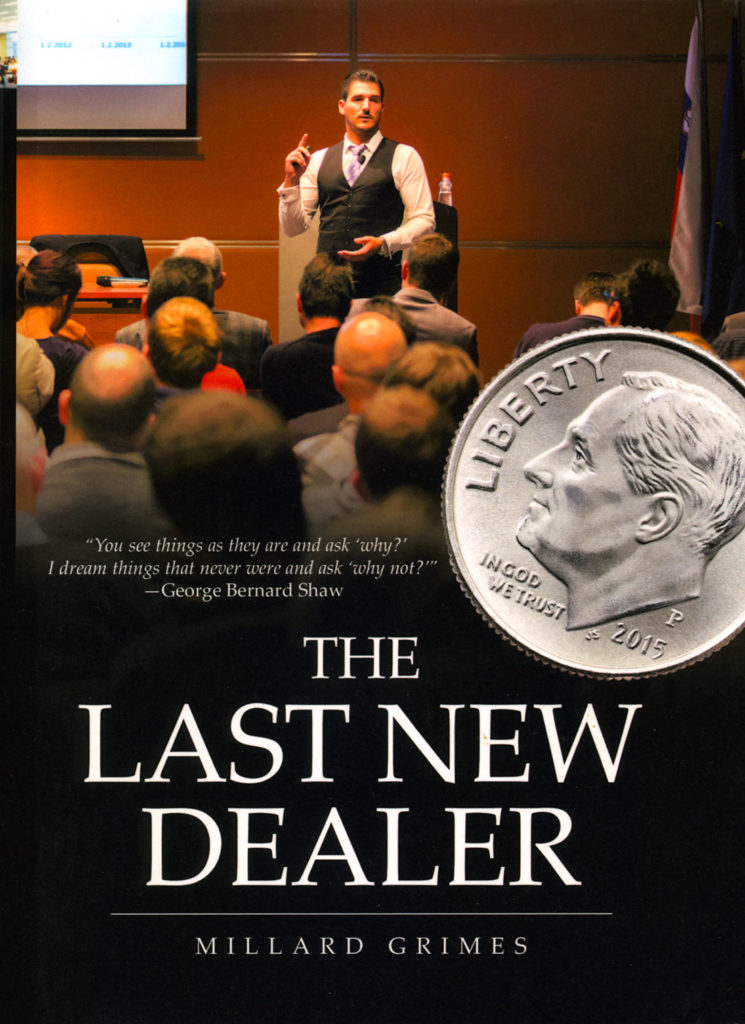 But here's the scoop: When Millard started writing, the likelihood of a New Deal-type candidate was nil. The primaries turned out to be Bernie versus the moderates. FDR didn't even make it into the debates. Then—you remember what happened—congressman James Clyburn of South Carolina gave the word that Biden was the man, and Joe took that primary and then the Southern primaries and then the general election, regardless of what you may have heard otherwise.
Once he was elected, Joe Biden began to direct the government in a direction that made people start comparing him to, yes, Franklin D. Roosevelt. So if you want to understand what all the fuss is about when people compare Biden to Roosevelt, now's the time to pick up The Last New Dealer. Millard explains it all to you through the long-winded words of his protagonist, Thomas Alexander Franklin, a newspaperman who has cashed in all his holdings and is running for president in the 1992 Democratic presidential primaries. Millard inserts his doppelganger into the race against the real candidates: Paul Tsongas, Bill Clinton, Jerry Brown, et. al. He develops a nice set of supporting characters helping out in Franklin's campaign, and by the time it gets to Georgia, Millard has the likes of Gwen O'Looney, Michael Stipe, Lewis Grizzard and other real notables on hand to supply local color.
Get yourself a copy. The newspaper business not being what it used to be, Millard would appreciate the purchase.
Like what you just read? Support Flagpole by making a donation today. Every dollar you give helps fund our ongoing mission to provide Athens with quality, independent journalism.