A note to print readers: Hey, I'm not Bonita! We have moved Pub Notes to the inside back cover to get it out of the flow on the news pages at the front of the paper. This column usually does not cover local government, so it seemed advisable to stick Pub Notes where it has the flexibility to pursue a variety of topics in a designated space. Here's hoping Pub Notes readers who may not usually venture to the back of the book will relearn to look for the column here every week. Bonita will be up toward the middle of the paper.
So, by now we've all heard that another local nexus of weirdness, Junkman's Daughter's Brother, is closing for the second time. I talked with owner Mark Gavron on Christmas Eve, and he was philosophical. He has already been run out of one downtown location, his son is graduating from high school this year, and Mark is ready for more flexibility and readiness to travel. The main thing for Athens, of course, is the loss of another of our iconic local businesses, which simply cannot and will not be replicated by any Weird R Us national franchise. The announcement that Chick-fil-A is opening across from the Arch is no consolation.
Junkman's is selling off its stock and fixtures during the next month or so at increasingly better discounts, so go get you some Junk while you still can.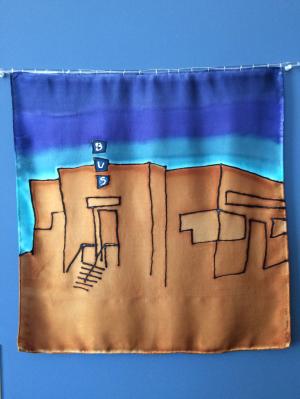 Here is fervently hoping that the loss of Junkman's will not result in the destruction of our landmark old bus station. Owner Eric Brown is said to be looking for a restaurant to occupy the space. If that's true, surely anybody attempting such a configuration is familiar with the highly successful conversion of the old Greyhound Bus station in Savannah to the upscale Grey restaurant, with meticulous repurposing of all the bus station areas and facilities (and damned good upscaled food, too).
Whatever he chooses to charge for rent, let's applaud Eric Brown for so far saving the bus station building, which could have been a goner when Southeastern Stages moved its Athens location into a gas station way the hell out on the Atlanta highway, making a bus trip frightfully more inconvenient and expensive for those who need the bus the most.
I have always loved the old station and even fantasized at one point that Flagpole might use it as an office. Four or five years ago, I wandered into Aurum Studios downtown for the opening of a show by René Shoemaker, whose paintings on silk are lively and colorful. I was stopped in my tracks by René's painting of the Athens bus station. It wasn't in her usual bright palette, but I fell in love with it and bought it on the spot.
Speaking of René, she has a show of her paintings on silk at Ciné through the end of January.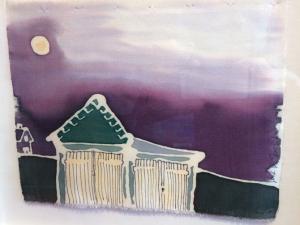 It is mostly small, framed paintings on silk. René spent most of the last year living and painting in France, and this show marks her return, "La rentrée," which is a term the French use to mark the end of summer and the return to "real life." René is one of our many local treasures, and I urge you to go by Ciné and enjoy her exhibit. Stop by Flagpole and enjoy her bus station, too.
Like what you just read? Support Flagpole by making a donation today. Every dollar you give helps fund our ongoing mission to provide Athens with quality, independent journalism.