Harold Fights On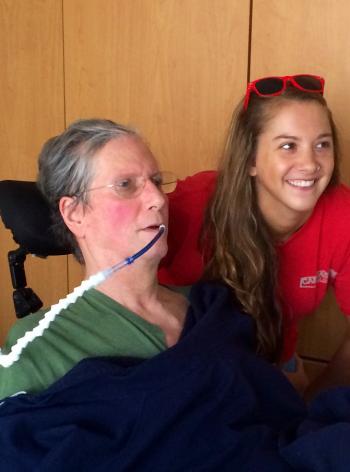 Photo Credit: Galvin Butler
Harold Williams, who may well be the most famous saxophone-playing CPA in the world, has had a real hard time lately. He was almost completely paralyzed by a fall in his office way back in November, has been in and out of the Shepherd Center in Atlanta and the hospital here and had a serious kidney infection and some bad reactions to medicines prescribed for it. That caused him to lose a lot of the progress he had made through physical therapy. I'm sure he has contemplated changing his name to "Job" and crying out "Why me, Lord?" but Harold's usual nature is to be upbeat and cheerful, and it sounds like he is bouncing back.
Harold is in Atlanta at the Shepherd Center again, where he says he will be until July 16, when he'll move to a nearby apartment as an outpatient. When he was at Shepherd before, he quickly knew everybody there including the Shepherd guy it's named for and was a favorite of all the patients and staff. If you have ever dragged into his office late with your taxes when he was already slammed with work, you know what an ability he has to put you at ease and take care of your problems even if he has to stay up all night to do it. So, you can imagine how popular he is over there at Shepherd.
"We've been going around in circles," Harold says of his latest round of setbacks, "but we're on the right track now. I can sleep again, and my weight is back up. I'm feeling better."
He'll feel even better if we'll take the time to send him another card or note or picture of our cats to Harold Williams, Room 420 Shepherd Center, 2020 Peachtree Road NW, Atlanta GA 30309-1465.
Link for District 3
Doc told me once, after he had been on the ACC commission for a while, that like any group it develops a dynamic of its own, and commissioners feel a pressure to fit in, to be one of the group. I have argued, outsider though I am, that this can turn into a deadly lethargy when there is no leadership from the mayor. I believe we're in such a situation now, with Mayor Nancy Denson discouraging initiatives to fix problems facing our town, because she is looking to the developers to see what they want, and they always want only what is profitable for them and their clients.
I know it is difficult for some commissioners to see this syndrome, because they are so much a part of it. And I understand why some feel threatened by the prospect of a new commissioner who may not go along with this insider baseball.
That's why I'll say again that I believe District 3 and Athens-Clarke County need Melissa Link on the commission. I know she can get facts wrong and be too aggressive and hurt people's feelings, and I do not like to see her do any of that. But this mayor and commission are sunk so deep into do-nothingness that they need shaking up, even though they don't want it. That's why it takes a special kind of candidate even to have a chance of overcoming the inertia that presently afflicts the mayor and commission.
I've known Melissa a long time, and I know her faults along with her strengths. I still say we need her on the Athens-Clarke County Commission. This mayor and this commission need a gadfly and a conscience, as well as an ally for those commissioners who are already trying to address the many challenges that beset our town. I think we need Melissa Link.
Like what you just read? Support Flagpole by making a donation today. Every dollar you give helps fund our ongoing mission to provide Athens with quality, independent journalism.