Oh, no, I thought: they're back—this time at City Hall. Occupy Athens sent out a release "to all media†that they'll be camping out at City Hall until their demands are met: basically four "town hall†meetings attended by the mayor, the "city commission†and "at least one representative from Selig Enterprises,†where everybody can discuss the Walmart development and its impact on Athens. They also want an apology from Mayor Denson and the members of the Economic Development Foundation for their "illegal conduct†and closed-door meetings that "violated the integrity of the city government and the sovereign will of the people of Athens.â€
As soon as I got the press release, I drove down to City Hall, and sure enough, the little plaza beneath the Spirit of Athens sculpture was crowded with tents, signs, a bunch of friendly kids and a dog with no tag. The kids were eating pizza and feeling excited about what they were doing. I told them that in my opinion they'd be out of there pretty soon and their demands don't have a prayer, but they insisted on their right to be there.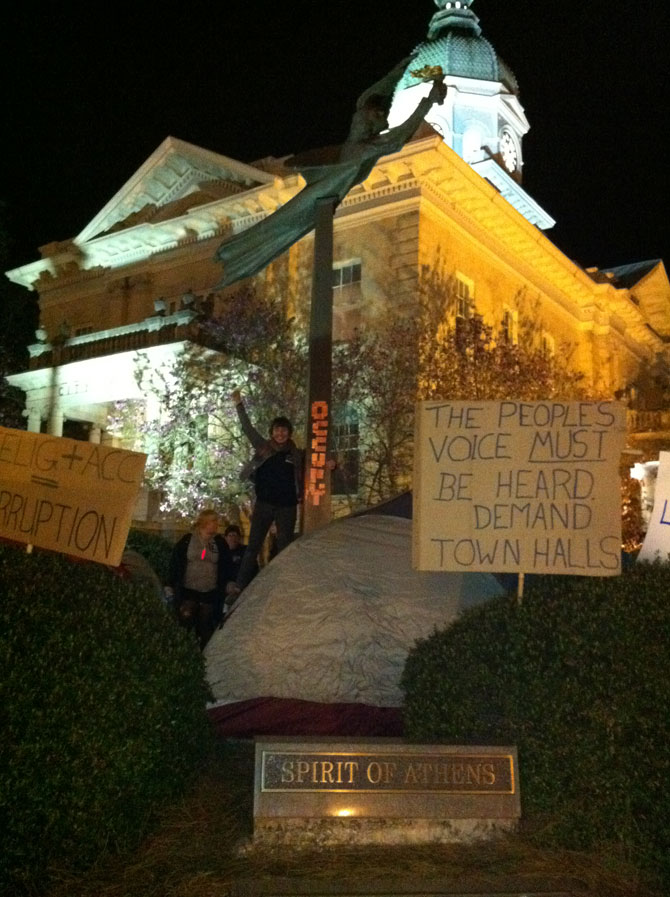 I left them thinking, well, hell: it's not the way I'd do it, but I have called in this column for a public meeting with Selig about Walmart to no avail. Why not this direct action?
And Occupy Athens' naive call for open government is a refreshing contrast to the closed-door machinations in Atlanta, where our elected representatives—Senators Bill Cowsert and Frank Ginn and Representatives Doug McKillip and Keith Heard (but, thankfully, not Rep. Chuck Williams) have undermined our local citizens and local government by willfully subverting the charter of our government, which our people adopted 20 years ago and which has been approved subsequently by successive charter overview commissions, our local government and the U.S. Justice Department.
Thanks to Cowsert, Ginn, McKillip and Heard, the redistricting town hall meetings we held last summer and the work of our local redistricting committee approved by our Mayor and Commission are all null and void. We have been handed a new form of government that not a single citizen will vote on. These, our elected representatives, have forced on us a new, radically redrawn Athens-Clarke County Commission electoral structure for purely political reasons cloaked in dubious claims for more equality for black people and Republicans. Cowsert, Ginn, McKillip and Heard did this to us behind closed doors—in Atlanta. For sure, they "violated the integrity of the city government and the sovereign will of the people of Athens.â€
Compared to the politicians behind their closed doors at the Capitol, the kids in their tents at City Hall are a breath of fresh air.
Like what you just read? Support Flagpole by making a donation today. Every dollar you give helps fund our ongoing mission to provide Athens with quality, independent journalism.