Beloved actress and pop icon Betty White is still remembered fondly a year and a half after her death, and her activism and love for animals has continued to inspire and carry on a lasting impact—even in the Athens community.
The Athens Area Humane Society held a "Betty White Day" on Jan. 17, the actress' birthday, earlier this year, and announced its plans to open its first canine agility course, the Betty White Memorial Bark Park. AAHS CEO Cheryl McCormick explains the idea was sparked by the desire to create something in honor of White's legacy, beyond a one-day celebration, that would continue giving back year-round and ultimately impact the rest of these dogs' lives. The Bark Park recently celebrated its official ribbon cutting on May 4.
Traditionally, animal shelters don't have agility courses, but the addition of enrichment opportunities is a step toward breaking the stigma of visualizing the animal shelter as a sterile and sad facility that might dissuade potential adopters from visiting. Madison-Oglethorpe Animal Shelter has reported that after adding its catio to the front of the facility, cat adoption rates have improved, and they are finding better fit forever homes. The agility course delivers many benefits from the dogs building new skills, gaining confidence, and improving their physical and mental health to visitors being able to see and interact with the dogs in a more natural environment.
"The goal of the agility course is not just to have something for the dogs to run around in and burn some energy," McCormick says. "It's really a means of building trust and confidence in dogs who are perhaps anxious or fearful."
One of the challenges of finding forever home fits—or adoption success, period—is that the traditional environment of a shelter isn't conducive to many animals being comfortable displaying their true personalities. It's easy to dismiss a dog that shows negative characteristics, but it may only be doing so because of its unfamiliar and uncomfortable environment.
"We're already seeing an immediate difference in the dogs," says McCormick, who recalls the success story of Toby without skipping a beat. Toby has been at the shelter for quite some time, and previously had a skittish and shy personality, which sadly is often a barrier in finding a forever home. After a short time of training on the agility course with his handlers, Toby is exhibiting exactly the kind of confidence and improvement the program boasts.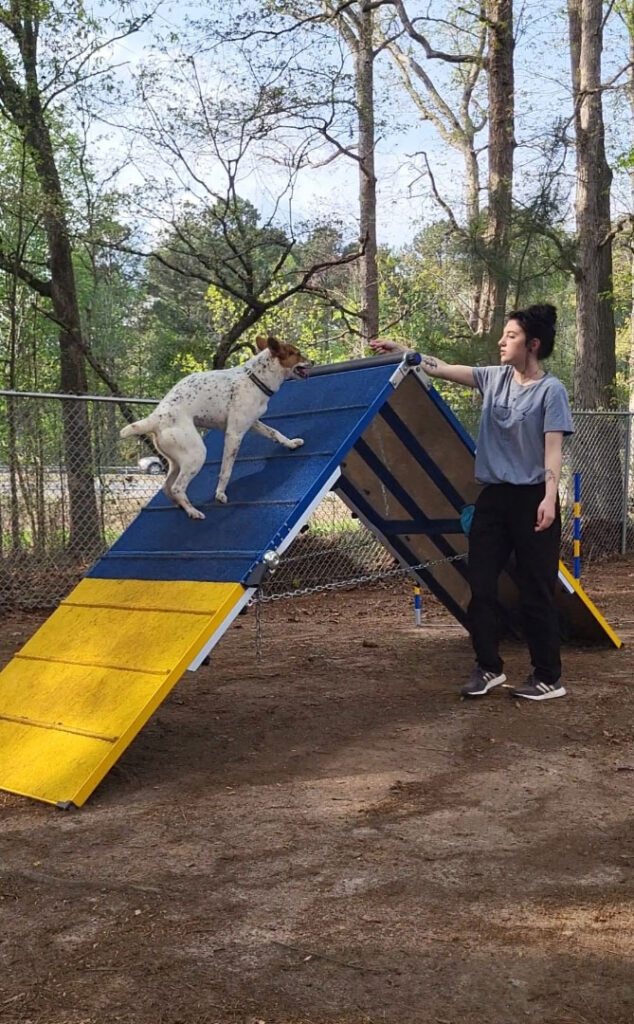 The AAHS team of trainers is composed of professionals and volunteers. Each team member works one-on-one with the shelter dogs, developing and following a regimen specific to each animal based on its needs and goals. The space is suitable for any dog, with a variety of equipment, including an A-frame, tire jump, weave poles, bar jumps and more. Just as any dog can benefit from the course, any human interested in working with the dogs or learning more is happily invited to volunteer.
However, the Bark Park is not just a resource for AAHS, it is open to the public. Anyone who adopts a dog from AAHS is welcome to return to the agility course to continue working with their new best friend for even better long-term results. The general public is also encouraged to use the facilities to build better relationships and skills with their pets. Use of the Bark Park requires a reservation and a $5 fee per hour for exclusive and private use of the course. For anyone seeking instruction or unsure of where to start, the training staff is available to help and provide advice.
The new addition to the AAHS facility has just opened and is already making a measurable and positive impact on the current shelter dogs, so McCormick is eager to see the work continue and to create a brighter future for these furry friends.
Like what you just read? Support Flagpole by making a donation today. Every dollar you give helps fund our ongoing mission to provide Athens with quality, independent journalism.