The Biden administration's student debt relief plan will alleviate the burden of student debt many Athens residents face.
With rising costs and interest rates that increase with time, having the ability to pay one's outstanding student debt while still affording the cost of living is a challenge for many Athenians. About 1.5 million Georgians are expected to be eligible for relief, according to the White House, 70% of them recipients of need-based Pell grants.
University of Georgia financial planning, housing and consumer economics professor Michael Thomas Jr. said it is important for all eligible students to take advantage of the relief plan in order to maximize their earning potential after graduation. "The new debt relief program that is being implemented is going to be fairly significant for a lot of individuals, both students and parents, which I think is incredibly important," Thomas said.
According to the Federal Student Aid website, parents who took out loans for their children and meet the income requirement may qualify separately for $10,000 relief.
Thomas said student loans impact intergenerational financial well-being and wealth creation, and the debt relief plan will provide an opportunity to discuss the best financial choices moving forward. "I think that there are real implications as it relates to debt relief for discretionary income," he said, "which is going to provide some breathing room for a lot of individuals and a lot of households across the board."
Thomas said it is important for students to only borrow what they need to minimize the amount of debt they carry after graduating.
Maddie Greer, who graduated from UGA with an English degree in 2019, said she had no idea what impact the student loans she had withdrawn at age 17 would have on her future. With the student debt relief plan now an option, Greer said she can envision affording things that she didn't find possible before. She said she and her partner, whom she will marry this May, are able to consider buying a home and having children for the first time.
After graduation, Greer worked as a server at Agua Linda, where she was often uncertain of the size of her next paycheck. Greer said this uncertainty was especially stressful as the end of her loans' initial six-month forbearance period ended. Now, she works as a technical writer for BNL Consulting. Although her income is higher than ever before, Greer said she still struggles with rising costs.
"As it stands, like my financial situation right now, if I had to start paying my student loans back, I would have absolutely no money left at the end of the month," Greer said.
Under the plan, borrowers whose yearly income is less than $125,000 who qualified for the Pell Grant are eligible to receive up to $20,000 in relief. Borrowers like Greer, who did not receive the Pell Grant but are beneath the income cap, can receive up to $10,000 in relief.
Greer said she graduated with $30,000 in student debt and currently has paid $8,000. Including the relief, she said she will only owe $12,000. "That was pretty life-changing for me," Greer said.
Becca Holder attended the University of North Georgia's Oconee campus and Georgia State University, earning her social work degree in 2015.
"With student loans, you have payment plan options, and I have just about run out of all those options. I've cycled through all of them," Holder said. "When I heard this was happening, this was probably the greatest joy and relief that I could have gotten in the last few years."
Holder said the relief plan will cut her debt in half, enabling her to have job mobility. Until now, she has worried about affording her loan payments with each of her jobs.
Holder said she doesn't see the plan as "a candidate trying to buy off your vote," as some conservatives have alleged. She said the plan is helping lower- and middle-class Americans contribute to the economy by not being saddled with high monthly loan payments.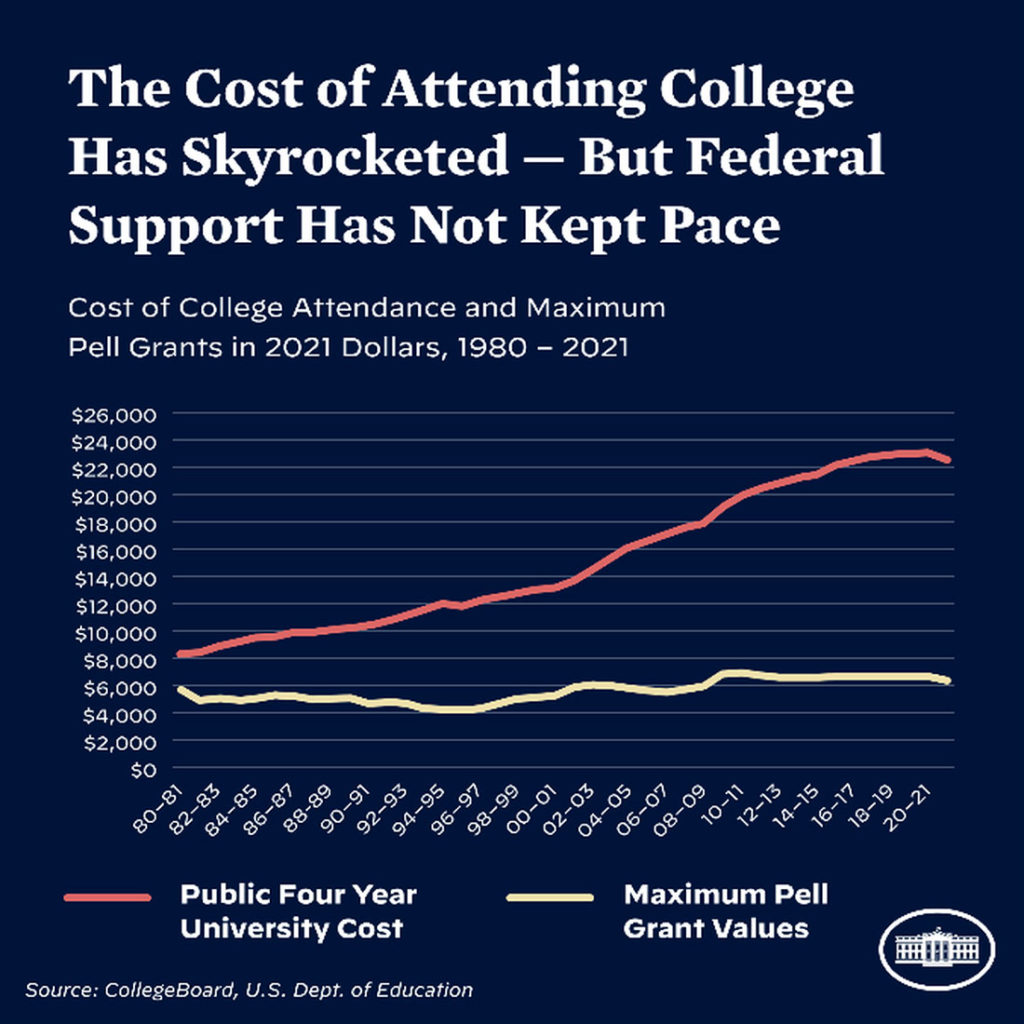 In addition to the student debt relief plan, Holder said she would like to see tuition caps. The higher tuition and subsequent student loan debt from attending a "more prestigious college" is one of the reasons she attended UNG. For the 2022–2023 academic year, the estimated tuition and fees for a full-time Georgia resident at UGA are $11,180. The university estimates the total cost of attendance, including room and board, at about $27,000.
Holder said she benefited from the previous pauses in loan payments as the cost of living expenses rose while her income did not. "The pauses weren't just a nice thing to have. They were really like a necessity because when you've got other expenses coming up, you can't make a choice of, like, 'Do I pay my student loan, or do I pay for just basic things?'" she said. "I wouldn't have been able to pay them even if I wanted to."
How to Apply
The application process for student loan forgiveness is expected to open sometime in early October and will run through the end of the year. Applicants will need their tax returns and loan information to determine their eligibility. Sign up for updates at ed.gov/subscriptions.
Like what you just read? Support Flagpole by making a donation today. Every dollar you give helps fund our ongoing mission to provide Athens with quality, independent journalism.