An Oconee County builder has proposed something Athens-Clarke elected officials have longed for—a redevelopment of the Georgia Square Mall.
A preliminary concept for the mixed-use development calls for more than 1,000 apartments along with new commercial construction for restaurants and other businesses. New apartment buildings of three to five stories would dot the site, including 986 one- to three-bedroom apartments and 152 units for seniors 55 and older. Ten percent would be "workforce housing." The middle part of the sprawling mall building would be demolished, but the wings that house Belk and held Sears and JCPenney would be renovated for continued commercial uses, including a grocery store.
The outline Watkinsville consultant Abe Abouhamdan submitted to the Athens-Clarke County Planning Department for Athens Construction Group of Bogart as 2021 ended anticipates participation in the Athens-Clarke government's new tax allocation district program. TADs offer developers incentives such as low-cost financing and infrastructure improvements in exchange for "community benefits" their developments provide, such as jobs, housing and a rising tax base. As the value of taxable property rises, generating more tax revenue, the new money can be funneled to infrastructure improvements within the district, including buying bonds. Details of any TAD agreement between government and the mall developers are yet to be named.
Touted as a tool for resurrecting blighted areas, TADs are also criticized as a subsidy for developers.
The Athens-Clarke County Mayor and Commission designated six TADs in 2020, including the mall area. The Clarke County Board of Education endorsed only one—the mall TAD. The school district receives about 60% of the county's property tax revenue.
According to an Athens-Clarke County report, the tax digest within the mall TAD area grew by 4.5% in 2020—much less than the overall county tax digest growth of 8.4%, but better than the two previous years. In 2018, property values within the mall TAD declined by 6.3%, compared to countywide tax digest growth of 6.6%. In 2019, the value of property in the mall TAD declined another 1.6%, while countywide, the digest increased by 8.9%.
For years, Athens elected officials have been talking about redevelopment potential at the mall, most prominently the late Jerry NeSmith, the longtime District 6 representative who unexpectedly died in 2020, days before District 6 voters elected him to another four-year term on the Athens-Clarke Commission.
Three of the mall's four large anchor stores—Sears, JCPenney and Macy's—have pulled up stakes since 2017, leaving only Belk. The three departed anchors had occupied more 300,000 square feet, now dark and empty. Most of the mall's smaller spaces remain occupied, though not by the kind of prominent brands, such as Victoria's Secret, that once thrived here. Spencer Gifts, Foot Locker and a handful of others hang on, along with a diverse mix of newer tenants that include, among others, a fencing school, a tailor shop, a store specializing in women's formal dresses, Athens Hearing Aid Factory Outlet, Visiting Angels Living Assistance Services, Retro Age—"We pay cash for games," their sign proclaims—and 525 Fashion Outlet, where all clothing is $5.
The Athens-Clarke Police Department is another tenant. What used to be a movie theater is the department's Westside headquarters. But like shopping malls everywhere, Georgia Square Mall's once-bustling corridors are sometimes empty echo chambers now.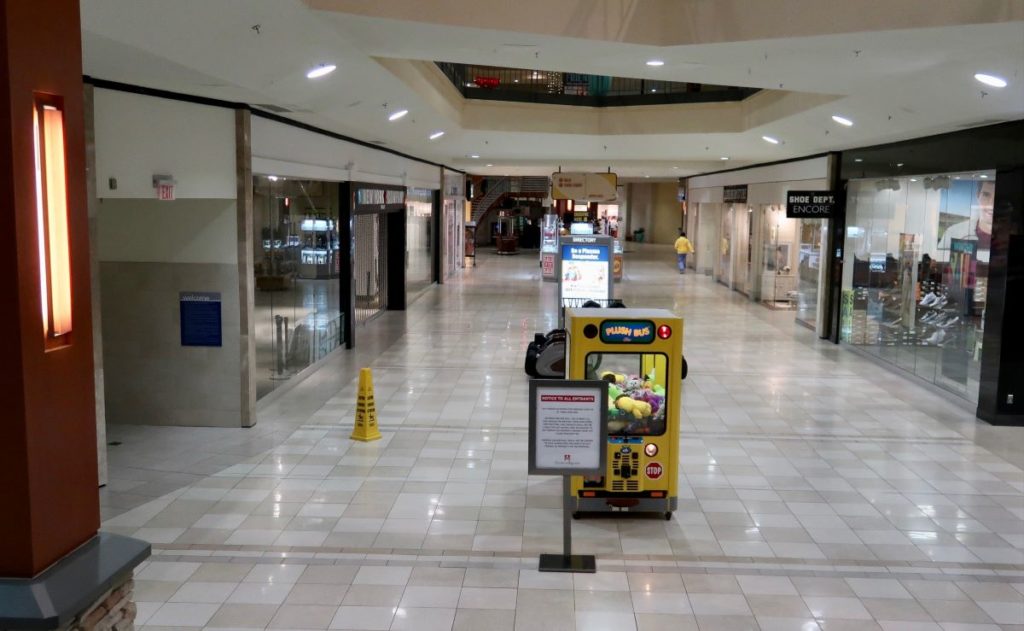 Redeveloping the mall was also one of the top recommendations of another consulting firm's 2019 study of the Atlanta Highway corridor. Their ACC-commissioned report also recommended spending tens of millions of dollars in local and state revenues for intersection improvements, extensive pedestrian and cycling infrastructure and a greenspace plan in an area woefully lacking it, among other infrastructure improvements along the corridor—not specifically at the mall. The Abouhamdan plan calls for more trees and landscaping, but much less than the 40% county ordinances call for in planned developments.
The developers are asking Athens-Clarke to waive several requirements for planned developments, including minimum parking space numbers and the tree canopy and landscaping requirement. Now 83% covered in asphalt or concrete and steel buildings, the redeveloped mall property would still be about 72% impervious surface—buildings and paved parking. But some of the mall property's sea of parking would go green, according to the proposal Abouhamdan filed on behalf of developer Mark Jennings of Athens Construction Group. Like Abouhamdan, Jennings has been involved in large Oconee County developments.
"Engaging plazas, active amenities and numerous landscaped areas are being planned," Abouhamdan wrote. "A substantial number of shade trees with tree islands and a park with trails are being proposed." The plan calls for 205 new shade trees; the ordinance requirement would be 682 large or 1,212 medium shade trees.
Upon completion in 2026, the development would generate 8,462 daily auto trips, according to a required "Development of Regional Impact" document filed with the Georgia Department of Community Affairs. But it would also cost the government little in infrastructure costs, such as new road work or water and sewer lines, and would generate an additional $10 million a year in tax revenue, according to the developers.
The plan is scheduled to go before the Athens-Clarke County Planning Commission at a Feb. 3 meeting. The Athens-Clarke County Mayor and Commission must also vote to OK the zoning changes.
Like what you just read? Support Flagpole by making a donation today. Every dollar you give helps fund our ongoing mission to provide Athens with quality, independent journalism.