The Clarke County School District has recognized that its lowest-paid workers are not receiving a living wage and will give these workers bonuses while preparing to raise wages permanently.
During a discussion about employee wages at a recent school district work session, the Clarke County Board of Education was informed that 188 school employees are making under $12.50 an hour. These employees include paraprofessionals, custodians and lunchroom assistants, among others, who make anywhere from $9.90—$12.46 an hour.
Also discussed at the meeting were two $1,000 retention bonuses for all CCSD employees to help them recover from the effects of the COVID-19 pandemic. School board members decided to increase these payments to $1,250 for their lowest-paid employees in partial compensation for their very low wages. This means that district workers making under $12.50 will receive an extra $500 in total.
Despite pushing for this increase, Board of Education member Greg Davis told Athens Politics Nerd that he is dissatisfied with the plan and wishes they could pay more. "$500 is not enough for those who are making extremely low wages," Davis said. He argued that every employee in the school system should be temporarily raised to the equivalent of $12.50 an hour or higher through these retention bonuses. An employee making $9.90 an hour, working eight hours a day for 180 days a year, would need $3,744 to get them up to a $12.50 equivalent wage.
A permanent living wage, while avoiding salary compression, would require readjusting the school district's pay scale, something that will take time to accomplish. The district's budget must be approved by June 30 according to state law, a timetable that leaves little time for system-wide salary adjustments.
Selena Blankenship, human resources director for CCSD, said that the district is "keen to provide a living wage for our employees, and we have begun an analysis that will continue over the coming months that will guide how we address this issue to make providing a living wage a reality."
In their discussions, Board of Education members and district staff seemed to support $12.50 an hour as a level they'd feel more comfortable eventually paying their lowest-paid workers. But according to the MIT Living Wage Calculator, $12.50 is not a living wage anymore. Rents have been skyrocketing in Athens, going up 33% on average over the past four years, which has greatly increased the cost of living. Adjusting for this new reality, MIT now sets a living wage in Athens at $14.40 for a single adult with no kids and $33.98 for a solo parent with two children.
Responding to pressure from advocacy groups like the Economic Justice Coalition, of which Davis is a board member, the ACC government has worked in the past to ensure that all of their full-time employees received a living wage. In 2017, the ACC government set the wage floor for their lowest-paid workers (including part-time workers) at $11.60 an hour, which the progressive group Athens for Everyone declared a victory.
However, this number never included seasonal employees, and the victory for everyone else was short-lived as the rising cost of living sharply eroded workers' wages. In response, the local government now pays a minimum of $13.70 an hour, according to Mayor Kelly Girtz, with fewer than 50 out of 1,700 employees making under $15. Even so, this means that not all ACC employees are currently making a living wage by MIT's standards. Girtz said that this will be remedied by paying all benefits-eligible employees in the ACC government $15 an hour.
"In the coming year's budget, I've allocated funds to engineer the payscale and position changes to move us there, which would then be fully implemented in 2022," he said.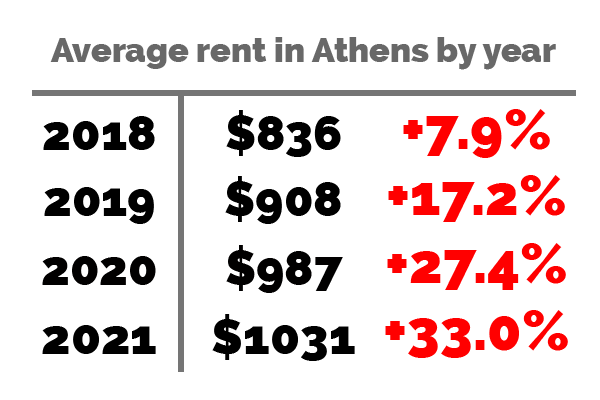 Unfortunately, if rents continue rising as they have been in recent years, even $15 an hour may not be enough to provide a comfortable living for a single person in Athens in 2022 and beyond. Commissioner Jesse Houle stressed the importance of creating a living wage policy for the local government which would address this issue.
"We need to make sure that, as the amount one needs to live on evolves over time, we have a policy in place that's going to keep up," Houle said. "This is something we've known we've needed all along."
An even bigger priority than adequate cost-of-living increases for Houle is ensuring that ACC pays all employees a living wage, including temporary and seasonal workers. This is not the case for all ACC government positions. For example, some open positions right now pay as low as $8.37 an hour.
And then there's inmate labor, which is completely unpaid. "There's a fair amount of labor that the public is relying upon that's not only not paying a living wage, but paying no wage," Houle said.
The state government forbids local governments from paying inmates for their labor, making Georgia one of only five states—all located in the former Confederacy—continuing to use unpaid workers.
Despite being vocal in pushing for a living wage, Davis still sees the modest upcoming wage increase for school district employees as a win. "It changes the way we look at wages in the Clarke County School District," Davis said. "We're not [any longer] looking at it in terms of what other districts are paying, but what is fair. It's a start, and hopefully, through the years we can get to that $15 an hour."
Houle is not quite as patient. Together with colleagues Mariah Parker and Tim Denson, Houle said they plan to push for a $15 an hour wage floor for all ACC employees, including seasonal and temporary workers, starting July 1.
Like what you just read? Support Flagpole by making a donation today. Every dollar you give helps fund our ongoing mission to provide Athens with quality, independent journalism.