One of Athens' most recognizable historic buildings is headed for a new phase of life. A sign in the glass door of the Walgreens Pharmacy at 1190 Prince Ave. tells the story: The pharmacy will close Apr. 15.
Walgreens' departure means developers will soon be looking for a new tenant for one of a relatively few examples of mid-century modern architecture in Athens. "It would make a really cool restaurant and bar," speculated Athens-Clarke County Commissioner Melissa Link, one of the building's admirers.
With its circular shape, exterior wall of glass and clamshell roof, 1190 Prince has been a landmark for generations. Government records list two dates for its construction, 1960 and 1965, but former owner Frances Mullins Garrison and others who have worked in the building over the years believe 1960 is the accurate date.
It is an outstanding example of the revolution in commercial architecture of the era, historically significant not only for its look, but also for the new materials and construction techniques that went into it, said Danny Sniff, former associate vice president for facilities planning at the University of Georgia and an adjunct professor in UGA's College of Environment and Design. Advances in construction techniques and materials, such as extruded aluminum and precast concrete, allowed architects to experiment with new forms and design buildings that could be not only functional spaces but also sculptural, said Sniff, who counts the building as one of his Athens favorites.
The sight of it let people driving in on U.S. Hwy. 29 know that they were entering a different place than the one they left, said ACC Assistant Planning Director Bruce Lonnee, also a College of Environment Design adjunct. "I think it's marvelous," he said. "It's an important building. The first time I came to Athens, that was one of the buildings that sort of jumped out at me."
It's also a symbol of a period of unprecedented growth for Athens. Clarke County's population grew from 45,000 to 65,000 people, and UGA enrollment nearly tripled from 7,374 students in 1960 to 20,358 in 1970 as Baby Boomers headed off to college. Manufacturers brought thousands of new jobs to the county, and retail sales more than doubled in the decade as Athens became a regional retail hub.
The original owner was the Atlanta Gas Light Co.'s retail arm, Georgia Natural Gas, which filled the upper floor with gas-powered stoves, clothes dryers and other appliances for the modern home to tempt customers who came in to pay their monthly gas bills. But in the deregulation of the 1990s, the company sold the building to pharmacist Garrison, who moved her Smith Pharmacy from down the street in the space that's now Agua Linda. She paid $500,000; her mother thought she'd lost her mind, recalled Garrison.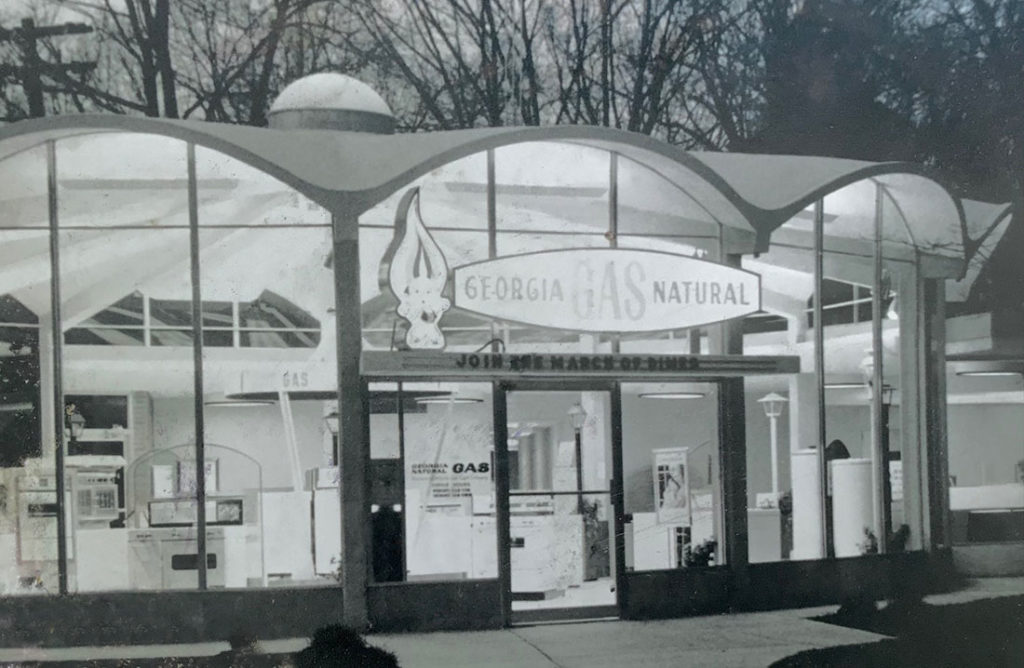 "I just loved the building. It was so different," she said. "I think the other people were just going to tear it down."
The building was actually made to be earthquake-proof, Garrison discovered after she bought it—maybe because of the web of communications cabling she learned was buried in the bowels of the building.
Garrison also made some local pharmaceutical history there when she figured out that the store could bill insurance companies for her customers from the nearby Navy Supply Corps School, now the UGA Health Sciences Campus. Before, the practice was for customers with insurance to pay for a prescription, then file a claim for reimbursement with their insurance company. But with the pharmacy billing the insurance company, customers only had to worry about a $5 co-pay, she said.
Garrison sold her pharmacy business in the early 2000s to the Eckerd Corp. As mergers and acquisitions changed the face of the industry, the name over the door changed to Rite Aid and then to Walgreens. Garrison retained ownership of the building and its 44 parking spaces, however, resisting developers' offers to take it off her hands until five years ago, when she got an offer she thought was reasonable from the current owner, Trey Wallace.
Wallace and fellow developers John Stamm and Bryan Austin in early 2017 designed a plan for a mixed-use development on the site, directly across Prince from the big addition to Piedmont Athens Regional Medical Center now taking shape. They abandoned the plan for 48 apartments, a grocery store, other retail and restaurant space and a small parking deck when their bid to acquire nearby acreage from the hospital fell through.
The developers subsequently came back with the alternate plan now nearing completion, including a multistory building for a Barberitos and Flying Biscuit Cafe (now open), an Atlanta chain that has grown to more than two dozen stores in four Southeastern states since the first restaurant opened in Atlanta in 1993. The development also includes other retail and office space and renovations to the Park Avenue-facing building housing Athentic Brewing Co.
Like most of Athens' mid-century modern architecture, 1190 Prince lacks any official protected status as a historic structure, but the developers have kept it intact in their plans—though someone did make a significant alteration at some point during its drugstore days, covering up the top parts of the arched glass panes forming its front exterior wall. "Our hope is to find something unique for the building," said Stamm, who is also involved in the project bringing a new Target store to downtown Athens.
Sniff and Lonnee said they hope preservationists will pay more attention to Athens' mid-century modern buildings. Architectural historian Lauren Patterson cataloged dozens of Athens examples in a 2019 thesis she wrote as she completed her Master of Historic Preservation degree at UGA—not just 1190 Prince, but also architecturally significant structures like the old Arctic Girl restaurant on Broad Street, now Tamez Barbecue; UGA's Stegeman Coliseum; the 1965 Athens Janitorial Supply building on Old Hull Road and downtown's 1940 Greyhound bus station, now Chuck's Fish.
"They deserve more respect. When you put them in context and realize what they represent, they are pretty remarkable," Lonnee said.
Like what you just read? Support Flagpole by making a donation today. Every dollar you give helps fund our ongoing mission to provide Athens with quality, independent journalism.