According to both candidates in next month's Democratic primary, the Clarke County sheriff's race is a referendum on incumbent Ira Edwards' five terms in office.
Edwards, first elected in 2000, says he offers "proven leadership," which is especially important during the COVID-19 pandemic. "The Titanic had stable leadership, but it still sunk," replied his Democratic opponent, John Q. Williams, during a recent online forum. "If you've been in office 20 years and nothing has gotten better, there's no point in hanging your hat on being there 20 years."
Williams—a sergeant with the Athens-Clarke County Police Department who investigates domestic violence and missing persons—points to a 2019 audit of the sheriff's department that found that the county jail was woefully understaffed, turnover was high and deputy morale was low. Edwards called the audit an opportunity for improvement, and said that no agency is without problems.
Williams also criticized Edwards for traveling too much. "I'm out in this community regardless of whether it's an election year or not," he said. Edwards acknowledged that he travels extensively because of his leadership positions in state and national law enforcement associations.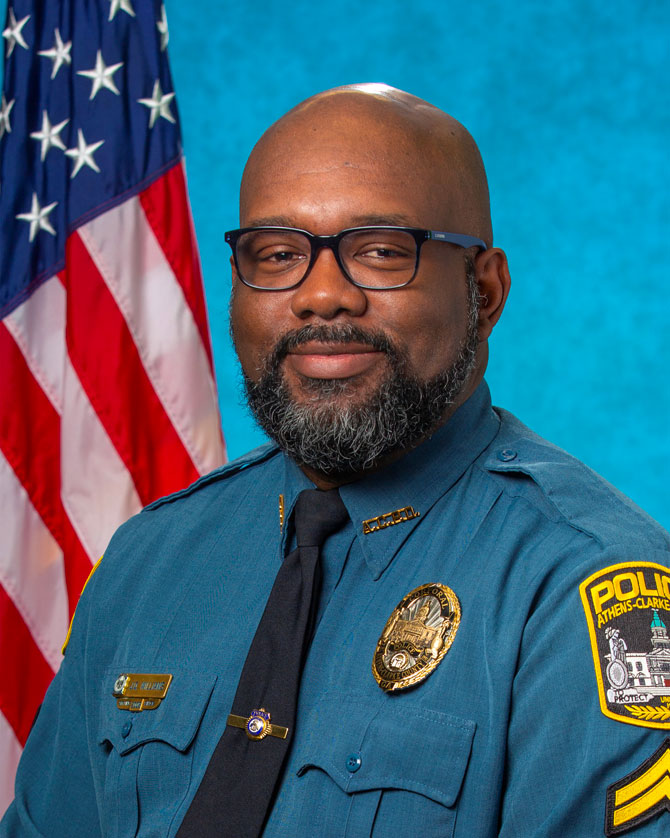 In response to Williams' assertion that the sheriff's department needs fresh ideas, Edwards pointed to rehabilitation programs he started. More than 350 inmates have earned their GEDs while in jail, he said.
Williams has also been critical of using unpaid inmate labor, although Edwards isn't responsible for this practice. "I think profiting off of prison labor is unethical, immoral and it just should not be happening," he said.
Williams also said that prices for inmates' phone calls and commissary goods are "ridiculously high," accusing Edwards of price gouging. Edwards said profits from the commissary go toward rehabilitation programs. "We're pouring this money back into the inmates, so they can become productive citizens," he said.
Athens-Clarke County has a contract with the private company Securus Tech to provide phone service at the jail. Securus Tech keeps 20% and kicks back 80% to the local government—$200,000 a year. Several ACC commissioners and the progressive group Athens for Everyone have criticized the system. But jail shouldn't be "a welfare system where everybody gets things for free," Edwards said. "Otherwise, the jail becomes a hotel."
Securus has donated $450 to Edwards' campaign—another issue in the race. According to the website Athens Politics Nerd, he has raised $9,300 from bail bondsmen and contractors of the private prison industry. His largest campaign donor is James Owens, owner of Double "O" Bonding company, who gave $2,000 in 2019. Other contributors include Wellpath PAC ($600), Global Tel Link ($600), Apps Auburn ($600), Legacy Commissary Services CEO Derek Strickland ($1,000), Liberty Bonding owner Nathan Owens ($500), Aaron Bonding Company owner John Elliott ($1,050) and probation contractor Five Points Solutions ($750), campaign finance records show. Global Tel Link, which also has a contract with the sheriff's department, faced charges of bribery in 2017 and settled with the state of Mississippi for a $2.5 million fine.
Elliott is also a former chairman of the Athens Republican Party. Despite running as a Democrat, Edwards has accepted contributions from several Republicans, including Senate Majority Leader Butch Miller of Gainesville. During the Athens Community Agenda forum, Edwards touted his endorsement by a broad spectrum of leaders, such as former mayor Nancy Denson, former University of Georgia football coach Vince Dooley and civil rights activist Fred Smith. "This is not Democratic, Republican or independent," he said. "I have support across the board."
Williams had raised a little over $6,000 as of the end of March, including contributions from commissioners Melissa Link and Mariah Parker and commission candidates Carol Myers and Jesse Houle. None of his contributions appear to have come from jail industry contractors or bail bondsmen. Edwards has raised a total of $51,000, according to his most recent filing in January.
Early voting has already begun at the ACC Board of Elections at 155 E. Washington St., and voters can also cast their ballots on Election Day June 9 or by mail. Absentee ballot applications are available at mvp.sos.ga.gov.
The winner of the Democratic primary will go on to face Republican Robert Hare, a Marine veteran and former Clarke County sheriff's deputy, in November.
Like what you just read? Support Flagpole by making a donation today. Every dollar you give helps fund our ongoing mission to provide Athens with quality, independent journalism.