With Athens-Clarke County under both local and state stay-at-home recommendations, local political candidates have been scrambling to rewrite their campaign playbooks and find ways to reach voters without their usual tactics of face-to-face contact.
What is often called "retail politics"—neighborhood canvassing by the candidate and volunteers, plus events and phone banking—is a staple of local races, one that has been largely curtailed by sheltering in place and social distancing. "Before, my campaign was heavily, heavily centered on knocking on doors," says Andrea Farnham, who is running for Athens-Clarke County Commission in District 8 on the Eastside. "We historically have very low voter turnout, so the only way to get to voters is by going to their door and talking to them. And now that is different."
One thing that campaigns can lean on is technology and social media. Farnham has been relying on email communication as one tactic. "There's a lot of effort right now being made to get email lists," Farnham says. "Because you know there's neighborhood listservs and local school governance teams and those kinds of things. So, to be honest, email, especially in my district, is a lot more effective mechanism to be reaching people."
But, Farnham warns, email and social media are just one tactic. "Not everybody is online," she says. "And not everyone is on social media, so it sort of self-selects, unfortunately, which people can be reached."
While not everyone might have an internet connection and a Facebook account, most voters do have a phone. Farnham and one of her opponents, Carol Myers, are shifting campaign resources to phone banking—though individually, not through the traditional groups of volunteers gathered together. "I have a team of people working with me making phone calls," Myers says.
Some of those calls have been almost as productive and lengthy as the conversations she might have had in-person. "One afternoon I started calling, and this woman answers the phone," Myers says. "I was on the phone 40 minutes with her. Every day I've had lengthy conversations with people, and I've taken notes."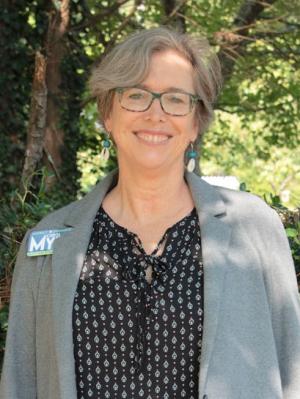 Even with a heavier focus on phone calls and technology, there are still ways for candidates to take their messages to the streets. Farnham meets voters—while adhering to the rules of social distancing—in supermarkets and Walmart parking lots, while Myers uses exercise as a means to meet voters.
"When I'm in my neighborhood walking. I feel that I need to go, 'Hey, hi,'" Myers says. "You know, everyone's being a little friendlier. And then I'm going 'Hey, hi.' And I'm talking to someone. I'm saying, 'Hey, listen, you know, I live over here. And these signs, you see, that's me. I'm running for office.' And so I've been having these discussions."
Beyond reaching voters, candidates in the era of COVID-19 also have to be mindful of their message. While they may have started their campaigns wanting to talk about transportation or affordable housing or inequality, the coronavirus and governmental response to it is at the top of most voters' minds right now. That presents a challenge for candidates, according to Audrey Haynes, associate professor of political science at the University of Georgia and director of the school's certificate program in Applied Politics. Several of her students are involved with local campaigns and report that not everyone wants to talk politics when they're not sure how they'll pay their phone bill. The job for candidates, then, is to show how they will help those voters amidst these difficult times.
"Candidates have to be very careful in how they present themselves," Haynes says. "Really being authentic and genuine, and your empathy and care, and perhaps showing that you have ideas."
A version of this story first aired on WUGA 91.7 and 94.5 FM.
Like what you just read? Support Flagpole by making a donation today. Every dollar you give helps fund our ongoing mission to provide Athens with quality, independent journalism.