Athens was a very different place in 1980. Georgia Square Mall was about to open, and downtown businesses were heading for the 'burbs. There was nary a parking deck in sight, nor a bike lane. Downtown boasted about two bars, and only a handful of people had ever heard of R.E.M.
It was in this environment that Gene Dixon decided to start a bike race in downtown Athens. He opened a bike shop in 1973—a few years after new, lightweight bicycles popularized cycling in Europe—and had a friend who'd participated in criteriums overseas. He dubbed the race the Twilight Criterium. "The reason we went to the night is it was in the middle of summer," Dixon recalls. "We were trying to avoid the heat."
Dixon also credits car dealer Buddy Allen (the initial sponsor), then-mayor Lauren Coile and others for helping him see the vision. With a publicity boost from a special section in the old Athens Observer newspaper—run by current Flagpole editor and co-publisher Pete McCommons, among others—the event was an instant success. Now held in late April, it continues on as the premier criterium in the U.S., drawing an estimated 40,000 people to downtown, according to the Athens Convention and Visitors Bureau. And Dixon's company, Swagger, puts on the USA Crits series of races around the country.
"A lot of them are similar," he says, "but they don't have the same electricity as Athens. I don't know why."
While many readers may be familiar with the Tour de France, criterium racing is a different beast, emphasizing power over endurance. Cyclists race around a 1-kilometer track—80 laps for men and 40 for women—and work in teams to help their fastest members burst from the pack in what's known as a "breakaway," then sprint to the finish line.
The first event included just a men's race, a kids' race and a celebrity race, which featured members of the legendary 1980 UGA football team, as well as future mayor Nancy Denson, then a city councilwoman. Over the years, Twilight expanded to include a women's pro race, amateur races, a BMX competition, kids' activities, food, music and more over two days. (For a full schedule, visit athenstwilight.com.)
Downtown has grown, too. It seems like almost every spring and summer weekend, someone is blocking off a downtown street for a festival, but Twilight was the first of its kind. "I think it played into [downtown] becoming an entertainment district," Dixon says. "Twilight can't take credit for it, but it certainly helped."
Linda Ford, director of business services for the Athens Downtown Development Authority, says Twilight is beneficial for downtown, although she doesn't have any numbers showing its economic impact. "It's a great event," she says. "Not a lot of communities our size have a criterium that's world-renowned. We're a biking community, so it's a great fit for us."
In the past, Twilight has caused some friction between bar owners who love the crowds and daytime retailers who complained about streets being closed and lost parking. Dixon has mostly solved those issues by shutting down Clayton Street on the Friday afternoon prior to the Saturday race, rather than Friday morning, Ford says. As a result, Swagger is reversing the direction of the course this year and moving the start/finish line to Washington Street at College Avenue. From there, competitors will pedal counterclockwise to Lumpkin Street, turn left at the Georgia Theatre (a notorious corner for wrecks), and continue east along Clayton to Thomas Street.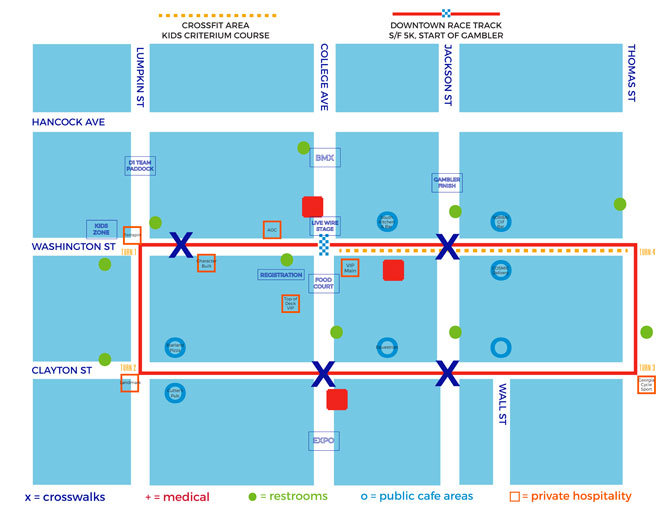 Twilight has also helped put Athens on the map as a cycling community, as Ford says, according to BikeAthens Executive Director Tyler Dewey. "At the minimum, Twilight has cemented Athens' reputation as a bike town, regionally and nationally," he says. "When we go to bike advocacy conferences, folks reference Athens' reputation as being a place with great bike culture, and I think a lot of that reputation comes from Twilight."
At one time, Athens boasted more professional cyclists than any city but Boulder, CO, due to its low cost of living, good roads to train on and easy access to Atlanta, according to Dixon. But he acknowledges that the city can be a tough one for more casual cyclists because of the hilly terrain, narrow streets and lack of infrastructure for bikes.
Dewey adds that Twilight encourages people to ride bikes for transportation. With car parking scarce, biking downtown during Twilight is less of a hassle than driving. "While I do wish there were more comfortable bike routes and more convenient, well-advertised bike parking locations, a big event like Twilight does highlight the efficiency of traveling by bike," he says.
While it's been a rousing success, Twilight is a difficult event to put on. It costs $225,000, and organizers are rarely able to pay themselves, Dixon says. This year, a CVB grant helped fund a Friday-night concert headlined by Beatles cover band Abbey Road Live! (with a full orchestra), and the ADDA contributes $10,000 annually, as well. While Dixon says he's grateful for the support, other cities where Swagger stages criteriums—like El Paso, TX, which is trying to brand itself as a bike-friendly city—cover more of the costs. Organizers of the free event also solicit sponsorships and sell $75 VIP packages that include food, beer and access to prime viewing areas.
American criteriums are also hamstrung by a comparative lack of prize money, which encourages top racers like Athens' Ty Magner to compete in Europe instead. USA Crits is trying to gin up interest by offering race footage and interviews with riders on its website, usacrits.tv.
This year's Twilight has been more successful financially than in years past, Dixon says, and he has big plans for the future, like installing a temporary velodrome at the Classic Center's new arena, if it's funded by SPLOST 2020. "That's if I don't decide to quit and hang out on the farm," he says. "I've got four miles of mountain-bike trails I haven't seen enough of."
Like what you just read? Support Flagpole by making a donation today. Every dollar you give helps fund our ongoing mission to provide Athens with quality, independent journalism.