After being cultivated for thousands of years in all corners of the world for fiber, medicine and other purposes, hemp was swept up in a flurry of federal prohibitions that also banned its psychoactive cousin marijuana, as well as cocaine, opiates and even alcohol in the early part of the 20th Century.
More than 80 years later, the U.S. government first eased its prohibition against growing hemp in 2014. With the rocketing popularity of cannabidiol (CBD) oil derived from hemp, the state legislature has sent House Bill 213, the Georgia Hemp Farming Act, to Gov. Brian Kemp. HB 213 would once again will allow hemp's cultivation in Georgia. If he signs it, the University of Georgia is poised to be at the forefront of research into best practices for growing the newly legal crop.
Demand for CBD oil, derived from a non-psychoactive compound in hemp, is soaring, thanks to its widespread acceptance as a treatment for many conditions and illnesses. U.S. research on CBD benefits may have lagged behind European and Israeli studies, but in 2017, the National Institutes of Health supported 330 projects totaling almost $140 million on cannabinoid research. The president of the U.S. Hemp Authority, an industry group, wrote in a 2018 letter that "the hemp oilseed, fiber and extract industries are at the threshold of an economic revolution."
The Food and Drug Administration recently approved the first CBD-based drug, called Epidiolex, to treat seizures caused by extreme types of epilepsy. Separately, the federal agency also warned CBD producers that they cannot use health claims to sell their products. The FDA website issued a statement in early April saying that Congress explicitly gives the agency control over the way products containing CBD are marketed to the public.
Even without research or government approvals, CBD's growing popularity can be attributed to strong word of mouth and social media comments, with claims of treating seemingly every known ailment. An Israeli research paper said CBD is being used to treat multiple sclerosis, Parkinson's disease, cancer, diabetes, anxiety, obesity and anorexia.
The Brightfield Group, a Chicago company that conducts research and marketing for the legal cannabis industry, projects dizzying growth for the industry, with sales increasing 40-fold in five years, from $627 million in 2018 to $22 billion in 2023. The company cites the full legalization of hemp and the rapid acceptance of CBD as a treatment for myriad medical conditions as reasons for the growth spike. Arcview Market Research also tracks the cannabis industry, and its economists project that sales will grow to an eye-popping $57 billion by 2027.
A white paper published by Brightfield says that "CBD's persistent popularity is… in line with longer term anti-pharma, health and wellness trends that continue to drive consumer demand."
Yet even with the surging interest in CBD, many questions remain. Will scientists confirm the effectiveness of CBD oil in treating myriad ailments? What are the most favorable strains of hemp to grow in different environments? Which types will produce the most CBD compound per plant? How will farmers keep plants from exceeding the legal limit of 0.3% THC, the component of marijuana that gets people high?
Researchers at the UGA College of Agriculture and Environmental Sciences will be scrambling to put in place recommended procedures to grow and test hemp, since no research has been conducted on the crop since at least the 1930s.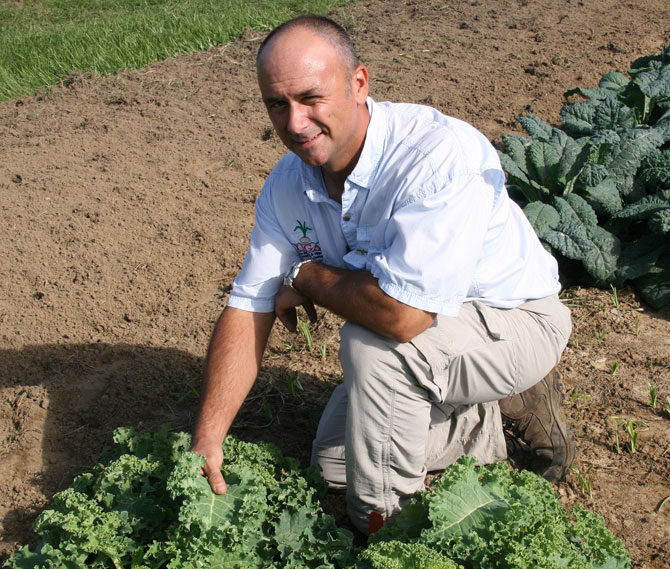 With the passage of the Georgia bill, Tim Coolong, an associate professor at the UGA CAES, will launch a pilot program as early as this summer, and begin the process of studying growing conditions and seed cultivars to help farmers grow hemp in Georgia's hot, humid climate.
UGA researchers will also tangle with the thorny question of testing hemp crops for the presence of THC, which according to federal law must remain below 0.3% by weight to qualify as hemp. This tiny amount compares to THC values of up to 35% for particularly potent cultivars of marijuana now on the market in states where the drug is legal. Above 0.3% THC, according to cannabis guru Jerry Whiting of LeBlanc CNE in Washington, an industry consultant, "all you have is very poor quality marijuana." Farmers seeking to supply hemp to the CBD market, where most hemp is expected to be used, will want to enhance the value of this cannabinoid while restraining the development of THC.
Coolong says that Georgia farmers, who will probably begin planting next year after Coolong's pilot project, anticipate that hemp will be "as lucrative as a good vegetable crop."
But backyard gardeners shouldn't start planning to grow hemp next to the cucumbers. Since hemp plants look much like marijuana, the Georgia law will regulate the growth of hemp, requiring farmers to apply to the state Department of Agriculture for a license and submit extensive business and production plans before obtaining a permit. Even with the permit, farmers will be required to keep THC values below the 0.3% level.
Meanwhile, hemp enthusiasts may want to monitor a blog that Coolong plans to launch this summer, as he posts his remarks and data about the hemp trials.
CBD oil is already available at various locations around Athens, and look for topical products containing CBD at CVS and Walgreens, both of which announced this month that they soon will stock CBD creams and lotions on their shelves.
Like what you just read? Support Flagpole by making a donation today. Every dollar you give helps fund our ongoing mission to provide Athens with quality, independent journalism.