For months, anyone who's interested in Athens politics have been asking, will anyone try to unseat Mayor Nancy Denson? Now we know the answer is yes.
Two candidates—Ryan Berry and Tim Denson (no relation to Nancy)—recently declared that they'll run against the incumbent, who is seeking a second term next year. And, happily for progressives, both sound as if they'll run to her left.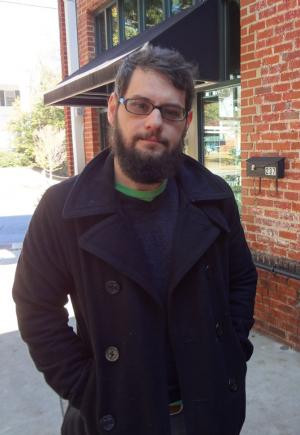 Photo Credit: Blake Aued
Tim Denson was raised in rural South Florida, where he says he grew up poor with a preacher father who frequently took in the homeless. He played in bands and started a record label and, like so many others, was drawn to Athens by the music scene and moved here in 2004. "Weaver D's and the 40 Watt Club were these mythical things in my mind," he says.
He became involved with Occupy Athens in 2010, which he calls "a life-changing experience."
The Occupy movement started out in opposition to Wall Street banks many blame for causing the recession, but locally, it coalesced around the issue of Selig Enterprises' proposed downtown development, now dead, that at one time included a controversial Walmart. Members camped out in front of City Hall demanding public hearings on the development. After being kicked out, Mayor Denson proposed a law limiting public access to government grounds.
At first, Occupy's tactics were confrontational (some Occupiers disrupted Athens-Clarke Commission meetings) but eventually, they learned more about working the system. They successfully lobbied commissioners to defeat the so-called public curfew law earlier this year.
Tim Denson says he is not shying away from the Occupy label, nor is he running as the Occupy candidate. He decided to run for mayor after consulting with a broad group of community activists, he says.
His primary issue is Athens' crippling intergenerational poverty, which he says Nancy Denson is not doing enough to solve. He says he was particularly piqued by Mayor Denson's recent statement that Athens is "a magnet for poverty" because of the social services provided here. Most of our poverty problem is homegrown, Tim Denson says.
"Our poverty rate, 36 percent, is just heinous," he says. "We cannot have a strong economy here in Athens-Clarke County if more than a third of our people are in poverty."
Tim Denson wants to see improved—and free—public transit so that people without cars can get to work. It would take him an hour and a half to get from his Eastside house to his job at Barnes & Noble by bus, he says. Then there's Athens Transit proposed fare hike, which he says could make buses prohibitively expensive for poor families.
As for how to pay for it, Denson calls himself a "practical progressive" who knows programs cost money. State and federal grants and a property tax system that leans more heavily on wealthy landowners, as opposed to middle-class homeowners, could help, he says.
Nancy Denson is running as the "economic development mayor" who brought projects like Caterpillar and the Ethicon plant expansion to Athens (though it's debatable how much credit she deserves). She says her credentials on poverty issues speak for themselves: She helped start the Northeast Georgia Food Bank out of her garage and has volunteered with Interfaith Hospitality Network and other nonprofits. "I've been working on poverty for 40 years," she says.
Another issue Tim Denson points to is government transparency. Local government has too many closed-door meetings, the county website is lacking, and citizens only have two opportunities a month for public comment at meetings. He says he would televise commission work sessions were many decisions are made and hold regular after-hours town hall meetings.
Tim Denson's campaign kickoff is scheduled for 5:30 p.m. Wednesday, Nov. 20 in front of City Hall, with a reception following at the downtown Transmetropolitan.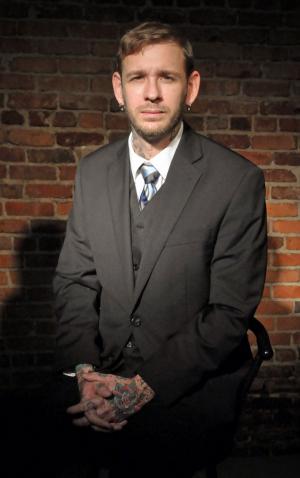 Meanwhile, Ryan Berry, the owner of Aces and Eights tattoo parlor, has also announced he's running. Berry declined to give an interview face-to-face or over the phone, but he emailed a statement to news outlets criticizing what he calls suburban-style, homogenous development in Athens:
"I have decided to run against our current Mayor because her idea of progress is turning our city into a homogenized suburb of Atlanta. She believes our best asset is cheap land that can be swallowed by the metropolis that is steadily marching forward, which explains why the former Tax Commissioner would call endless corporate industrial sprawl a success. I, however, know that Athens has much more to offer.
"I believe Athens's (sic) best asset has always been its citizens and the creative spirit that pulses far beyond downtown—which manifests itself in many ways—but has unfortunately found little expression in our local government. As Mayor, I would bring the voices of Athens together to find solutions that reflect our values. I recognize many of our citizens possess the ability to find innovative answers to the unique problems of our city while still maintaining the local charm of Athens. All too often we come together when there is a crisis only to return to complacency after it has been averted, which has worked so far, but this is not enough. Certainly the potential for government as an art can be realized in Athens, if anywhere. I ask that you join me, join the spirit of Athens and elect Ryan Berry as your next Mayor so that I can work hard for you, for Athens and represent all the views and values of our community."
Nancy Denson, who strongly supported the Selig development, says Berry's statement is too vague to respond to. "I'll let my record speak for itself," she says. "I've been working for good things in Athens for 45 years."
At press time, salon owner, Five Points Business Association President and SPLOST Committee member Diane Bell was the only announced candidate for ACC commission. She's seeking to replace Kathy Hoard, who's not running for re-election.
Bell is still formulating her views. She said she has heard that Athens is unfriendly to business but may revisit her opinion once she gains a deeper understanding of why certain regulations are in place. She is not in favor of more historic districts in Five Points but is open to limiting the size of new houses (many residents are upset about tear-downs being replaced with McMansions). On another key issue, lack of parking in Five Points, she said she hopes businesses can cooperate but a deck might someday be needed.
Hoard said she won't make an endorsement, but offered kind words about her friend: "I do believe Diane's intelligence, business skill set and long-term community engagement make her a very good candidate for the seat I am vacating," she said, adding that she'd welcome other candidates.
The candidates—and surely others will join the race—will have to get more specific as the campaign moves on. But at least there will be a campaign.
Like what you just read? Support Flagpole by making a donation today. Every dollar you give helps fund our ongoing mission to provide Athens with quality, independent journalism.