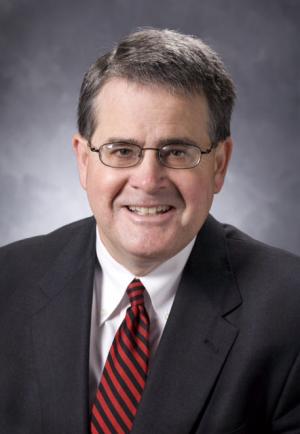 A search committee that chose a replacement for retiring University of Georgia President Michael Adams cast their net nationwide. In the end, all they had to do was walk down the hall.
After the committee named him the sole finalist last week, the Board of Regents approved UGA Provost Jere Morehead as the new president on Monday, giving Adams' right-hand man on academics a promotion. The move pleased many who know Morehead—by all accounts a nice guy and a talented and competent administrator—but raised concerns about why the regents didn't hire a bigger name from outside the UGA community who has more experience in fundraising and other political aspects of the job.
"It surprised me," Athens Area Chamber of Commerce President Doc Eldridge said. "I didn't know Jere was on the list, but then again, I didn't know who was on the list."
The secrecy surrounding the selection process also raised hackles around campus. A headhunting firm and a selection committee made up of regents and faculty, staff and student representatives vetted about 60 candidates, narrowing them down to nine and then one finalist, Morehead. None of the other candidates were made public. A little-noticed (at the time) change to state law last year allows the university system to name sole finalists for university presidencies.
"Unlike other places where they have multiple people come in, this was more cut-and-dried," geography professor John Knox said.
The search committee had said all along that it intended to recommend just one finalist. University System Chancellor Hank Huckaby defended the process, saying that applicants required confidentiality so their current employers don't know they're out looking for new jobs. And the search committee didn't give any weight to whether candidates came from inside or outside the UGA community, he said. "The criteria is the best person possible," Huckaby said. "He impressed everyone."
The lack of information left some to speculate that former Gov. Sonny Perdue, former UGA provost and Ohio State president Karen Holbrook or even former Secretary of State Condoleezza Rice, who was once the provost at Stanford, would get the job.
"I think Jere Morehead is a very smart person who both knows and loves the University of Georgia, and I expect him to do well," said James Cobb, a history professor (and Flagpole contributor). "Unfortunately, in the academic world, reputation is sometimes more important than reality, and I think there are some faculty who fear that by filling both of our highest administrative positions (president and provost) from within over a fairly brief span, we might invite the perception of becoming too insular."
Huckaby could also be considered an internal appointment, since he was UGA's senior vice president for finance and administration before serving a brief stint in the state House of Representatives.
Nonetheless, Morehead's appointment has drawn more praise than criticism. Eldridge said he thinks Morehead will improve relations between the university and the Athens community, an area where Adams was often criticized. "He knows the community," Eldridge said. "I think it'll strengthen the town-and-gown."
State Sen. Bill Cowsert (R-Athens), the chairman of the Senate Higher Education Committee, said he'll be able to work closely with Morehead because they've known each other for years. "He understands everything from teaching to various administrative positions, so he's uniquely qualified for the job," Cowsert said.
Morehead's had a somewhat unconventional career path. He graduated from the UGA School of Law in 1980 and spent the following six years as an attorney with the U.S. Department of Justice. He joined the UGA faculty in 1986 and still holds the title of Meigs Professor of Legal Studies at the Terry College of Business. He was named director of the UGA Honors Program in 1999 and promoted to vice provost for academic affairs in 2004. In 2009, Adams appointed Morehead—by then the vice president for instruction—to replace Provost Arnett Mace when Mace retired.
Morehead is also vice chairman of the Georgia Athletic Association Board of Directors and the UGA Research Foundation and a trustee at the UGA Foundation and UGA Real Estate Foundation. Serving on the foundations gave him fundraising experience—a big part of the president's job. And his experience in research and athletics—as well as instruction—could help him tackle several issues Adams has identified as critical for his successor, including reigning in the football program, beefing up graduate studies and tackling Georgia's obesity epidemic.
Unlike most provosts and university presidents, Morehead doesn't have a PhD. But his past experience is encouraging to professors like Knox. "I hope the president will be an advocate for academics, with his background," Knox said.
Morehead and regents declined to be interviewed prior to Monday's vote. To read their comments afterword, click here.
Like what you just read? Support Flagpole by making a donation today. Every dollar you give helps fund our ongoing mission to provide Athens with quality, independent journalism.