"Communication!" is Dexter Weaver's command to the diners who approach his cash register at Weaver D's Delicious Fine Foods. It's also what Weaver did to reach out to the local community when he began to fear that he'd have to shutter his landmark restaurant after 26 years.
Like many local businesses, Weaver D's had been struggling in a down economy. The end nearly came Sept. 28, when a man came to shut off his gas and hence his kitchen. (Weaver was able to get a reprieve.) The next day, he says he only sold 30 plates of chicken, even though 100,000 football fans had descended on Athens for the Georgia-Tennessee game. The following Monday, he started calling media outlets to alert them to his plight.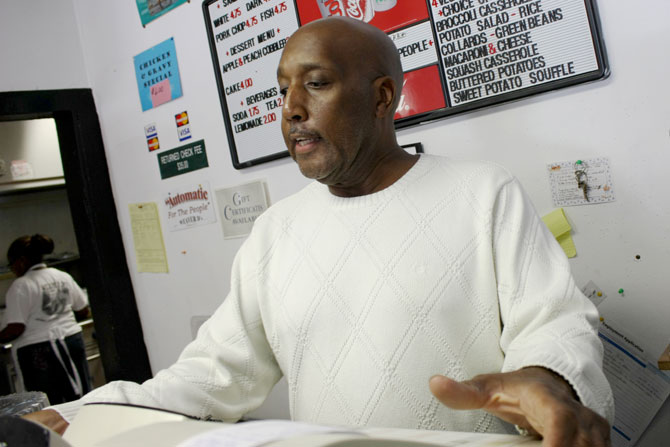 "We could go out of business if we don't get some people up in here quick," he told Flagpole.
The ploy might not have worked for most business owners, but Weaver is a celebrity. His claim to fame is that R.E.M. used his slogan, "Automatic for the People," as the title of their Grammy-nominated 1992 album—a fact that numerous subsequent profiles of Weaver never fail to mention.
"The band liked the phrase and asked Dexter if he would license it for use as the title of their new record," says R.E.M. manager Bertis Downs. "He graciously agreed—it has always fit the music and the mood of the record."
Weaver's soul food—Southern staples like fried chicken, meat loaf, collard greens and squash casserole—is famous in its own right. The prestigious James Beard Foundation named him an "American Classic" in 2007. But it's Weaver's unique persona—at times flamboyant, at times a bit surly—that put him on the map, along with his strong cooking and the R.E.M. connection. Ordering there is not for the faint of heart. First, Weaver races through the day's main courses. Ignore the menu; he's probably out of half the stuff on it. And don't take too long to order; he is not a patient man. Yet he is quick with a smile and a quip and loves attention.
"Weaver D's is certainly about Weaver, about Dexter," says John T. Edge, director of the Southern Foodways Alliance at the University of Mississippi. "I'm not saying it's a cult of personality, but many of the old-guard restaurants in the South rely on the singular intellect and personality of a cook."
Over the past 20 years, Weaver D's became something of a must-see (or must-eat) for visitors to Athens. "I'm from the North, and when friends and family come down, we always bring them here to show them great Southern cooking," says Pauline Rakich, a self-described frequent customer.
The restaurant is a stop on the Athens Convention and Visitors Bureau's music history tour, one of just four that still exists in its original location. "It's not just a restaurant," CVB Executive Director Chuck Jones says. "It's an attraction as well. It adds to the cultural flavor—no pun intended—of Athens." Brenda Brockway, a 1985 UGA graduate from Sarasota, FL, was in town for the Tennessee game and heard she couldn't leave Athens without going to Weaver D's. "We said, 'We got to go,'" Brockway says. "Then we walked in and heard it was closing. It's awful."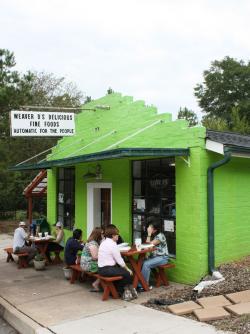 And so, when Weaver put the word out, people listened. Flagpole and other media outlets across the state, including at least two Atlanta television stations, ran stories, while Weaver D's devotees spread the word on social media. For example, Kelli McCain, a sales manager at the CVB, started a Facebook page for people who pledged to eat there. McCain says she made the page to help support a local business that draws tourists and boosts the local economy, but also for personal reasons. When she got married, she knew three things: Who the groom would be, that she wanted a Cecilia Villaveces cake and that Dexter Weaver would serve fried chicken and ribs.
"Four years later, no one remembers the ceremony or the color theme, but they certainly remember the food," she says.
In spite of the passion Weaver's meals inspire, for whatever reason, business has fallen off in the past year. He blames the economy. People aren't eating out as much, and college students have less money to spend, he says. David Carter, the longtime owner of Gyro Wrap, says those are factors for him and other downtown restaurants, as are rising food costs and increasing competition from new restaurants that have recently opened, such as the chains in the West Washington Street parking deck.
"It's a little disheartening to see some of the older places go out," Carter says.
Those older places include Wilson's Soul Food, which shut down in 2011 due to the economy, and Peaches Fine Foods, which closed in July when owner Glenda Brown decided to retire. While Edge says he isn't aware of meat-and-threes dying out in other cities, he speculates that the "groaning table" style of eating—the inexpensive comfort food originally served to hungry farm workers—could be losing popularity as new crops of young people get further and further removed from the fields.
"I lament that a new generation of college students won't have Wilson's and possibly won't have Weaver D's," he says.
Edge need not lament, though—at least for now. Lunchtime crowds lined up out the door at Weaver D's last week. "We've been regulars here for years, but we saw it in the paper and wanted to come support him," Wayne Roberts said, finishing up a meal on Thursday. Roberts was dining in a group of three friends who used to meet there often but stopped after two of them retired. "We're going to mend our ways," Pam Currim said. "It's my favorite place."
If Currim and others who've shown their support for Weaver D's recently keep it up, he'll be all right. "Everybody's been coming through," Weaver says. "We're happy with our journey." He'll stay open, he says, "as long as people keep coming through."
Like what you just read? Support Flagpole by making a donation today. Every dollar you give helps fund our ongoing mission to provide Athens with quality, independent journalism.