On May 11, a legion of University of Georgia graduates will take their first symbolic walk through the Arch. Since being commissioned in 1856, the Arch has become the literal and figurative transition from the campus to the community.
Some graduates won't be able to make that step, however, because they are disabled. In its 150-year history, the Arch has never been wheelchair accessible, and like much of UGA's historical campus, it might never be.
"This issue arises every four or five years, and the state ADA office has reviewed this question several times and tells UGA we are in compliance,†says Danny Sniff, UGA's associate vice president for facilities planning.
According to the Americans with Disabilities Act of 1990 (ADA), college campuses are required to provide disabled students with the same access as their able-bodied counterparts to public programs and activities.
"ADA is a set of guidelines that is subject to interpretation and is not set and fast like many people think,†says Sniff. "Often we fly for many years with one interpretation, then change or modify based on a different interpretation.â€
Things have certainly improved since ADA's implementation on campus. In 1986, the disability services office opened on the second floor of the Holmes-Hunter Academic Building. Following a media frenzy—which included a photograph of a wheelchair user crawling up the treacherous stone steps—the office was "immediately moved to temporary quarters and finally to a central, accessible location on campus—the Tate Student Center,†according to Leigh Jagor, coordinator of disability services at the University of Georgia Disability Resource Center.
Since then, the markers of unequal access have been more subtle. Khaled Alsafadi, who plans to graduate from UGA next year with a bachelor's degree in biology and psychology, reports having to drop classes taught by his first-choice professors when he learned they'd be held in inaccessible classrooms, such as on the third floor of Baldwin Hall.
According to Jagor, students with impaired mobility like Alsafadi are eligible for classroom change accommodations. However, Alsafadi, who suffers from muscular dystrophy, feels that such accommodations can work against him.
"The third or fourth time you have to go to a teacher with an excuse—whether it's snow, whether it's this or that—they start thinking in a way that you're trying to get special accommodations,†said Alsafadi. "I've had more than one professor say, 'It seems like I've had to make more than one accommodation, and it's not really allowed in the syllabus.' And I just don't think that's right, because there are things that are out of my control.â€
When the snow or leaves fall on the sidewalks, Alsafadi says, they're cleared only enough to let an able-bodied person pass. On more than one occasion, he has been known to navigate the street in his motorized wheelchair, using his iPhone as a rearview mirror.
"I remember last year when we had two inches of snow and it iced,†he says. "We were out of school for two or three days, and then we had school afterwards. But ice was still everywhere, and snow was everywhere, and my chair got stuck in the snow.â€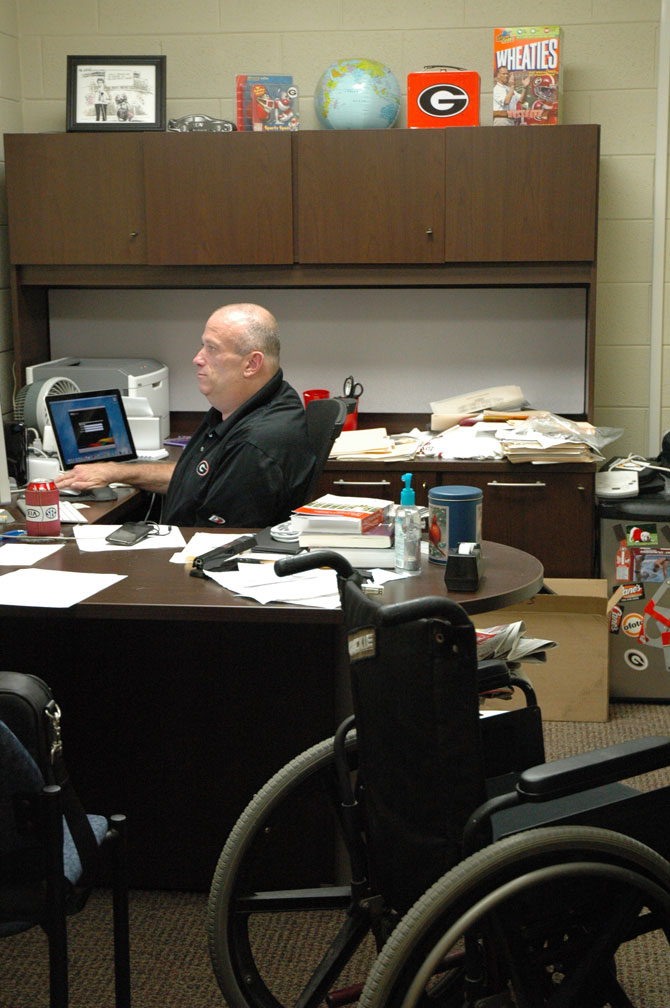 Cletus Stripling, an IT manager in UGA's Grady College of Journalism and Mass Communication, has had similar challenges since developing Guillain-Barré syndrome in 1996. He battled parking services when that UGA department all but forced him to park in the closest lot to his building and to pay the accompanying higher rate. For six months, Stripling stood his ground.
"I chose one of the cheapest lots, and there were no handicapped spaces, so I made them paint two handicapped spaces just for the heck of it,†says Stripling.
Stripling was working for Enterprise Information Technology Services at UGA when his disease set in. He was able to make a smooth transition back into his job after a two-year hiatus. Stripling believes an IT job is ideal for a person in a wheelchair.
UGA's office of Human Resources might disagree with him. A posting for an IT professional assistant position in the food administration department states that the job would entail "strenuous activity, such as lifting up to 50 pounds, using a ladder, and crawling under desks.â€
"Unfortunately, most people who hold positions at the university don't have the luxury, being state employees, of only doing one thing,†Stripling says. "So, you have to be able to do a lot of different things. You have to be an advocate for yourself, because some people do not care.â€
These and other injustices are sure to weigh heavily on Alsafadi come graduation day. In order for students like Alsafadi to go through the Arch, UGA would have to cut into the iron fence that borders North Campus. Such a move, according to Sniff, would require a series of other developments to ensure accessibility, when people in wheelchairs can already access North Campus from Herty Drive.
"We are looking at this again under a comprehensive Herty Drive utility project currently underway,†Sniff says. "But, given the fact that the state ADA office is OK with the current route, we might keep what we have.â€
As to whether he'll be able to make the symbolic trip through the Arch next year, Alsafadi says, "Honestly, I'm happy just to be graduating. I just don't know at what cost it would be to make it that I would be able to do it, and I don't want to seem too demanding.â€
Like what you just read? Support Flagpole by making a donation today. Every dollar you give helps fund our ongoing mission to provide Athens with quality, independent journalism.